There's another wine country you should be paying attention to. In addition to award-winning regions like Napa, Sonoma, and Temecula Valley, California—well, Baja California—is home to Valle de Guadalupe, less than two hours south of San Diego. Tucked between Ensenada beaches and stunning mountain ranges, the "Ruta del Vino" is approximately 35 miles long, with over 100 wineries, in addition to boundary-pushing restaurants that utilize the abundant local seafood and year-round produce. It's long been a destination for Mexicans and San Diegans in the know, but more recently has been attracting oenophiles from all over the globe.
Like much of Mexico, it was the Spanish missionaries who introduced wine to Baja California and to the Valle de Guadalupe. The first Baja winery, Bodegas de Santo Tomás, was established south of Ensenada in the late 1800s. A few decades later, the Mexican government granted political asylum to a group of immigrants fleeing the Russian Revolution. When they established a colony in the Valle de Guadalupe, the seeds of the wine industry were planted. You can peek into this history in the Museo Comunitario del Valle de Guadalupe and the Museum of Vine and Wine.
However, it wasn't until the 1980s that the Valle really started to blossom. First, Hans Backhoff began making high-quality wines at Monte Xanic Bodega Vinícola. Then, Hugo d'Acosta—having trained in France and made wine for Santo Tomás—kickstarted the industry's development by spreading his winemaking knowledge. Today, 75% of the wine produced in Mexico is made in Baja California, with the overwhelming majority of it in the Valle de Guadalupe. Wineries range from industrial-scale producers like L.A. Cetto and Casa Pedro Domecq, to high-end boutique wineries—all of them quality.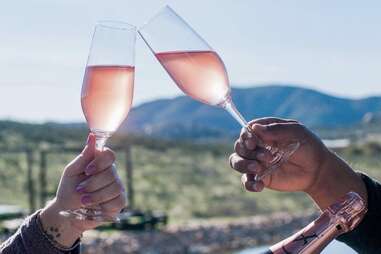 Where to sip
The French-style wines at Torres Alegre y Familia are some of the best in the valley, with epic vineyard views from the tasting terrace. The nebbiolo is a deeply concentrated wine with pronounced fruity flavors, especially red berries, and an earthiness and terroir that suggests the grapes are grown precisely where they should be. Frankly, all of the wines in Torres Alegre's "Cru Garage" series are excellent, and the winery's less expensive lines are good value for the quality.
There may be no more spectacular view of the Valle de Guadalupe than from the deck of the majestic winery and tasting room at Monte Xanic in the town of Francisco Zarco toward the Valle's eastern end. The winery's premium bottle, the Gran Ricardo (a blend of cabernet sauvignon, merlot, and petit verdot), is as excellent as the view is beautiful—an endless expanse of grape vines surrounded by dusty rolling mountains. Monte Xanic focuses, unlike many Valle wineries, on Bordeaux varietals, though its syrah excels as well.
Concierto Enologico offers an experience unlike anything else you'll find in the valley, granting the opportunity to craft your own bottle of wine with their Interactive Wine Laboratory, where you'll be invited to sip tempranillo, cabernet, merlot, syrah, and other varieties, then combine portions of each into a unique blend based on your specific tastes. The 13-acre vineyard utilizes low-intervention and organic practices where possible, and ages their grapes in stainless steel tanks as well as different types of barrels.
Villa Montefiori, toward the northwestern end of the Valle, specializes in Italian varietals and blends. While the winery's brunello and nebbiolo get a lot of the attention, the most significant offering is the nerone, made from the rare aglianico varietal native to Southern Italy. This produces a full-bodied wine with structure and aging potential that begs the question: why hasn't it found a famed region to call its own? Could the Valle de Guadalupe be it?
The industrial chic tasting room at Vena Cava isn't just the coolest in Valle—overflowing with San Diego hipsters on any given weekend—it's also one of your best bets for organic wine in the area. Founded by husband and wine Phil and Eileen Gregory in 2005, the winery offers a superb Reserva (66/34 cabernet/syrah) blend featuring pleasant notes of black pepper, prunes, and dried herbs, with a high-intensity, full-bodied flavor. The sauvignon is bright and refreshing, the perfect sip during dry summer days. Sample the collection in mixed or natural wine tastings, and be sure to visit the on-site Troika food truck for raw or grilled oysters, steak tartare, cheesecake, and large-format dishes.
One of the most pleasant tasting experiences in the Valle is at Lomita Winery. Its Pagano (grenache) and Sacro (50/50 cabernet/merlot) bottlings are among the best food-pairing wines in the Valle. But the Cursi is, hands down, one of the best rose wines anywhere: boasting caramel and red berry fruit flavors without being cloying, it is a remarkable wine.
Lechuza Vineyard, east of San Antonio de las Minas at the Valle's southwestern end, recently received one of the ultimate American seals of approval: a place on the wine list of Thomas Keller's incomparable restaurant, The French Laundry in Napa Valley. There's a reason: its chardonnay is not just the best in the Valle, it's one of the best chardonnays in the world. No tricks, no wood, no deception. It is a pure expression of the earth and the grape.
As the area has become more popular, tours across the best wineries in Valle are becoming available, including ATV tours that let you travel between tasting rooms on off-road vehicles.
Where to eat
As much as the Valle de Guadalupe has developed into a notable wine region, it has become an equally great culinary destination. It all started with Laja, which chef Jair Téllez opened as a remote, seasonal operation in 1999, describing it as a "destination restaurant in the middle of nowhere"—thus beginning the chef movement in the Valle.
Since then, the region has established itself as a destination for Baja Med cuisine, a term coined by chef Miguel Angel Guerrero that speaks to a fusion of Mediterranean and Asian influences paired with local seafood and seasonal produce. You can still visit Guerrero's restaurant La Esperanza, an indoor-outdoor space with a covered terrace and floor-to-ceiling windows so no matter where you sit, you're treated to epic views of vines and craggy hills. Sample the cuisine with Zucchini Carpaccio straight from the chef's garden and Marinated Suckling Pig that's cooked in a Basque oven for three hours and served with tortillas and guacamole.
The most noted restaurant, however, is probably Corazón de Tierra, currently number 40 on Latin America's 50 Best Restaurants list. Chef Diego Hernandez's food is unremittingly modern but grounded in the gardens that surround the restaurant, Mexican tradition, old world technique, and Mexican soul. There's no harder reservation to get in the Valle than here.
The Valle's only Michelin-starred chef, at least so far, is Drew Deckman of Deckman's en el Mogor. Mogor Badán winery, the property on which the restaurant is situated, plays a major role in the experience. The outdoor setting is idyllic, and all of the vegetables and fuel for the wood-fired grill and oven (Deckman's "anti-kitchen") come from the property. And despite—or maybe because of —this glorified campsite (and the creativity it both inspires and forces), the food that emerges really is worthy of its star.
If there's another Valle gourmand well on his way to earning a Michelin star, it's chef Roberto Alcocer of Malva. In Alcocer's hands, even the humble garden salad becomes an evolving exploration of contrasting flavors, textures, and temperatures. With jewel-like presentations and unusual ingredient combinations, everything surprises. The menu changes often, but the duck carnitas and lamb—slow-roasted in a wood-fired oven for 14 hours and sitting atop a creamy cauliflower pureé bathed in a reduction sauce—are especially beloved dishes. Deep, rich, round, and profound, it's a triumph. If you're trekking back through North County San Diego on your way home, it's worth a detour to Alcocer's newest restaurant, Valle Oceanside, where you can keep sipping on Baja California wines.
In most of Mexico, like most of the world, some of the best food is to be found on the streets rather than in high-end restaurants. The Valle de Guadalupe is no different. Take, for example, Las Gueritas: no address, no website, no bricks, and no mortar. Lucia Villaseno Padilla, assisted by her husband and two daughters for whom the place is named, just grill fresh codorniz (quail) and conejo (rabbit) to order over a wood fire in a setting that's partly idyllic with a bit of roadside grit. Consider it flavor.
Maybe you need a break from wine and are ready for some besos from a traditional Mexican spirit. Aptly named Tahona Bar, the restaurant is dedicated to sharing the cultural heritage behind mezcal, including a wooden ship that acts as its mezcal tasting room, plus a smattering of picnic tables nestled in the middle of vineyards. The tasting room offers 100 mezcals to choose from, including bottles for purchase. You can sample the agave liquor further with a selection of craft cocktails, like the Tahona Old Fashioned with mezcal espadin, Ancho Reyes verde, roasted watermelon, ginger syrup, mole, and tepache. For food, you'll find classic Mexican tacos and a blend of unique Baja-Oaxacan-inspired dishes, like grilled octopus doused in mole.
Where to stay
As tourism to Valle de Guadalupe has grown, the hospitality industry has stepped up to offer travelers new overnight options, including majestic boutique resorts and quaint B&Bs that open up to picturesque vineyards.
Nestled between the Pacific Ocean and rolling vineyards, CuatroCuatros is a great choice for anyone who wants to balance time at the vineyards with lounging at the beach—though with an on-site vineyard, plus dining and drink options like seafood-focused Bura, seasonal Arsenico, and mezcal-driven Tahona Bar, you'll be tempted to stay on the grounds. Glampers can rent raised yurts that come equipped with all amenities, including a patio that overlooks the property, or go all out with one of the luxe wooden cabin suites that are designed by architects Mauricio Rocha and Gabriela Carrillo, including a room that opens up directly to the vineyards so you don't even have to leave your bed to catch a technicolor sunrise, plus hammocks on the roof.
Bruma, on the other hand, is as much a vision as it is a hotel. The 200-acre eco-luxury resort encompasses a working winery, private ranch-style villas, and an eight-suite b&b, complete with stunning Valle views, sun decks, a pool, a jacuzzi, a swimmable pond, fire pits, and rock art scattered around the property. Schedule a winery tour and tasting and make a reservation at Fauna to try chef David Castro Hussong's evolving and vivid take on simple Mexican ingredients.
Arguably the most architecturally striking boutique hotel in the Valle is Encuentro Guadalupe. It's back-to-nature in a futuristic setting, with 20 modernist eco-pads dotting the hillside and crawling up from the valley's floor. It's not a cheap stay, and it may not be your idea of luxury, but it is remarkable, and the on-site restaurant is one of the best spots in the area to try Baja Med cuisine.
The Valle de Guadalupe is far from a finished product. It evolves from year to year and season to season, and that is part of the pleasure of it. The wineries, restaurants, and hotels recommended here are exceptional and are likely to be so for the foreseeable future. But tomorrow, there'll be another good winery, and Tuesday, a great restaurant's sous chef will announce he's opening a good winery's new restaurant.
In the meantime, it would be hard to say there's anywhere better for a weekend wine getaway.