Over the past few years, award-winning California wine regions like Napa, Sonoma, and Temecula Valley have seen stiff competition for visitors. Less than two hours south of San Diego on the Baja California peninsula, Valle de Guadalupe has become one of—if not the—hottest wine regions in the West. Around 75% of the wine produced in Mexico is made in Baja, California, with the overwhelming majority of it in the Valle de Guadalupe. Tucked between Ensenada beaches and stunning mountain ranges, Valle's gorgeous "Ruta del Vino" is approximately 35 miles long, with over 100 wineries and dozens of boundary-pushing restaurants offering experiences that can't be replicated in the States.
It's a pretty quick and easy drive, as long as you don't try to cross during rush hour or come home on a Sunday afternoon—check the historical border wait times before you go. Whether you want to spend a long weekend eating and tasting wine or finding a slightly less gluttonous adventure, here are the best things to do in Valle de Guadalupe.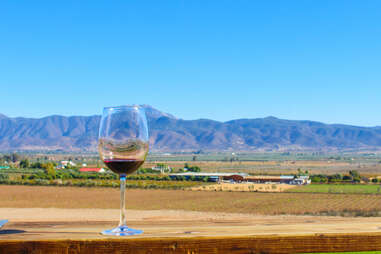 Where to sip
Any road you travel down in the Valle will likely boast multiple arrows pointing toward wineries and vineyards. Those who dislike planning can easily hop around to discover impressive spots. But it's still somewhat of an up-and-coming region—despite its 200-year-winemaking history—and some wineries are better than others. For French-style wines, head to Torres Alegre y Familia, which boasts epic vineyard views from the tasting terrace. Make sure to try the Nebbiolo, an intensely concentrated wine with pronounced red berry and earthy flavors, and the higher-end "Cru Garage" series. Toward the northwestern end of the Valle, Villa Montefiori specializes in Italian varietals and blends, including Brunello, Nebbiolo, and a fun Nerone, made from the rare Aglianico varietal native to Southern Italy. The industrial chic tasting room at Vena Cava isn't just the coolest in Valle—overflowing with San Diego hipsters on any given weekend—it's also a top spot for organic wine. Sample the collection in mixed or natural wine tastings, and be sure to visit the on-site Troika food truck for raw or grilled oysters, steak tartare, cheesecake, and large-format dishes. Another top spot for natural wines is Vinos Pijoan. This family-owned place offers multiple series, including a natural selection that includes an impressive old vine, dry-farmed zinfandel available by the bottle. If you're into sparkling, head over to Vinos Cruz. Lechuza Vineyard, east of San Antonio de las Minas at the Valle's southwestern end, is probably the best-known winery in the region after its acclaimed chardonnay made it onto the wine list at Thomas Keller's The French Laundry in Napa Valley. Or, if you want to leave the planning—and, more importantly—the driving to someone else, consider booking a "daycation" with tour operator Lost in Baja, which offers a variety of packages for varying wine interests.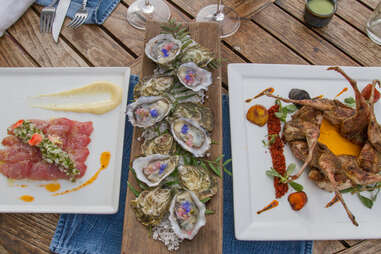 Where to eat
As much as the Valle de Guadalupe has developed into a notable wine region, it has become an equally great culinary destination. It all started with Laja, which chef Jair Téllez opened as a remote, seasonal operation in 1999, describing it as a "destination restaurant in the middle of nowhere"—thus beginning the chef movement in the Valle. These days, Fauna is considered by many to be the Valle's best restaurant. Run by husband-and-wife team chef David Castro Hussong and pastry chef Maribel Aldaco Silva, who both worked at Blue Hill at Stone Barns and other internationally recognized fine dining restaurants, debuted on Latin America's 50 Best Restaurants 2022 with the highest ranking of any new venue. This earned it the Highest New Entry Award. Chef Javier Plascencia's Finco Altozano is another popular but more casual spot that offers a solid selection of wood-fired meat and seafood with great views of the Valle from a shaded patio. If you want even more campfire vibes, head to Primitivo. The fully outdoor restaurant consists of just a handful of tables set underneath an old oak tree with an open live-fire "kitchen" that churns out set menus of local seafood and meat. The must-visit spot is so unique it would be near impossible to replicate in the States. For breakfast, consider trying the traditional indigenous fare at Wa Kumiai Tabita, the unforgettable corn pancakes and fresh tortillas at La Cocina de Doña Esthela, or, on the way back toward Ensenada, Escama's excellent coffees, pastries, and other morning specialties.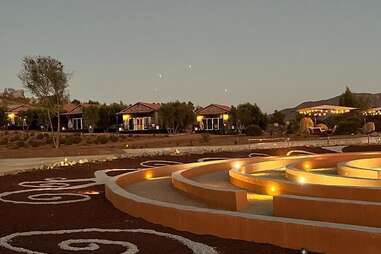 Things to do
Most people go to Valle to eat and drink, but the area is well worth a trip, even if stuffing yourself like a foie gras duck doesn't sound appealing. Take a hike and dip into Valle de Guadalupe Hot Springs behind L.A. Cetto. Get a view of the Valle from the sky while floating along in a hot air balloon with the team at Globos Baja. Head to Adobe Guadalupe for a horseback ride through the vineyards on one of their gorgeous Aztecas (a mix between an American Quarter Horse and Andalusian), followed by lunch at its excellent Spanish-inspired food truck. If you want to go the adventure route and try an off-road tour or some other kind of bespoke excursion, Legends Overlanding offers customized day trips that include meals, wine, and all the amenities of its weeklong excursions for people who can't take off into the Baja wilderness for days on end. They even rent trucks for those who don't have their own rig.
And, if you just want to hang around by the pool, get pampered with various wellness treatments—and actually come back from a weekend trip feeling rejuvenated rather than hungover—book a villa at Montevalle Health & Wellness Resort. While it does offer day passes for its services, its all-inclusive if you stay. So, you can get well with IV infusions, massages, meditation, yoga, and flavorful organic fare at the onsight restaurant that aims to heal guests from the inside-out. Also, while it may take away from the healing, the grenacha they make and serve onsight is one of the best in the Valle.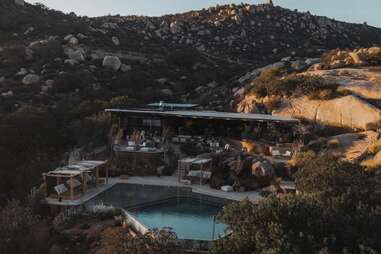 Where to stay
Nestled between the Pacific Ocean and rolling vineyards, CuatroCuatros is an excellent choice for anyone who wants to balance time at the vineyards with lounging at the beach—though with an on-site vineyard, plus dining and drink options like seafood-focused Bura (which boasts one of the most amazing views from any bathroom on the planet) and mezcal-driven Tahona Bar, you'll be tempted to stay on the grounds. Glampers can rent raised tents that come equipped with all amenities, including a patio that overlooks the property or go all out with one of the luxe wooden cabin suites that are designed by architects Mauricio Rocha and Gabriela Carrillo, including a room that opens up directly to the vineyards so you don't even have to leave your bed to catch a technicolor sunrise, plus hammocks on the roof.
On the other hand, Bruma is as much a vision as a hotel. The 200-acre eco-luxury resort encompasses a working winery, private ranch-style villas, and an eight-suite b&b, complete with stunning Valle views, sun decks, a pool, a jacuzzi, a swimmable pond, fire pits, and rock art scattered around the property. While you're there, schedule a winery tour and tasting and dinner at Fauna, which is right on the property.
Arguably the most architecturally striking boutique hotel in the Valle is Encuentro Guadalupe. It's back-to-nature in a futuristic setting, with 20 modernist eco-pads dotting the hillside and crawling up from the valley's floor. It's not a cheap stay, and it may not be your idea of luxury, but it is remarkable, and the on-site restaurant is one of the best spots in the area to try Baja Med cuisine, a term coined by chef Miguel Angel Guerrero that speaks to a fusion of Mediterranean and Asian influences paired with local seafood and seasonal produce.
The Valle de Guadalupe is far from a finished product. It evolves from year to year and season to season, which is part of its pleasure. The wineries, restaurants, and hotels recommended here are exceptional and are likely to be so for the foreseeable future. But tomorrow, there'll be another good winery, and Tuesday, a great restaurant's sous chef will announce he's opening a good winery's new restaurant.