15 Secret SF Bars, and How to Get Into All of Them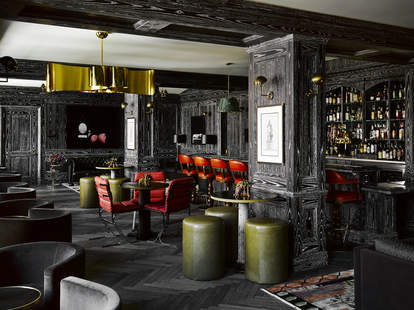 As the G.I. Joes always said, "Knowing... about SF's secret bars... is half the battle." And since we're all about winning half-battles, here are all the bars in the 7x7 that are -- in some way (hidden entrance!) or another (no sign!) -- secret, including a brand-new one in the FiDi that's partially inside of a bank vault.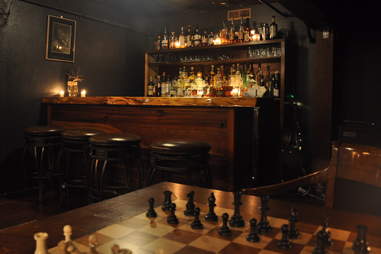 Barrel Room
The newest (and honestly maybe even the coolest) addition to the San Francisco secret bar catalogue, The HogsHead Reserve is buried underneath The Barrel Room's wine store and features three separate rooms: the main cash-only bar area (which only has four stools), a living room that has a fireplace, and a third room that's INSIDE OF A BANK VAULT (OH MY GOD SIT THERE). It's supposed to look like the original Barrel Room location on Post, which it kinda does, just with a full bar, and the whole bank vault room thing. But otherwise, yeah, totally the same. It's open Monday-Saturday starting at 5pm. Just know the space gets bought out from time to time by people who are in on the secret -- so maybe call ahead or something.
How to get in: Walk through the wine store to the absolute back, and you'll find a staircase behind a wall to your left, act natural, go down it. Boom.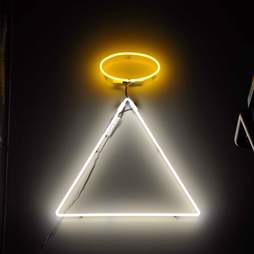 Esteban Martinez/Thrillist
Tucked away above Hawker Fare in the Mission, this basically unadvertised drinking den (save a neon sign of a triangle with a halo above it) pushes freshly juiced Tiki drinks (that are tart, boozy, and light on sugar), plus a weekly punch bowl that they ladle out of a creatively carved watermelon (last week's looked like a giant mouth with gold teeth). Also pretty important: there's a giant penis carved into the leather panels that wrap the bar pillars, along with a bunch of other non-dick "hieroglyphics" like feathers and knives and stuff.
How to get in: You almost quite literally need to climb a mountain to get to this place -- follow the giant staircase in the back left of the bar to the neon sign and then hang a right.
Joe Starkey/Thrillist
I've said it before (on my list of bucket list SF bars) and I'll say it again: there are few cooler ways to enter a bar in the 7x7 than by punching a members-only pin number into a keypad on a loading dock door at the end of an alley. Better still, once you do you'll get to sit in what I imagine some super-rich English king's parlor room looks like, drink a bunch of nice whiskey, and find your way into one of the coolest private bathrooms in the city. If you only do one on this list, make it this one.
How to get in: Be a member (which usually means being a friend or family of Cavalier's owners) or be invited by one and they'll hook you up with a weekly changing door code; walk to the end of Jessie St to the last door on the left, punch in the code, and once you're inside, knock on the door to your immediate left and someone will let you in. (Oh and make sure it's not before 7pm, it's not open then.)
Courtesy of Mikkeller Bar
Located in the basement of one of the 42 San Francisco bars you need to drink in before you die (hi, Mikkeller!), the Tivoli Sour Room eschews the dark, dimly lit secret bar theme in favor of a brightly lit, 60% mint green space with a super-psychedelic mural on one side and tiny windows that peer into Mikkeller Bar's insane keg room on the other. They've got it stocked with mostly sour beers (uh duh) that you'll only have access to if you plan ahead -- it's only open Thursday-Saturday after 6pm.
How to get in: Walk inside Mikkeller, then as soon as you get to the bar, turn around and you'll see a staircase to your right -- head down that, hang a left, and you'll find the Sour Room down that hall.
Grant Marek/Thrillist
This is exactly the kind of badass subterranean bar New York has infinity of and San Francisco has, like, way less than infinity of -- a dark, small, cavern of a space that feels all kinds of right, AND it's from the Bourbon & Branch guys. The upstairs at The Devil's Acre is cool (especially the spinning cocktail shaker machines at the bar), but the downstairs is just way, way cooler.
How to get in: Make your way into The Devil's Acre, make a right and hug along the wall with the street-facing windows -- once you come to the end, you'll find a didn't-realize-this-was-here staircase. Pop on down it and into unground glory.
Romper Room
Maiden Lane's Romper Room is already a kinda-OK bar with really great free-little-beer-with-your-shot type deals. But then you find out there's a SECRET bar above it, and suddenly it's much, much more than just a kinda-OK bar. Is the staircase super easy to bring shots up from? Noooooope! But will the Instagram-friendly neon in the Leopard Lounge make it not matter? Yuuuuuuup!
How to get in: Literally walk inside Romper Room, head to the bar, hang a right at the staircase, walk up, and bazinga -- secret-ish bar!
Courtesy of The Gotham Club
Look at the outfield wall of AT&T Park, specially the right field corner where they list all the out-of-market baseball scores and you're actually looking DIRECTLY INTO THE GOTHAM CLUB. This most badass of badass secret bars is hidden behind the Giants' outfield scoreboard and includes a full bar, baseball-shaped ice cubes, and an insane view of the Portwalk, PLUS access to a secret hidden area (it's behind a freaking electrical closet door) with a bowling alley, arcade, and billiards room.
How to get in: Be a member (or be with a member) and hit the Portwalk behind the stadium, just past the Virgin America Loft, and look for the crossed bats + G/C logo on a regular-looking door on your left.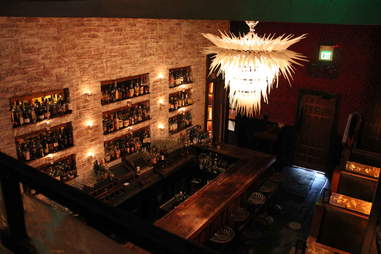 Joe Starkey/Thrillist
There's really no better first-time secret bar than Bourbon & Branch, which will require you to offer up a secret password to an intercom on one of the seediest stretches of the Tenderloin before they'll even open the door -- they will though, and you'll be ushered into one of America's secret bar forefathers, where candle-lit bookcases and walls open all around you as you sip on expertly crafted cocktails and whisper-talk to the buddy you came with.
How to get in: Reserve a table, buzz the door on Jones, and provide your password.
Joe Starkey/Thrillist
Located inside of Bourbon & Branch (secret bar inside a secret bar FTW!) this ultimate date spot has a small handful of intimate tables for two, a tight bar space, and that's about it. That means you'll need to plan things out at least a day or two in advance if you want to score a spot inside. It's worth it though, considering 1) cocktails are served inside teapots (nothing to see here, coppers), 2) it hosts sometimes-movie nights here and cocktail classes, and 3) you literally have to go through a wall that doubles as a door to get in.
How to get in: Make a reservation, buzzer it up on Jones, and give them your Wilson-specific password.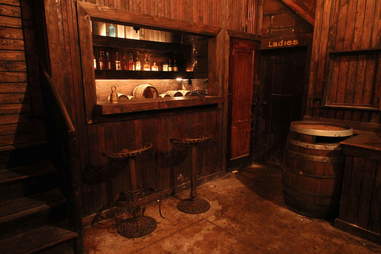 Joe Starkey/Thrillist
Venue opening template with save venue functionality
There are Bourbon & Branch secret bars and then there are BOURBON & BRANCH SECRET BARS. The all-caps descriptions are pretty much reserved for Ipswitch, which you can only get into when they open a floorboard inside Russels Room (a private room inside the main Bourbon & Branch) that then takes you into a subterranean space where they keep both a teeny-tiny two-seat bar and lockers filled with their entire stockpile of booze. This is the secret bar equivalent of finding the Holy Grail -- if you reach it, you're pretty much guaranteed to go to heaven or something.
How to get in: Book a large event and pray that they like you enough to let you have it down here.
This is one of the least-secret of SF's secret bars -- they technically mention "Hideout" on the sign out front and there's a second sign inside above the entrance to the Hideout, but it somehow STILL manages to maintain that secret-bar aura thanks to an intimate bar and a secluded upstairs, both of which get mad sweaty in all the right ways. Also: the cocktails are always super good, in case you're not getting a beer and a shot like we are.
How to get in: Head toward the sign in the back right -- it's that easy.
Courtesy of 15 Romolo
If bartender family trees were things (wait are they??), the one for 15 Romolo would be one of San Francisco's biggest and most impressive -- the dude who did the bar program at ABV started there, as did the dudes behind Trick Dog (yessir). Romolo, which is very literally located at 15 Romolo Pl, is one of San Francisco's hardest bars to find, mostly because it's up a steep alleyway in the middle of strip club-filled Broadway that's otherwise completely vacant. But when you find it, it's all the more worth it, with expertly crafted cocktails, a photo booth, and all the dark corners you could ever want.
How to get in: Go north on Romolo Pl until you get to the Basque Hotel sign, take the first left at the red door and you're in.
"Wait, bro, are you sure it's this building? This just looks like a weird tinted office." "Yeah bro, this is it. Trust me." "But dude, it's, like, next to Gough St Cleaners and some creepy metal door and, like, no one is coming in or out. It also doesn't even look big enough to hold the three-story pirates cove thing you're describing." "Dude, yes, this is it." "I don't know bro... oh wait, someone is coming out. *Walks in* HO. LY. SHIT. FUCK. SHIT. FUCK." "See."
How to get in: Wait outside the giant tinted-glass building at 650 Gough St and #trust. Eventually a dude will come out and let you in.
Courtesy of Oddjob
Oddjob was already super close to being included in this secret bar round-up (since, well, it's kinda impossible to find, there's no sign, and we REALLY like the name Oddjob), but it didn't quite meet the Official Secret Bar Statutes. Don't worry though, because the bar INSIDE of it totally did -- SRO (short for Standing Room Only) is basically an attempted recreation of beloved -- and sadly shuttered -- Big where (like at Big) they'll custom tailor a drink to your specific boozing preferences.
How to get in: Go around the side of the building and enter from Washburn Alley. Turn left. Ignore any curtains in your way. Act cool.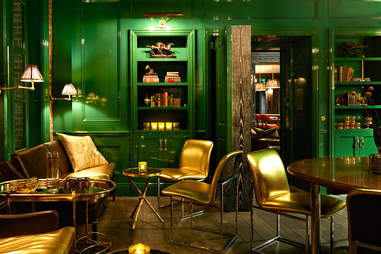 Courtesy of The Battery
This members-only bar inside swanky FiDi private club The Battery is only accessed via a secret bookcase lever. Honestly, what else do you need to know?
How to get in: Be a member or have a friend who's one. It's that easy/super hard.

Sign up here for our daily San Francisco email and be the first to get all the food/drink/fun SF has to offer.
Grant Marek is Thrillist's Senior Cities Director, a title that requires he knows all things about secret bars at all times. So far so good. Follow him on Twitter at @grant_marek.