Whether it was because you needed a drink so badly you bolted for the closest bar in sight, or because it was the spot of the last office birthday party, you've likely ended up at one of these nine bars, all of which seemed like perfectly decent spots to drink until you looked around and realized you were the only one in the entire place not wearing a money belt or waving around a selfie stick.
 
And while we actually like tourists (as long as they follow these rules), much like tech companies, they're particularly good at ruining things. So even though we actually dig a few of these bars, we refuse to go to them anyway. And it'd be wise of you to follow suit.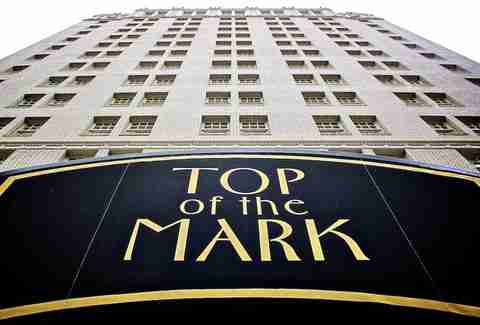 Nob Hill
It's in a hotel and has killer views, which means Top of the Mark is the bar tourists dream of. Yes, there are more than 100 martinis on the cocktail menu, and again: yes, those stupidly perfect views, but seriously, who wants to see 14 different couples get engaged when they're trying to get their buzz on? No one. Save this place for when your grandma's in town. Especially if she's paying the bill.
Union Square
The tourists hit up this Downtown spot for all of the reasons you're going to want to as well, starting with the fact that it has more than 100 beers. But that's not all... it also offers shuffleboard. And pool. And foosball. And yes, of course: more than 20 screens showing the games. Still, the large groups of fist-bumping corporate bros who are either visiting Silicon Valley or visiting from Silicon Valley mean you're going to need to get your skee-ball and sports-watching fix elsewhere.
Union Square
In theory, a dueling piano bar is the best thing that could ever happen to you on a crazy night out. In reality, Johnny Foley's is in a basement and the piano players know that everyone in there is a tourist so they demand money to play any song you might actually want to hear, and it's never a good idea to give someone 20 bucks just so he'll play "Sweet Caroline," no matter what the swarthy dude from Boston next to you says.
Fisherman's Wharf
The tourists love this dive bar because it's in Fisherman's Wharf, which is where they'll spend 90% of their vacation. We love this old-school SF watering hole because it's been around since the 1930s and has a certain je ne sais quoi. Yeah, it had to change locations recently thanks to an eviction (ugh, SF), but the former location has been pretty faithfully replicated with lots of red velvet, cherubs on the ceiling, and even the same bar stools. Still, you don't want to go anywhere near here on a weekend because, again: So. Many. Tourists. This should not be a problem because why on Earth would you be near Fisherman's Wharf on a weekend anyway? (And no: In-N-Out is not an excuse.)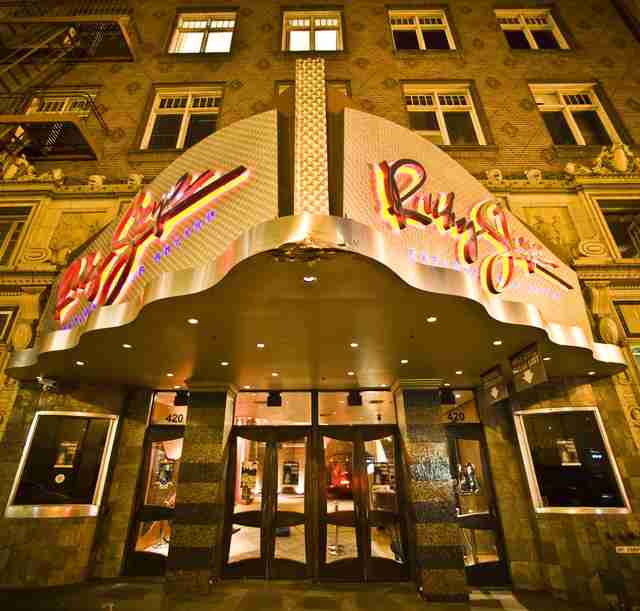 Union Square
Considering we don't know a single person who lives in SF and has gone to Ruby Skye willingly, we feel very comfortable saying this is by far the most touristy club in the entire 7x7. Sure it has some good DJs (we guess?), but it's one of the few spots you'll find girls teetering in their 4in heels and pulling on their skirts while surrounded by dudes who still use the word "clubbing" as a verb and are still weirdly into bottle service. Even though those bottles were once stored in raw sewage.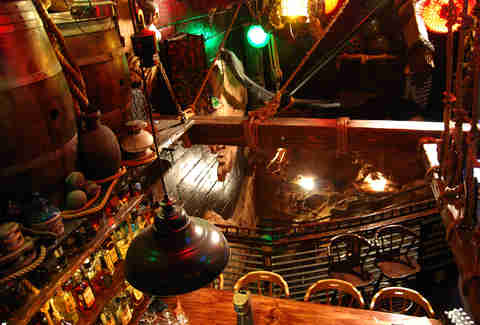 Hayes Valley
We named this bar one of the 22 best in California, and though we'd like to take all the credit (blame?) for turning this Polynesian-inspired Tiki bar into the one SF bar every visitor has on his or her "to do" list, it's really Smuggler's Cove's fault for creating what's probably the best Tiki bar in the entire country. So yeah, we like it in theory, but the fact that there is ALWAYS a line to get inside means we never actually go anymore.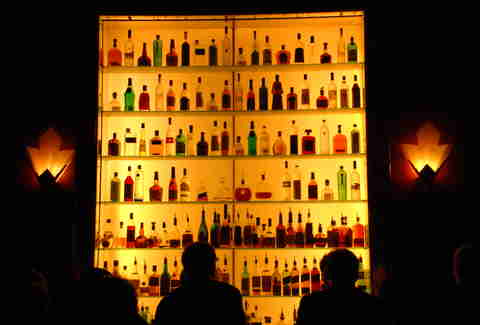 Tenderloin/Union Square
There's no denying the Redwood Room is gorgeous. We just named it one of the most beautiful bars in San Francisco for heaven's sake. But the fact that it's overrun with girls in cheesy bebe dresses and platform heels, and dudes who are trying to "hit that" while buying them syrupy cocktails that cost $15, makes this bar one we tend to skip... especially since Whiskey Thieves is just up the street.
Financial District
Another bar that's tremendously gorgeous, and outfitted with mosaic tile floors and dark wood paneling. We'd actually love to go on a date here, but we will never, ever be able to because we also don't want to go on a date in a bar that's trying to be old-school SF but doesn't actually have anyone from SF in it. Why is that, you ask? Well maybe because it's approximately 40 bucks for two drinks. Or maybe it's 'cause the only people who actually go here are tourists... and we don't date those people.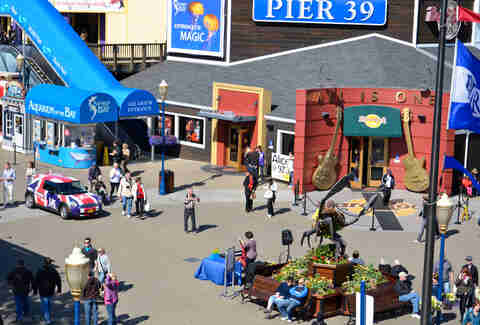 Fisherman's Wharf
Remember when the Hard Rock Cafe was super cool and you wanted to collect ALL of the T-shirts? No? You liar. Well, whatever, we're old. Anyway, we went here recently for nostalgia purposes, even though the REAL Hard Rock was on Van Ness, and let's just say even if you're dying to revisit your past and cheesy rock n' roll memorabilia all at the same time, it's still not worth traipsing to Pier 39 for overpriced drinks and really terrible food. But, uh, you probably knew that already.
Sign up here for our daily San Francisco email and be the first to get all the food/drink/fun SF has to offer.
Daisy Barringer is a writer who grew up in San Francisco and not-so-secretly loves doing touristy things. She just hates paying touristy prices. Follow her on Twitter: @daisy.