Kevin Diedrich is the brains behind Pacific Cocktail Haven, one of San Francisco's most popular drinking destinations, and also our 2016 Bartender of the Year. And while he definitely loves his job, especially the part where he gets to come up with creative new ideas for cocktails, he admits it can also be exhausting.
"In the industry, we're always on. We're always out in bars and restaurants and talking to people, so it can be hard to relax," Diedrich says. When he and his wife can't take it anymore and need to escape the chaos for a couple of days, they love to head up north to Portland, Oregon, where they find it's easier to turn off.
"Portland has a more relaxed attitude and ambiance than San Francisco. It gives off this really cool vibe that's a lot more chill and mellow, almost like going to Hawaii," he says. "And it's accessible. It's a short flight, so it's an easy weekend getaway. They not only have great food and great drinks, but the city is beautiful; you can go hiking and be in nature."
Plus, as he notes, "it's significantly less expensive than San Francisco." From the best of the city's cocktail bars, to a casually impressive bistro, and a couple of outdoor retreats, here's where Diedrich loves to go when he retreats to the City of Roses.
A library for whisk(e)y
For those who love whiskey as much as Diedrich, a stop at the Multnomah Whisk(e)y Library, with 2,000 bottles lining its walls and a staff with intimate knowledge of them all, is a must.
"It's my favorite whiskey bar of all time," he says. "They have the sickest collection of whiskey, including some stuff I've never seen in my entire life. They have a cart they push around to make you cocktails tableside. It's literally like a library, except instead of books, there are bottles."
Even the decor leans into the library concept, with a sliding ladder to retrieve top-shelf bottles and seating in cozy leather chairs. While non-members generally have to wait in line for a seat, a $25 "Hall Pass" allows visitors to make a one-time reservation.
A place for pre-dinner martinis
Diedrich calls Expatriate, a bar/lounge with a menu of "drinking snacks" from Beast chef Naomi Pomeroy, "an awesome restaurant that does great cocktails and badass food." While he is a huge fan of their brunch and sake program, the one thing that keeps him coming back again and again is the martini.
"I'm a sucker for a martini. A perfect martini is how I like to start dinner," he says.
What does Diedrich's perfect martini consist of? "Two ounces of a London dry gin that's big with juniper and citrus, one ounce of dry vermouth, a dash of bitters, and a lemon twist.
"I can have two to begin -- three might be going overboard -- but two before dinner is amazing. It kind of gets you going and helps you forget about your day before you move onto dinner and wine."
A must-hit stop for Spanish coffee
Diedrich says tasting the Spanish Coffee cocktail at Huber's Café, Portland's oldest restaurant, is the No. 1 thing visitors have to do in the city.
The coffee -- which is spiked with Bacardi 151, Bols Triple Sec, and Kahlua, and is flamed tableside, then topped with fresh whipped cream and nutmeg -- is so popular that Huber's is the largest independent restaurant user of Kahlua in the US. "It's like going to Buena Vista in San Francisco for Irish Coffee; everyone does it," he says.
A cocktail bar so good, you'll shed a tear
Diedrich is friends with the owners of Teardrop Lounge -- considered pioneers of the cocktail renaissance in Portland (they even feature one of his drinks, Lime in da Coconut, on the menu) -- but that's not the reason he always finds time to stop into the Pearl District bar when he's in town.
"Teardrop consistently kills it in terms of keeping up with the trends, changing the menu, and being relevant and iconic," Diedrich says. "It probably has hands-down the best cocktails in Portland, but it's also about the ambiance. Everyone is super friendly and remembers your name."
Still, his go-to order may surprise you. "Their piña colada is probably the best piña colada I've ever had in my entire life; I kid you not. I could probably drink five of those and not even blink an eye -- so good."
A zen garden
"Being in the industry, it's very important to be able to tune out and find that balance," Diedrich says. To escape the cocktail circuit, he and his wife like to go up to the Portland Japanese Garden. Located in the West Hills, overlooking the city, the tranquil space features eight different garden styles on 12 acres, winding streams, an authentic tea house, and stunning views of Mt. Hood.
"It's very picturesque -- very zen," Diedrich says. "It's a place we can zone out, get lost, and not worry about things."
A farmers market in the park
Diedrich and his wife also always make sure to wake up early so they can visit the Portland State University Farmers Market that's open year-round on Saturdays. The 140-stall market hosts more than 200 different vendors throughout the year, as well as seasonal chef demonstrations and live music.
"It's in the park, so you're surrounded by trees and greenery. Everyone's cooking, and there's great weather, so you can just sit and relax," he says.
"The last time we were there, there was this little stand where they were grilling sausages… some of the best sausages I've ever had. There was a smokiness coming out of the grill, and you could buy beer, and sit there with friends, and eat sausages in the park."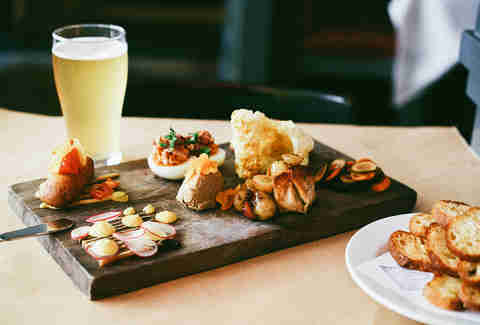 A casual French bistro
A lot of people consider chef Gabriel Rucker's acclaimed Le Pigeon as the restaurant that put Portland on the culinary map, but in keeping with his quest for chill, Diedrich prefers its more casual sister restaurant, Little Bird. The two-time James Beard Award winner's eatery offers French-inspired dishes (including a popular double-Brie burger) in a two-level space with red banquettes.
"That's probably my favorite restaurant," he says. "It's super casual and you can go in there and have one of the best meals for lunch and dinner. I like to sit at the bar and have a cocktail, some wine, and some food. I'm a big foie gras guy and their foie gras is amazing."
A lesson on teaching old cocktails new tricks
"Jeffrey Morgenthaler's renditions of classic cocktails are very inspiring," Diedrich says of Pepe Le Moko, a 36-seat bar in the basement of the Ace Hotel. Morgenthaler, who also runs the cocktail program at the Clyde Common restaurant upstairs, is "bringing back these classic cocktails that we loved in the '80s -- but made fun of as cocktail bartenders in the early 2000s -- only he reinvents them and adds a contemporary twist."
"You can go there and have a great Frozen Grasshopper or an amazing Amaretto Sour and not get judged for ordering it because he's somehow made it better," he adds. "Instead of two ounces of amaretto, he's cutting it with overproof bourbon and when you're drinking it, you're like, 'God, that makes complete sense. Why did we never do this before?'"
Diedrich tries to take that same inventive spirit back with him to the Bay Area and PCH. "I like getting inspired to re-look at cocktails in a different way," he says. "Instead of judging cocktails from the past, I try to add a twist and make them better."