From a couple of guys who used to bartend at Big (RIP), Benjamin Cooper is a new, extremely difficult to find bar inside of the Tendernob's Hotel G that's extremely worth finding. Why? One word: Alcohol.
This is Benjamin Cooper, who isn't actually named Benjamin Cooper, but is one of the owners' Grandfathers. There isn't really a Benjamin Cooper (no matter how hard they'll try to convince you there is), but if you combine their Moms' maiden names and this picture, there kinda is. Inside you'll find a pretty tiny, pretty hardcore industrial space with wall-to-wall-to-ceiling concrete and cold, metal bar stools, plus two even tinier lounge areas on either side of a space-hogging U-shaped bar.
Unlike Big, it's got an actual menu -- it's date-stamped and some of the cocktails on it will change weekly-ish, just hopefully not including the Salt & Smoke (Islay Scotch, fino Sherry, Benedictine, salted orange-chili oil, and bitters) since, well, it's delicious.
Did we mention it's got oysters? Because it's got oysters -- $2.50 a pop, and they're all provided by the same guy who stocks Saison's oyster reserves. Did we mention it's also got an off-menu oyster shooter? Because it's got that, too! It's $8, is awesomely dressed, and -- at least this week -- is served with a Scotch sidecar.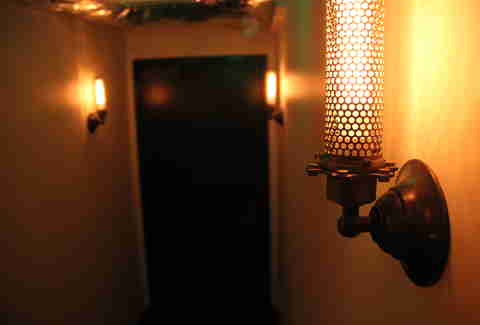 Oh right, and about the whole hard to find thing. So there are two ways to get into Benjamin Cooper: you can enter Hotel G on Geary, make your way inside to the front desk, hit the unmarked staircase behind you, and from the top of the staircase you'll see a door to your right -- take that and you'll make your way into this hallway, which'll eventually lead you to the bar. You can ALSO get in via Mason -- there's an unmarked door there, too, which'll lead you to a staircase with a spray painted stencil of Cooper next to it. Head up it, hang a right, boosh.
Sign up here for our daily San Francisco email and be the first to get all the food/drink/fun SF has to offer.
Grant Marek is a Senior Editor at Thrillist and he had two oyster shooters there last night. Follow him on Twitter if you wanna join him for another.