Berkeley Drinking Guide: 12 Bars Every Cal Fan Should Be Familiar With
Grant Marek/Thrilist (edited)
Grant Marek/Thrilist (edited)
The Cal drinking landscape has changed a bunch in the last decade. Raleigh's, Bear's Lair and Thalassa are gone, and Kip's is now a total s-hole. Hahaha JK, Kips was always a total s-hole. Thankfully, though, there're a bunch of awesome new bars and beer gardens that've taken their place (and still a bunch of standbys, like Henry's and Albatross).
On the eve of the college football season, brush up on where to pre-game with this handy little boozing guide to to the land of Nobel Laureate parking and not-super-good football teams.
Chances are pretty good you've never been to Moxy, because it's located on the southernmost tip of South Berkeley, it's only a little more than a year old, and it's on an almost entirely residential stretch of Sacramento. Chances are even better, though, that you'll make a point of going after reading this: it's an open-air beer garden set on a giant, covered porch with heat lamps, a fire pit, board games, 14 local drafts (you can order by the 20oz), $1.50 taco Tuesdays, and easily one of the best burgers in Berkeley. EASILY.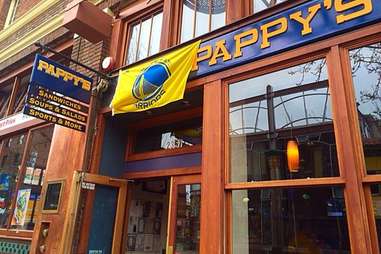 Pappy's is like Raleigh's and Bear's Lair COMBINED but WITH NOT AS GOOD BEER so YEAH. It doesn't have the awesome outdoor patio and steak flatbread that Raleigh's did, and doesn't have the on-campus location that Lair did, but it does have Aaron Rodgers jerseys, the biggest TV in Berkeley, and a stripper pole in the basement. It's become the place to be on a football Game Day -- home or away -- and also a Friday, because yep, they brought back Bear's Lair's "Beat the Clock."

If you're gonna get a lunchtime beer, do it here. One of the first brewpubs in the country, Triple Rock's beers are brewed literally next door (you can peek in on the brewing process through the windows out front). The IPAX is a must get -- it's a West Coast IPA that's somehow only $5.25 a pint (the most you'll pay for a house beer here), or taste the entire TR lineup with their 5.5oz taster glass program that'll run you $2 per pour. Two pro tips: 1) if your timing is good, they'll let you sip some brews on their roofdeck, and 2) go on a Thursday, and only a Thursday, and you can get the elusive Monkey Head Arboreal Ale ($9 for a bottled liter).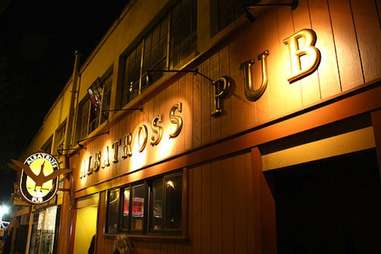 The oldest pub in Berkeley, this San Pablo mainstay is basically a classy version of a Cal fraternity basement -- it's dark and smells like kegs, but beer pong has been replaced with the most elaborate darts setup in the Bay Area (six professional... courts?), and Natty Light with 14 tap beers at pretty decent prices. Also: $1 unlimited popcorn!
See: best backyard in the Bay Area. See also: this beer drinker's paradise is housed inside of an old livery stable from the 1890s, and takes design cues from the oldest bar in Berlin. They do 12 brewed-in-house beers (their nitro dry stout is the truth), plus rotate in another 18 guest beers -- 30 beers in total that all honestly go pretty good with their hand-stretched, brick oven-fired pizzas.

This isn't just one of the best places to drink in Berkeley, it's one of the best places to drink in the entire East Bay. Especially if you like Mexican booze. [Editor's Note: You like Mexican booze.] The list of sipping tequilas and cocktails are both on-point, but the reason to do the do here are the eight flights of either mezcal or tequila, including a single-village mez' one served with chicharron salt. Chich. A. Rron. Salt. Do yourself a favor, and drink at least one of those flights on their back patio. And drink more than one if mom and dad are paying.

Earlier this year the Bourbon & Branch guys finally made their way into the East Bay, where they've both revived one of Berkeley's best drinking spots (the old Beckett's on Shattuck) and added what might be its best cocktail bar in Tupper & Reed, which boasts most-under-$10 tipples, a 300-strong spirits list, three beers on tap, three PUNCHES on tap, and 10 spirits flights for sampling.
Not only is this the only drive-thru bar in Berkeley, but the Grizzly -- located between the front and back nine at Tilden Golf Course -- lets you call ahead with your food/drink order on a standalone phone at the ninth tee.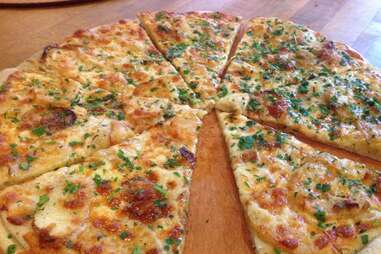 If you've ever ordered a beer at this Berkeley pizza place, you'll understand why it makes our Drinking Guide: every pint/cocktail you buy comes with a sliver (get it??) of pizza. So if you buy 12 beers/cocktails, you'd be getting an ENTIRE PIZZA, FREE.
I mean, there's a urinal with the Stanfurd logo on it. Sure, they have a full bar, and a ton of beers, and usually some pretty good shot-and-a-beer deals, but yeah, mostly the urinal with the Stanfurd logo thing.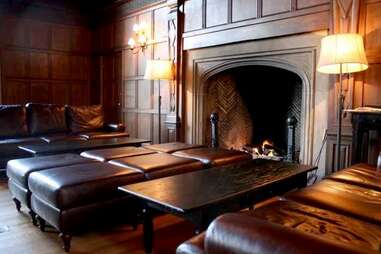 This guy was one of three spots on the Drinking Guide to make our Thrillist 47. A 90-year-old, fraternity row-abetted building across the street from campus is part of the reason why, but the alchi deserves the nod, too: the liquor program has a heavy whiskey focus, plus, there're 29 bottled beers and 16 different $5 California drafts. Don't get us wrong, next-door Sigma Nu is great and all, Freehouse is just better. Actually scratch that, Sigma Nu is terrible.

If you want to drink and makeout with a Tri-Delt and pee in a planter AND spin a drinking wheel for $5 that could score you everything from a pitcher of beer to a "Bird Sh*t" shot that has liquor and mayo in it, um, go here.
Sign up here for our daily San Francisco email and be the first to get all the food/drink/fun SF has to offer.
Grant Marek is a Senior Editor at Thrillist and still the reigning Bear's Lair beer pong tournament champion. Invite him to your next College Ave bar crawl on Twitter @Grant_Marek.