The East Bay's Most Essential Breweries
East Bay breweries have become the new frontier for hop heads. Day drinking is elevated to an art form, sunny days are spent on taproom patios, and craft brews are sipped while pontificating about the finer points of IPAs, pilsners, and probably pizza. Love a good session beer? Done. Into aggressive hops? No problem. Ready for the new sour wave? Hop on board. Find kindred spirits in the best breweries of the East Bay, talk shop with fellow beer geeks, or just have a really good excuse to bring your dog and/or kid to a bar. In no particular order, here are the 11 spots you need to know now.
<em>Berkeley</em><br />
Are you secretly sour at heart? Well, you'll have a home at The Rare Barrel. This tribe of sour-loving brew masters devoted their nerdy beer hearts to crafting the heck out of sour beer. There are no tasting flights, so bring friends to mix and match the array of $7-$8 10oz sours. Lest you get sticker shock, remember, this is a liquid culinary art, so settle back and enjoy the ride. Try out the Ensorcelled, the award-winning dark sour aged in oak with raspberries. They also serve a couple local wines and have a solid grilled cheese to balance the brews.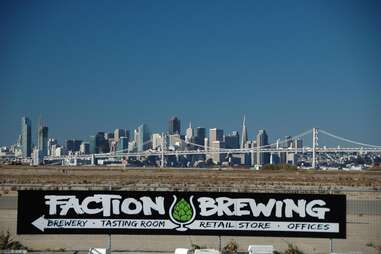 <em>Alameda</em><br />
Beer fans love this joint for the frequent turnover on their adventurous taps -- visit each weekend under the guise that you're keeping abreast of what they're brewing. There's generally a food truck in the parking lot, not to mention ridiculously easy parking. But the real deal here -- aside from the delicious Defcon series -- is the crazy view over the bay to San Francisco. Two beers in and you'll be kissing the chain link fence for the perfect skyline shot.&nbsp;<br />
<br />
<!-- single line template -->
<em>South Berkeley</em><br />
WHERE IT'S AT! Two turntables and a microbrew. This tiny joint reads more cozy bar than craft brewery, but proves that small can still be mighty. Open five days a week, Hoi Polloi boasts a handful of in-house craft beers with a dozen other quality names on tap. Unlike breweries that shut their doors around sundown, these guys pour 'em until 2am on weekends while DJs spin a mix of eclectic music. Their flavor profile is all about creativity, and features cool collabs like the currently available Hoi Polloi Alchemy Collective Coffee porter. The icing on the keg (eh? ehhh?) is the fresh popcorn drizzled with truffle oil.&nbsp;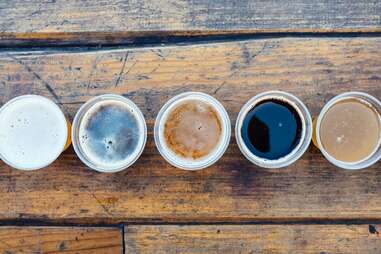 <em>West Oakland</em><br />
An East Bay staple since 2009, Linden Street's easy-drinking beers keep fans coming back. 2016 sees a twist on the classic flavor lineup with new brew master, Shane Aldrich, and an expanding brewery warehouse. The tasting room's outdoor patio, dog-friendly vibe, regular community events, and damn fine beer will draw you in weekends from noon to 5pm. Get your feet wet with core beers like the California Common Lager and the Burning Oak Black Lager, or venture into new turf with a feisty devil like the Rauchbier Smoked Black lager.&nbsp;
<em>Berkeley</em><br />
Your daily draft dose should be from Fieldwork. Doors are open noon to 9pm on weekdays, so you can toil away your days with a laptop and your dog in their chilled out taproom. Order a hearty meat pasty like you're honest-to-God working in the fields, and let your tastebuds go exploring. Fieldwork has a serious soft spot for IPAs and sours -- so if you like beer that's exciting, bold, and aggressively hopped, you just might be in heaven. Hit it on Sundays for the weekly party.<br />
<br />
<!-- single line template -->
<em>Jack London Square</em><br />
Bring the crew up to this no-sign, garage door warehouse near Jack London Square. The former punk rock haven now houses progressive beers that experiment with a range of herbs and spices for a unique lineup. Chill out, play a board game, try the temptingly named Sticky Zipper IPA or Alt-J25 and have some snacks. Kid AND dog friendly.
<em>San Leandro</em><br />
CQBC boasts a big, beautiful tasting room (with requisite reclaimed wood walls), creative seasonal brews, a dog and family-friendly scene, and a rotation of food trucks out front. What more could you want? Live music, you say? Well, it just so happens the CQ gang regularly hosts live music (skewing towards bluegrass and folk) and partners with local chefs for themed brunches. The founders are Google engineers turned brewing buddies who've paired their love of science and beer to make the world a better place. For all of us.
<em>Alameda</em><br />
Opened in February 2015, this one-year old is way more refined than your average toddler. The stylishly industrial tasting room gives beer seekers a sip (or 20) of what's afoot in the microbrewery. Tall tables, cement floors, and an outdoor patio make for easy lounging with groups or as a solo sampler. Bring your kid! Bring your dog! Bring your boring neighbor Phil! The daily predetermined flights are 5 for $7 or choose your own adventure at 5 for $10. If you're in it for a pint, be dark and brooding with the Sea Haggis Scotch ale or opt for the Cavanaugh Kolsch for a sunny day lark.&nbsp;
<em>San Leandro</em><br />
Doing it right since 1989, the Drake's crew has been part of the West Coast microbrew movement from the get go. Head out to the site for tastings, pints, growlers, or kegs (pretty sweet). To talk beer, go on a weekday when the tapmasters aren't swamped. If you want to be festive, hit sunny weekend days or <a href="http://drinkdrakes.com/the-buzz/drakes-first-friday/&quot; target="_blank">First Friday</a> parties that support local non-profits. Scope the recently opened <a href="http://drinkdrakes.com/visit/dealership/&quot; target="_blank">Drake's Dealership</a> in Oakland for a cool pub scene complete with food and all their brews that's perfect for big-ass parties.&nbsp;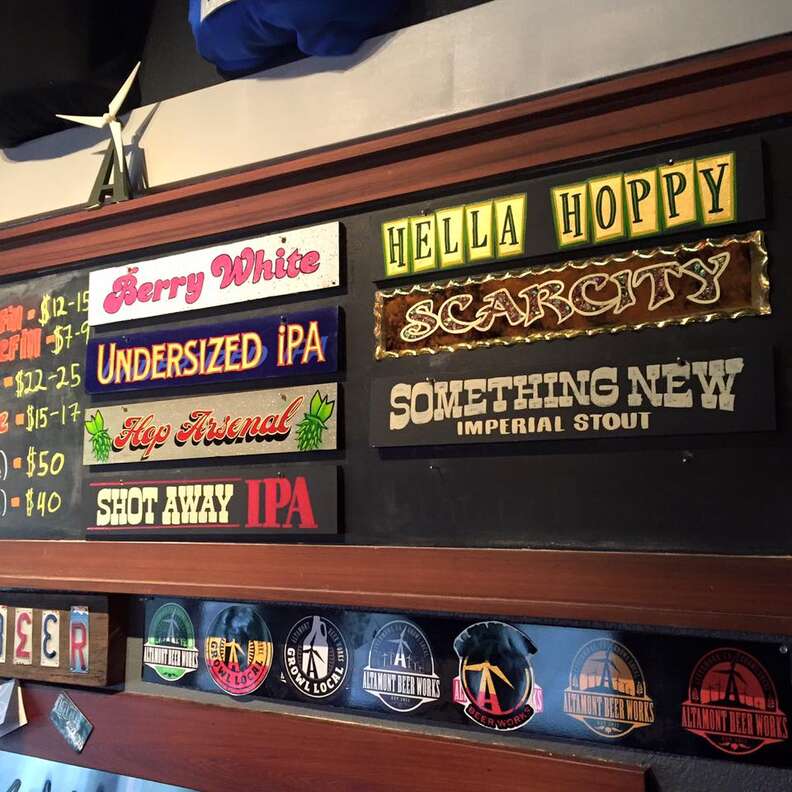 <em>Livermore</em><br />
Yep. It's deep east, but don't let that deter you. The beers are awesome, especially if you have big love for hop forward ale and aggressive flavor action. The Hella Lite session beer, Berry White creamy summer wheat, or the hoppy red Ganja Juice will have you designating your neighbor Phil to drive you out each weekend. And bonus, it's warm in Livermore even when it's crap weather along the bay.
<em>Uptown Oakland</em><br />
Diving Dog is your grand finale. After sampling all the fruity, sour, tangy, hoppy, carbonated perfection that awaits you in the East Bay breweries -- it'll be time to brew your own. The Diving Dog not only has a beautiful microbrew beer bar, they offer an on-site brewing experience. For $300, you brew, bottle, label, and master a boatload of beer with your own label.<br />
<br />
<em><a class="vortex-open" data-campaign="2846" href="https://signup.thrillist.com/&quot; target="_blank">Sign up here</a> for our daily San Francisco email and be the first to get all the food/drink/fun SF has to offer.</em><br />
<br />
Annie Crawford is an Oakland-based writer who lives for laid-back patios. Follow the sun with her on <a href="https://twitter.com/ReinaAnnie&quot; target="_blank">@ReinaAnnie</a> or read her global domination exploits <a href="http://www.thrillist.com/authors/annie-crawford&quot; target="_blank">here</a>.