The new bar from the Churchill folks is a religious experience
If you dislike going to church but still want to feel blessed (or even if you like going to church but ALSO like drinking), you'll be happy to know that the Churchill folks have opened Holy Water and are ready to answer your prayers -- assuming that you've been praying for delicious cocktails.
Going with the holy theme, these chandeliers are made of old bibles. Kidding. They are made from books, though. Possibly some vintage Tom Clancy.
The walls have shelves of glass flasks that actually used to hold holy water, so you're prepared in case you need to do any on-the-fly baptisms or exorcisms.
The lights over the bar are all hand-made from old decanters, and behind the bar there's an old church offering-basket the bartender may or may not use to hassle you for tips.
The bar program has been put together by an alum of Churchill and Bourbon & Branch, so you know the cocktails are going to be legit, like this (possibly named for the early '00s Niners) After the Gold Rush, with bourbon, pineapple gum, and apricot.
They're also offering up some old classics and have some traditional cocktails like this Singapore Sling and, why yes, that is a wall-sized black-and-white photo of an old-timey river baptism.
Their menu explains how each drink looks and is made with nifty graphics, so you'll know beforehand that this White Lady is served up and made by shaking, as opposed to by WASPy parents in Greenwich, CT.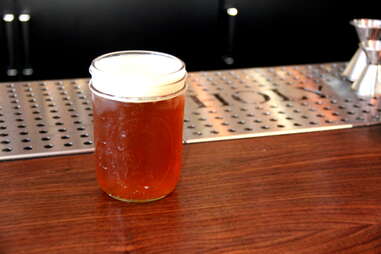 If you're out for beer, they have a strong lineup of hard-to-get locals and imports with eight on draft (like this Stone Levitation) served in a mason jar, although some Jars of Clay would have felt a little more appropriate.