Sooooo This Could Be the Best SF Opening of the Year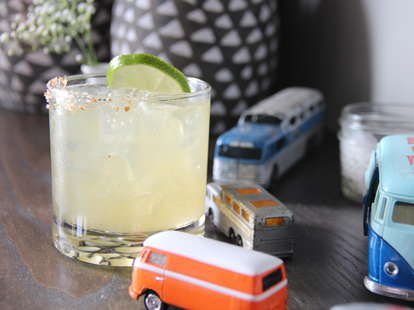 Located on the most unassuming of unassuming Bernal Heights corners, Old Bus Tavern takes a page out of the books belonging to all the bars in San Francisco you like, runs like hell ('cause it just ripped a bunch of pages out of everyone's books!!), and then superglues all of them together into one singularly incredible brewpub that's already taking the early pole position for Best Opening of the Year.
First off, the people involved: they're super legit! Chef Max Snyder has worked in kitchens at four (FOUR!!!) Michelin-starred restaurants (Saison and Coi in SF, and Eleven Madison Park and The NoMad in NYC), and bar program consultant Christina Cabrera was a fixture at cocktail powerhouse 15 Romolo.
Oh, DUDE, and then there's the trio of co-owners: Jimmy Simpson, who's worked the front/back(/middle?) of house at nearby Pizzahacker, and Bennett Buchanan/John Zirinsky, a pair of Cornell grads who've been homebrewing together for eight years and are now behind the shiny new custom brewery you see above. (Did we mention John is also a volunteer for a mountain rescue unit in the Sierras? BECAUSE HE DOES THAT, TOO.)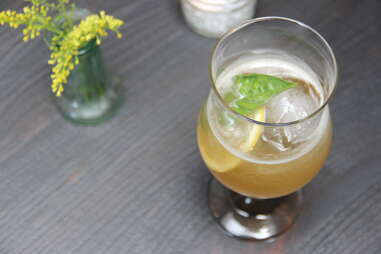 The beers? Yeah, they're incredible, starting with the refreshingly subtle Old Bus Tavern Lemon Basil Saison, and on to the OBT Chili Porter, which is brewed with 60lbs of roasted poblano chiles and Valrhona cocoa nibs. It'll have anywhere from four to six house-brewed American- and Belgian-style ales, 10 guest drafts (which, to start, are basically a who's who of awesome Bay Area breweries and beers), and shandys (beer + booze cocktails!), including the above Whistle Stop (Lemon Basil Saison, bourbon, lemon, rosemary honey, and orange flower water).
The full-on cocktails? Also stupid-dumb-couldn't-pass-the-SAT-twice good. Its margarita is its specialty, but the Sierra Blanca with Sotol might actually be the better, red-ier move. But only after you've dipped into one of its fugload of boilermaker combos
(Guys. The picklebacks use pickle juice leftover after they've pickled a bunch of stuff for the food menu. For the love of God get one of those.)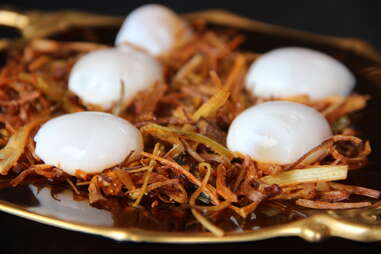 The shocker though? Holy crap the food. Don't believe anyone who describes it as "pub fare" because this isn't pub fare, unless all pubs have a chef with Snyder's Michelin-y resume. (WUT? THEY DON'T??) The pickled quail eggs (yeah... pickled... quail eggs) are served on a bed of fried onions. Full stop. Get those.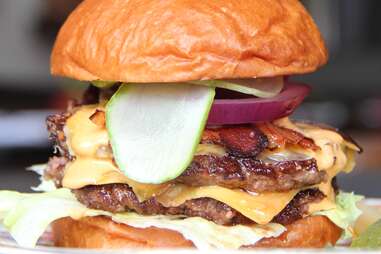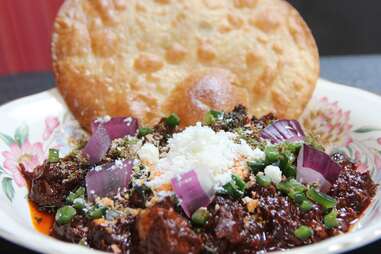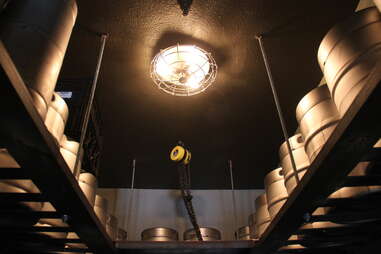 The space is cool, too (and designed by Zirinsky's mom, who's a real-life designer in NYC), from the exposed brewery, to an oversized dome skylight, to Navajo rugs that used to belong to one of the guy's uncles -- an uncle who USED TO BE MR. PRINGLE. The coolest design element, though, is right by the kitchen entrance in back -- a little lofted space where they'll be barrel aging some of their house beers.
Oh, and yes, there's a bus (they actually used it for a Fourth of July camping trip!). The guys just finished a crowdfunding campaign to trick the thing out, and come mid-August, it'll be ready to roll for private events and festivals and stuff, with two taps, portable gas burners, an inside/outside sound system, and batched cocktails. Vroom. Vroom.
Sign up here for our daily San Francisco email and be the first to get all the food/drink/fun SF has to offer.
Grant Marek is Thrillist's Senior Cities Director and he doesn't throw around the Best Opening of the Year thing lightly. The last time he did it was for The Cavalier, which is The Best. Follow him for the latest beer bus news on Twitter at @grant_marek.