San Francisco The best Bernal Heights bar we ever told you about (Holy Water!) just gave you ANOTHER reason to actually go to Bernal Heights: they started what's maybe the most unique happy hour in San Francisco. Just like the time at which you always started papers in college, Holy Water's calling this thing the "11th Hour", and (SURPRISE!!!!) it'll start every night at 11pm. They're going to rotate in a bunch of different promotions, including:
1. Big Beer Night: They'll be offering magnums (the beer kind) and growlers of some very rare, otherwise-hard-to-get beer-age. When they're gone, they're gone (because, again, rare). Continue Reading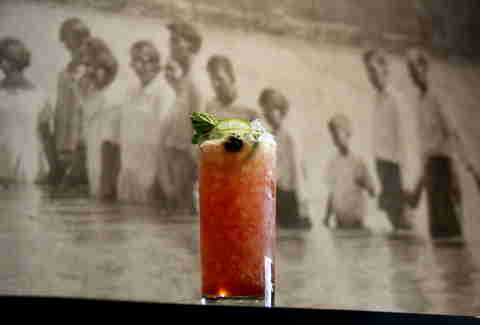 2. Science Lab: Bartenders will serve you drinks that test out new recipes/ingredients/drink-making techniques. If you like your drink, great! If you don't (like, actually don't, and don't drink it), you won't have to pay for it. It's like sitting in on the making of a cocktail menu.


3. Bartender's Choice: The bartender'll ask you for one or two ingredients you like, and then use that info to build you a cocktail. You could be cool and say something like, "bourbon and ginger", or weird and say, "vanilla and smoke". It's kinda like what they were doing at the now-closed Big (sadface emoji forever) and're now doing at SRO inside OddJob (reluctantly-perks-up emoji?).
4. Flight Night: Simple -- they'll offer flights of things they think are "awesome", that they want other people to try, including super-rare and limited-release beers, and also single-barrel selections from all of their sister bars (Churchill, Bloodhound, Brass Tax, Prizefighter, etc.).
5. Late-Night Food: They've partnered with Tango & Stache (you know, they guys that do amazing things like marinate pork shoulder in Appleton Estate Rum or Negronis, and put that in tacos) to make sure you'll be able to grab some boozy food to compliment your boozy... booze.