We've all been there: you stayed up too late, mixed too many colors of liquor, and woke up the morning after with a killer headache, ashtray mouth, and the spins. And now you need a Bloody Mary. And some ibuprofen, and water, and like a million other things, but let's stay focused, shall we?
Here's a list of the 14 best Bloodys this side of the Barbary Coast.

Persian Bloody Mary
Foreign Cinema (address and info)
The Mission
This totally unique take on a Bloody Mary is as tasty as it is interesting, combining Indian curry with sherry, tequila, and... sumac, which apparently isn't always of the poison variety (we hope?).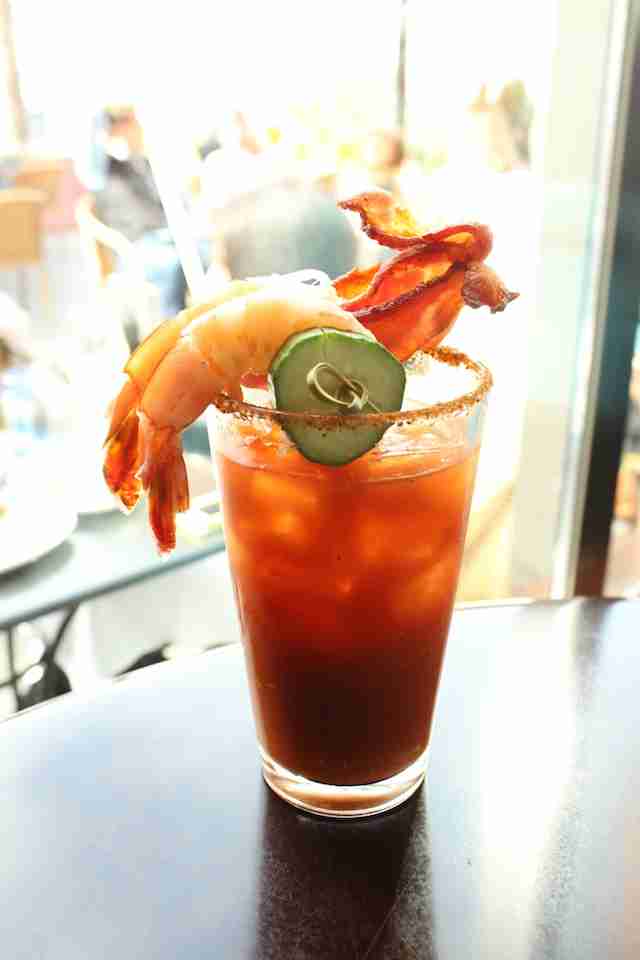 The Ultimate Bloody Mary
Waterbar (address and info)
Embarcadero
If you want to handle a hangover like the rich and famous, this Mary is your gal. This cocktail sauce-inspired Bloody comes with a super-spicy rim and is topped with crispy bacon, a cucumber, and two oxymorons. Let one of those jumbo shrimp take a deep dive to the bottom of the glass and enjoy its Grey Goose vodka-soaked goodness when the drink is gone. At $24, this Mary will set you back but then, aren't you worth it?

Make-your-own Bloody Mary
Elixir (address and info)
The Mission
Why have someone else decide what goes into your morning elixir when you can go to Elixir (!) for maybe the city's best MYO Bloody Mary bar with a tomato base recipe that GQ awarded for its excellence, plus as many additions as you want, or don't want. Probably the same amount of vodka though.

Bottomless build-your-own Bloody Mary
District (address and info)
SOMA
If you like your Bloody Marys like you like your Kim Kardashians (bottomless), then grab brunch over at District where you can not only gorge yourself on its breakfast buffet, but also treat yourself to its seemingly unending make-your-own Mary bar. The bar is stocked with both spicy and mild mixes and includes top-notch garnishes like pickled peppercorn and giant olives. Pro tip: sneak over to the buffet and snag some bacon or shrimp to basically turn your cocktail into a protein drink.
Secret Bloody
Zeitgeist (address and info)
The Mission
The chances of a Bloody Mary leading to a full-blown Sunday Funday are good. The chances of a Bloody Mary served at one of SF's best beer gardens leading to a full-blown Sunday Funday are much, much better.

Balsamic Bloody Mary
Zuni Cafe (address and info)
Civic Center
Zuni Cafe's well-known Bloody is well-known because it uses a Mary wildcard: balsamic vinegar, which adds a tangy-sweet flavor that tips the drink in an entirely different taste direction than you're used to.
Bender's Bloody Mary
Bender's Bar & Grill (address and info)
The Mission
Wait, what's that we see poking out the top of this Bloody? That's right, it's a Slim Jim, which you're definitely going to wanna snap into, because it adds a decidedly welcome, meaty flavor to your rejuvenating morning drink.

BLT Bloody Mary
Thieves Tavern (address and info)
The Mission
This weekend-only cocktail involves the usual mix of pickle juice, hot sauce, and horseradish, plus ACTUAL BBQ sauce and three important garnishes: red lettuce, cherry tomatoes, and candied bacon. Mmmm... candied bacon...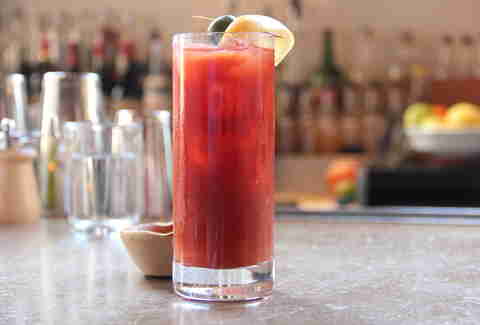 House-spiced Bloody
Nopa (address and info)
Western Addition
Nopa's morning re-constituter is a house-spiced tomato juice with pimentón and cayenne, with your choice of vodka, mezcal, or Scotch(yScotchScotch), all usually topped with house-pickled radishes.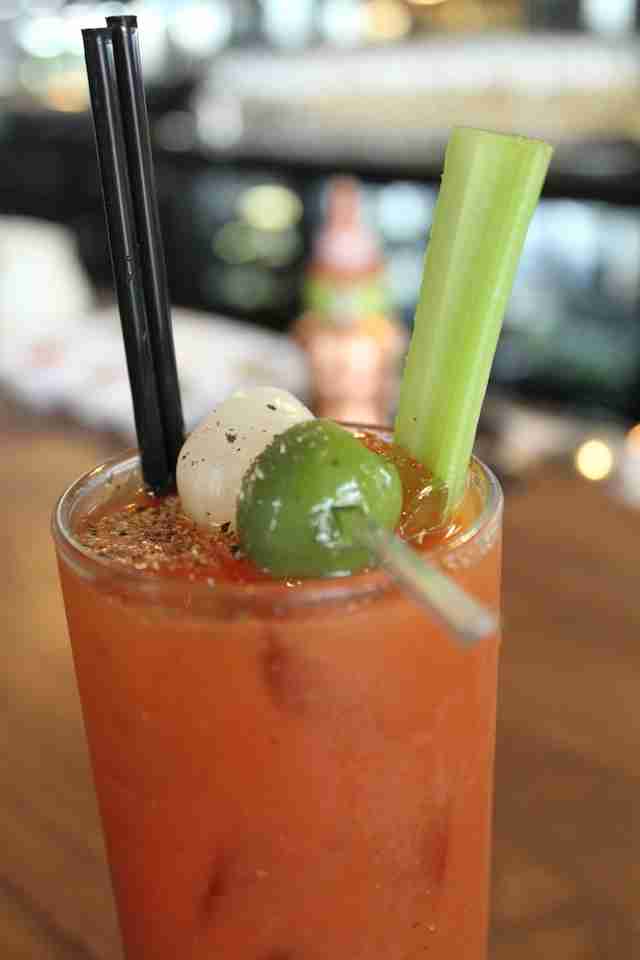 Green Strawberry Bloody Mary
1760 (address and info)
Nob Hill
This Polk St bar uses green strawberries as part of its essential mix along with fresh lemon juice, A1, and Sriracha to create this uniquely refreshing Mary. The strawberries give the drink a tart acidity like a sour beer, which helps cut the heavy tomato flavor. And while this Bloody lacks the aggressive heat of others, it instead leaves you with a zingy aftertaste. Oh, and 1760 uses only seasonal ingredients, so word on the street is this Mary will be changing from strawberry to bell pepper soon.

Bull's Head Bloody
The Cavalier (address and info)
SOMA
The Bloody Mary did it, with Colman's mustard, at The Cavalier. This extremely unique Mary utilizes a kick-you-in-the-mouth mustard powder that adds crazy-delicious nuance, and then they next-level the thing EVEN MORE with a house-made, red wine vinegar-infused cocktail onion, which gives the drink a savory-sweet element that you can eat layer by boozy layer.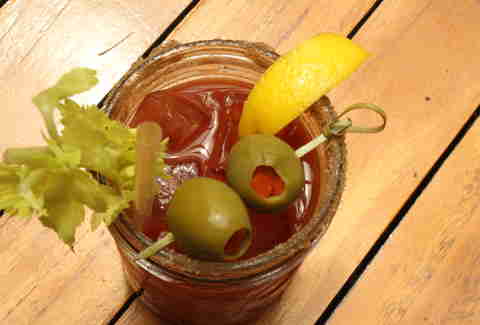 Spicy Mary
The Tipsy Pig (address and info)
The Marina
The Bloody Mary at The Tipsy Pig is not for the weak of sinuses. One sip of this horseradish-packed drink will be enough to clear you up proper. Served in a Mason jar (because we're in San Francisco) with a generous celery salt and pepper rim, this Mary packs a sizable punch. The olives and celery do a good job of bringing a briny crunch to this spice-forward Mary and it pairs nicely with the creamy goat cheese scramble.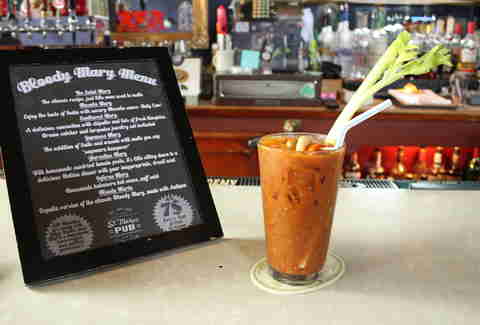 Florentine Mary
St. Mary's Pub (address and info)
Bernal Heights
This is truly the Bloody Mary promised land, blessed is it among drinkers. Every Saturday and Sunday this joint (which was recently found to be established in 1933 and not 1948 like it says on all its T-shirts) slangs SEVEN different Bloody Marys. You can try a Bloody seasoned with everything from curry powder to chipotle sauce to wasabi. Your hangover's best friend, though, is the Florentine Mary, which is spiked with homemade pesto, house-pickled seasonal veggies, and fresh basil -- it's essentially a drinkable pizza and the last few sips are a gorgeous melange of residual spice and chunky pesto. All the veggies and horseradish are bought at local farmers markets and pickled in-house by owner, mom, former burlesque dancer, and jefe rojo, Maria Davis, who works hard to make every Mary shine.

Bloody Mary
Hi Tops (address and info)
The Castro
If you're looking for a good, classic Bloody, Hi Tops' should do the trick. It uses a just-spicy-enough house mix and it's usually garnished with pickled asparagus and... pickles (or bacon if you're lucky).
Molly Sanchez is a writer, comedian, and lover of burritos everywhere. She has written for The Bold Italic and Liquid Bread, and has performed stand up at some of the city's finest dive bars. You can find her on Twitter @seriousmolly.
Joe Starkey drank almost all of these Bloody Marys for "research." Shhhh, don't tell Thrillist on Twitter.
This article was originally published on May 23, 2014.