Hello, 8 best cocktail bars in San Francisco
December 21st is the longest night of the year -- almost 15 straight hours of darkness. Nerds like to call it the "Winter solstice". We like to call it the "Best Night of Your Life", because that's damn sure what it could be, if you spend it at the city's best Thrillist-approved happy hour spots, cocktail bars, nightclubs, etc. Check out our picks for SF's best cocktail bars below, and make sure to fully map out a perfect evening with our itinerary builder.
Trick Dog
The Mission
This three-years-in-the-making Thrillist 47 standby from tipple titan Bon Vivants has quickly become one of the best cocktail bars not just in SF, but in America. There literally (and figuratively?!) isn't a bad drink on the menu.
Alembic
Upper Haight
Upper Haight may not strike people as the place to go for good cocktails, but it's actually home to one of the city's best mixed drink bars, Alembic, where cocktail descriptions read more like stories. Pro-drinker tip: get the Vasco da Gama (Buffalo Trace bourbon, garam masala-spiced apple syrup, and a splash of Islay Scotch).
Tradition
Tenderloin
This TL bar may be a little dicey to get to, but it's totally worth it -- especially if you've made a reservation for a booth, and especially especially if you've ever gotten the Speakeasy booth, and especially especially ESPECIALLY if you've ever gotten the Speakeasy booth and sipped on an Afternoon Tea Sour while in it. Coolest part by far: they've got eight full-on drink menus (one for Tiki-drinkers, one for dive-drinkers, etc.), meaning you could keep coming here for weeks without ever drinking the same thing.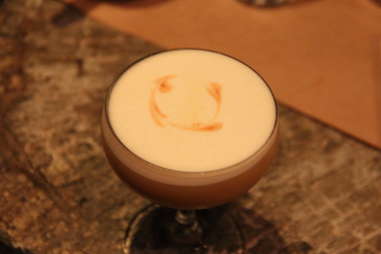 Blackbird
Castro
This not-quite-in-the-Castro bar boasts a truly impressive cocktail list displayed on brown packing paper on the wall. Absolute-must-tries count the Adios My Friend (a classier, barrel aged-er AMF) or the Gosling Rum (Old Overholt Rye, yellow Chartreuse, lime, and cream soda combining Rye N. Gosling). Hey girl, indeed.
Alchemist
SOMA
In a part of town mostly known for its clubbiness/auto repair-iness, Alchemist pairs great 'tails with rotating bartender pop-ups, so you'll never grow bored. We pity the fool who hasn't tried the B. A. Baracus (Scotch, lemon, ginger & habanero syrup, and cider).
Maven
Lower Haight
Just how serious is Maven about its cocktails? This serious: every single menu item has a paired cocktail listed next to it. If you want a side cocktail while you're getting your recommended pairing on, we'd highly recommend the 5 Spot (aged rum, ginger, lime, maple, Thai basil & five spice), and the perfect-for-Winter-which-is-year-round-here Fireside Cocktail (rye, lemon, egg white & Winter spice).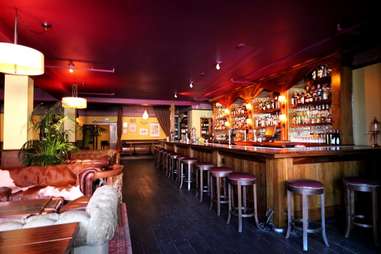 Bergerac
SOMA
With a menu run by one of the dudes who fixed up peoples horrible drink programs on the show Bar Rescue, this tipple spot sports a cocktail menu that separates sippables into five categories: Approachable, Complex, High-Octane, Low-Octane, and Social... which, oddly enough, could describe the phases you go through when drinking.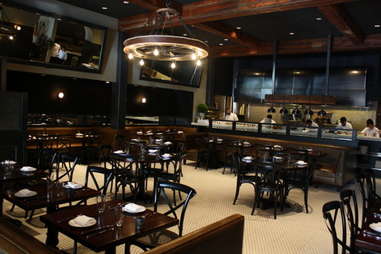 Park Tavern
North Beach
If you haven't tried the Muir Woods (Monkey Shoulder Scotch, Drambuie, egg white & lavender), then clearly you're not reading a certain awesome men's interest site nearly enough.