December 21st is going to be the longest night of the year (literally, it's the Winter solstice). Here to help you ensure it also doubles as the Best Night of Your Life, we've got eight of the best happy hours in SF -- because no good/great/best/average/kinda aight night is complete without one of them. Check out our picks below, and make sure to fully map out a perfect evening with our itinerary builder.
Bar Crudo
Get schmancy and full with BC's 5-630p special that includes discounted drinks ($3 beer) and, more importantly, $1 oysters... like, good oysters. Also: $10-for-two local rock cod tacos.
Recommended Video
Charleston: The Ultimate Local's Guide
Two Sisters Bar and Books
Hayes Valley
If you're looking for a slightly classier/library-er HH, look no further than Two Sisters for an every day discount that includes $3 beers, $5 wines, and $5-$7 cocktails poured by one of the two sis-es.
The Attic
The Mission
This spot, with a surprisingly spacious back area, offers $2.50 beers (okay), and $2.50 well-martinis and Manhattans (Ohmygodareyouserious?That'sinsane.).
Lightning Tavern
Cow Hollow
Come here for the wings and discounted drinks, stay for the Lightning Round -- wherein the bartender rings a bell during HH and for the next 10 minutes, it's $1 drinks.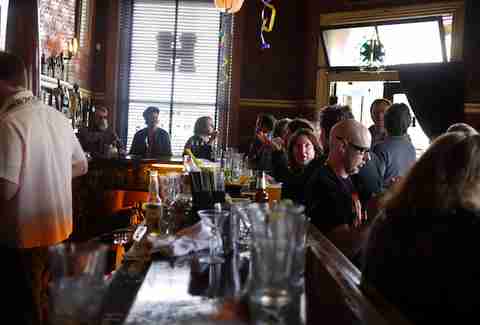 The Homestead
The Mission
This little Mission dive offers rotating specials every day like $2 Tecate (¡si por favor!), plus daily $1 off all wells and almost all drafts, plus plus plus... PUZZLES!!!
El Rio
The Mission
This everyone-friendly neighborhood dive with a giant back patio offers $3 well drinks and drafts from 1-8p. Plus, if you end up here on a Friday, they add in all the free oysters your maybe-impaired judgement can handle.
Uva Enoteca
Lower Haight
This classy Lower Haight Italian establishment comes with the rather unique 3-630p happy hour that grabs you $2 (good) beers and $5 wine (for the laaaadies... and discerning gentlemeeeeen). Plus, you can grab some of their normally pricier margherita pizza or pasta pomodoro for $10.
Broken Record
Crocker-Amazon
This greasy spoon dining spot's burgers are out-of-control-good, plus they have Four Roses bourbon ON TAP. And even when you're not BNOYL-ing, it's worth hitting the place on a Tuesday for Beer Bust Bingo, meaning you can act like your Grandpa while really acting like your Grandpa by getting $10 worth of $1 PBRs.