Indian summer in SF is officially here, which means you've got about 10ish weeks before Karl the Fog is back, well rested and ready to ensure your weekend plans involve lots of layers. To help you make the most of it, we've come up with an "Indian Summer Drinking Challenge", wherein we've mapped out 10 things you need to drink over the course of the next 10 weekends.
Bonus points if you do it on one of these 89 SF patios.
September 20-21: Oktoberfest beers
Pay respect to this annual beer extravaganza's actual start date (nope, not in October) by enjoying a litre or five of an Oktoberfestbier -- a Märzen that's brewed in March and allowed to ferment slowly during the summer months -- on a sunny Saturday in SF's only actually German biergarten: uh, Biergarten.
September 26-28: Local beer on a lawn
Enjoy the last week of Park Chalet's live summer music series with a beer on their lawn. Not sure which of their house-brewed beers to order? Start with a flight for 13 bucks.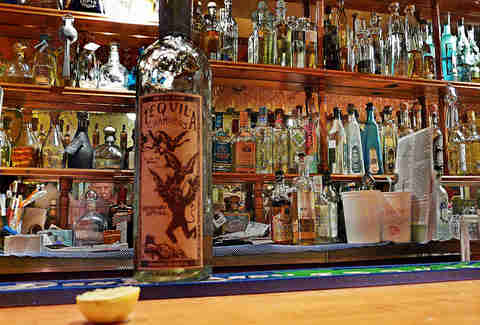 October 3-5: The best margarita in town
Summer is in full effect. Cool off with a pitcher of Tommy's iconic margaritas. There's really nothing more to say.
October 10-12: Boozy fountain soda
It's. So. Hot. Outside. The grown-up in you wants a cocktail, but the kid in you is like "GIMME SOME ICE CREAM RIGHT NOW. Please.". Well the "Remedies" at Ice Cream Bar will make you wish all compromise tasted so good. Order the Dublin Honey: Guinness, caramelized honey ice cream, Valrhona chocolate syrup, and a float of Graham's 10-year-old tawny port.
October 17-19: Cider
Cider orders like autumn but goes down like summer. Head to Upcider, San Francisco's only cider bar, and choose from dozens of ciders, most of which are decidedly not girly at all. Okay, a little girly, but still.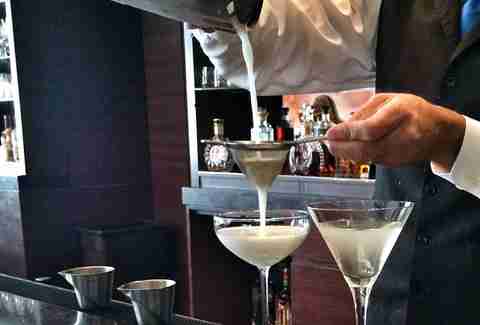 October 24-26: A $125 cocktail
Since Halloween doesn't scare you anymore, order a round of "The World's Greatest Martini" (NOLET's Reserve gin, Perucchi vermouth, Bitter Truth orange bitters) at the Ame Restaurant bar in the St. Regis and instead be terrified by the bill.
October 31-November 2: Cherry Bounce
Help your liver transition from "summer" to winter with a drink that has a bit of both: the Cherry Bounce at Comstock Saloon. The cherries are earthy, the bourbon is boozy, and the bubbles make it light and refreshing. And don't worry -- it's more red than pink. Not that you're afraid of a pink drink, right?
November 7-9: Pumpkin beer
So much better than a pumpkin latte because, well, it's beer. 21st Amendment has a pumpkin porter or, if you prefer something lighter, try Magnolia Pub's pumpkin Belgian witbier.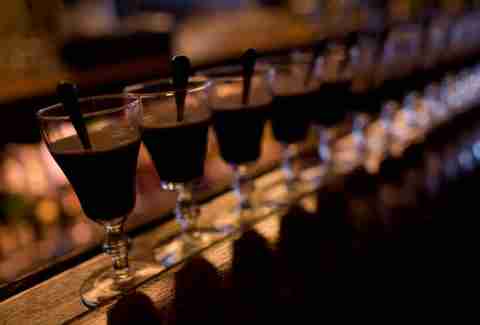 November 14-16: Cappuccino
Winter weather is starting to arrive. But don't worry -- we're not suggesting you go to Starbucks. In fact, we're not even suggesting you drink coffee. Tosca's House "Cappuccino" 1919 has cappuccino in quotes for a reason. A drink that was invented during the Prohibition to sell booze illegally, it's actually Marie Duffau Bas Armagnac, Buffalo Trace bourbon, Dandelion Chocolate ganache, and organic milk.
November 21-23: Beaujolais nouveau
This year's Beaujolais nouveau arrived on Thursday. What are you waiting for? This young wine is meant to be consumed immediately, so grab a few bottles and cheers to successfully completing one of the hardest (easiest?) challenges of your life.
Sign up here for our daily San Francisco email and be the first to get all the food/drink/fun SF has to offer.
Daisy Barringer is Thrillist's SF Editor. She'll take a pumpkin beer over pumpkin pie any day of the week. Follow her on Twitter @daisy.