The New Brewery Class of 2015, which included the likes of Fieldwork, Ale Industries, Fort Point, and Headlands, is a tough one to beat. The first 10 months of 2016 have shown some promise though, with new age brewers jumping into the fray. Rather than continue the time-tested, brewery format of tanks in warehouses with wood picnic tables, this list of new breweries has a few good stories and twists.
Recommended Video
Brewing Your Own Custom Beer Has Never Been Easier and Tastier
Bernal Heights
Barebottle was founded in July 2016 by three serious beer junkies and beer-judges-turned-brewers. The three mixed in a little Ivy League know-how from their Cornell days, then added a beer pro from the legendary Drake's for a seriously successful brew. Honoring their beer judging roots, Barebottle gives their customers a chance to pick the best of the best with pilot brews. That approach is already paying off -- the brewery recently brought home a Bronze Medal from this year's Great American Beer Festival for their Coastal Red Imperial Amber Ale.
North Oakland
Over $11,000 from a crowdfunding campaign helped get this Oakland project off the ground in June 2016. This neighborhood-bar-meets-brewery sports a simple tasting room, with lots of charm and a warm atmosphere. Novel has a couple of nice American-style IPAs on its beer list of about a dozen brews. You can even sample all the IPAs for less than 10 bucks.
Temescal, Oakland
Make room Drake's (Dealership), there's a new kid in the neighborhood. Wade Ritchey, the former brewer at Cellarmaker, is now brewing at Temescal and is getting attention as a newcomer to the beer community's list of instant favorites such as the Sandy Pils, a dry-hopped pilsner, and its keg-conditioned saison. With more outdoor than indoor seating, this place is a perfect stop on a sunny day. Temescal also has friendly pours at the counter and food trucks that roll right up to the back gate, including local faves like Vietnamese-Mexican fusion tacos from Powered by Pork.
Bayview
Seven Stills is not just about the beer; in fact they only had a few beers on tap at time of publish and just opened in July. But getting outside the beer box isn't a bad thing; the brews are crafted (and aged) in the same barrels used to make their liquor offerings. If you are a student of brewing and distilling, Seven Stills is your type of place, with tours and lectures to feed your brain as well as your buzz.
Bayview
Founded by brothers who are homebrewers-turned-pros, Laughing Monk features beers with a heavy Belgian influence in a tried and tested brewery format (industrial space with barrels, lots of concrete and wood), and any new brewery that jumps right into the sour beer realm has balls. Their crisp and refreshing Mango Gose is a winner, too. Laughing Monk is steps away from the aforementioned Seven Stills in Bayview, which should help the brewery succeed in its off-the-beaten-path location.
Los Gatos
From the Youkilis brothers (that's right, baseball great Kevin Youkilis) comes Los Gatos' newest brewpub. In the New Brewery Class of 2016, this is the food stop, with a solid menu that runs the gamut from ceviche to pork belly. Loma has three traditional German style beers on tap, as well as a nice assortment of American beers that don't have fancy, cheeky, or funny beer names. Anchored by head brewer Warren Billups of Heretic Brewing Company fame, Loma Brewing will be a powerhouse in the South Bay, and they will be on everyone's brewery tour map before long.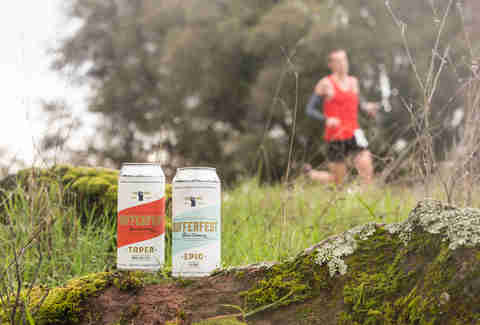 No brick & mortar
Like Holycraft, there's no taproom or brewery to visit just yet, but it's likely just a matter of time before this upstart, women-owned, gluten "removed" beer company jumps into that scene. Sufferfest's beer hit the shelves in 2016, and already you can find the Pilsner and Taper (IPA) in more than 175 locations across NorCal, which is pretty incredible if you think about it.
Portola
Army vets and a husband/wife team run this shop, which is not unlike other places that you might pop into for a trivia night and other fun. But unlike many of those other (and bigger) breweries, you can chat directly with the owners. Beer-wise, FDR's brew line-up isn't chock full of big beers like many others. So, if lower ABV beers are your thing, you'll really like the big hoppy taste and nose on the Second Term Session IPA.

There are a couple of new taprooms that should get a quick mention in any story about new breweries. The Brewsters Beer Garden in Petaluma will open in November, and Fieldwork Napa just opened in the incredible Oxbow Public Market in mid-October. If you're shooting out to the North Bay, these will be two great spots to drink local beer.
Sign up here for our daily San Francisco email and be the first to get all the food/drink/fun SF has to offer.