These Rooftop Bars in San Francisco Have Must-See Views
Take in stunning views of the Bay at these rooftop bars in San Francisco.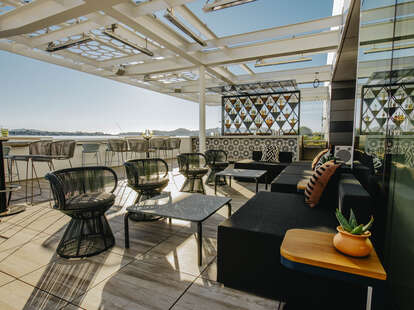 Courtesy of Cavaña
Courtesy of Cavaña
For many years, San Francisco just wasn't a rooftop bar kind of town. But now, even though there are maybe two days a year when one would have the audacity to leave the house without a jacket, rooftop bars are popping up more and more. We mostly have the construction of new hotels to thank for that and outdoor heating technology, including windscreens, fire pits, and the trusty, but always appreciated, space heater. These things mean that rooftop bars are no longer for the rare days when the sun is shining and there's nary a marine layer in sight. Now, we can enjoy drinks with a view year-round. This is a thing you should definitely make plans to do as our rainy season finally comes to an end. Wondering where to go? Well, every one of the rooftop bars in San Francisco on this list will take your enjoyment to impressive new heights.
620 Jones is home to SF's biggest rooftop bar and lounge, which means there's a better chance you and your group will be able to snag a table. Just keep in mind that even though the outdoor area is technically on a rooftop, it's more of a patio one-story above street level in a pretty dense part of town, so you're not getting incredible city views, although it is beautifully landscaped with lots of hummingbirds to admire. In the days of yore, Jones was a hot spot for people looking to grab a drink after a long day at the office, which meant it could be hard to snag a table. But since most everyone works from home now, you can actually enjoy the weekday happy hour (4 pm to 6 pm) somewhat stress- and crowd-free, which is what happy hour is all about! There's also a popular weekend brunch with pitchers of mimosas and a breakfast martini, which is a real choice, but one we enjoy making.
How to enjoy: Walk-ins only for small groups. Groups of six or more can reserve a table online. Making plans for a big group the day of? Call 415-845-2257.
If you prefer your rooftop bar to be in a Russian bathhouse, then that is very specific, but you're also in luck. Archimedes Banya is SF's only authentic Russian bathhouse, where you wander (with clothing or without) among pools, the cold plunge, and saunas to steam and sweat before heading off to the full-service spa where you can get scrubbed and massaged. But this isn't about spa treatments; it's about places you can drink on roofs, which is totally something you can also do here. This place has an outdoor rooftop lounge called Zteamer's with views of SF, the Bay Bridge, and Mount Diablo, lots of sunshine (because: Bayview), wine, beer, and a food menu with caviar, perogies, and borsch. We should probably note that you'll need to wear a robe at the cafe.
How to enjoy: The full price of admission is required to get in ($47 to $75 depending on how long you want to stay), so it's probably not worth it unless you're taking advantage of all of the services. You can walk in to enjoy the facilities, but a reservation is required for packages and services.
San Francisco doesn't tend to get a lot of new rooftop bars, but when a new one does pop up in the sky, one can be almost sure that it's atop a new hotel. In the case of Cavaña, that new hotel is LUMA in Mission Bay, but you almost don't even notice since the indoor-outdoor Latin American cocktail bar has a private elevator to whisk you up 17 floors from the sidewalk. The space is stunning, with many colors and textures inspired by Central and South America, including handmade ceramics, plenty of lush green plants, rattan furniture, and firepits emitting so much heat you can actually sit without a jacket on a chilly night. Of course, the space is only made more beautiful by the SF skyline, including a peek at Oracle Park. The beverage program highlights unique Latin ingredients, like yerba mate, mole, and purple corn, and there are a couple of large format options that serve six to eight people. There are also some tasty snacks, such as the must-order Arepas de Pabellón, to enjoy while you sip and take in the scene.
How to enjoy: Reservations are available on Resy.
The only thing that feels truly "San Francisco" about Charmaine's is the stunning city views. And we say that in a good way. Because though we love our local drinking scene, it's hard to find a bar that's unapologetically decadent, stylish, and sexy. And Charmaine's, which is perched 120 feet in the sky atop The Proper Hotel, is all of that. The quirky and colorful interior bar is absolutely charming, but the Euro-meets-LA outdoor lounge with a wraparound terrace is why you're there. The comfortable seating and copious amounts of fire pits create a "settle in and stay for a while," vibe which is easy to do once you start sipping the tasty cocktails from the guys behind Bon Vivants and Trick Dog. Just beware: Charmaine's is a hotel bar, and with a hotel bar comes hotel bar prices. Luckily, the sticker shock is worth it.
How to enjoy: Reservations are available through OpenTable.
To find this hidden oasis, you'll need to walk into Hotel Zelos and take the elevator to the fifth floor. There, you'll walk through the dark and dramatic inside dining area to the fully-heated patio, where you will choose between a table (best for a complete meal) or a cozy couch in the lounge area (ideal for drinks and snacks). Dirty Habit is technically on a roof like some other rooftop spots on this list. Still, it is surrounded by taller buildings, so it's not about the views but rather about being outside beneath the star-filled sky, enjoying the fresh air. The cocktail list is a mix of exotic and classic drinks with a couple of boilermaker options for when that seems like a good idea, which is probably more often than not. Also, "jelly shots," which are fun and delicious, especially for a group. The food menu is predominately "snackable" dishes to share, like unbelievably tasty Japanese milk bread served with a kaya jam, hand-cut fries, spiced lamb ribs, and caviar, but there are also heartier dishes if you're looking for a complete meal. Whichever way you go, just don't skip the crispy chicken wings. Trust us.
How to enjoy: Reservations are available through OpenTable. The restaurant also accepts walk-ins.
This is one of the most popular rooftop bars in San Francisco for a few reasons. First, it's in the Mission, atop sister restaurant Lolinda, which means there's often sunshine even when half of the city is awash in fog. Second, there are some pretty expansive city views, meaning you can bask in the sun while looking at all the neighborhoods cloaked in that fog. Third, there are really delicious cocktails (a bunch of which come by the pitcher) and Latin American street food (ceviche, empanadas, fish tacos, etc.) that's perfect for sharing, making it ideal for groups of friends (or dates, for that matter). Fourth, there's weekend brunch and a weekday happy hour from 4 pm to 6 pm. And last but definitely not least, El Techo's rooftop has windscreens, heat lamps, and a retractable roof that comes out when necessary, so the rooftop is open rain or shine.
How to enjoy: After years of only accepting walk-ins, you can now make reservations on Yelp.
The Sunset location of this popular pizza and pasta restaurant is by far our favorite, and it's not just because it's the only location with a full bar, although that's a huge draw. The somewhat secret rooftop deck is perfectly designed for San Francisco's weather, with a black-and-white striped retractable awning, an abundance of heaters, and just the right amount of charm in the form of hanging plants and strings of twinkling lights. To be clear, you're not going to this rooftop for amazing views. You're going for amazing cocktails created by veteran bar director Candice Meierdirk whose drinks you've hopefully enjoyed at Evil Eye, Lolinda, and Macondray, and pizza on a cozy patio that just happens to be on a roof. Oh, and did we mention it's also the only one of the three Fiorella locations to serve weekend brunch?
How to enjoy: Reservations are available through OpenTable. The restaurant also accepts a limited number of walk-ins.
The second you hear a restaurant is from the team behind Liholiho Yacht Club, you know it's going to be impressive, and that's precisely the case with this more casual venture, a tropical oasis inspired by cuisines across the Asian diaspora. There is inside seating, but the restaurant also has a massive, colorful, and plant-filled rooftop deck with a mix of high-tops and turquoise booths, slatted awnings for shade, and plenty of heat lamps. The drinks will at least metaphorically whisk you far away with their fun and bright names like Pink Flamingos, The Poolboy, and Point Break and "vacation" drink ingredients like coconut, pineapple, and passionfruit. Unlike "vacation" drinks, however, these are made with the proper amount of booze, so tread carefully.
How to enjoy: Please note: Rooftop seating is a highly popular request and is NOT guaranteed, but don't stress if you don't get it because the indoor space is equally as cool and even livelier. Reserve a table (request outdoor seating, and they'll do their best to accommodate you) on Resy (they open consecutively one month prior at 10 pm) or take your chance walking in—these tips and tricks should help.
We've always been a big fan of the fresh and colorful Peruvian Nikkei cuisine featured at Cow Hollow's Kaiyō, and we promise it only tastes better at its sister location, a rooftop bar and restaurant on floor 12 of the Hyatt Place Hotel. The spinoff has tropical vacation vibes, with vibrant colors, lush greenery, and palm trees throughout. The oversized bar is a stunning centerpiece with curved arches, emerald green tiles, and hanging woven lanterns. But there's genuinely not a bad seat in the house, helped out by the fact that the restaurant wraps around the building, so there are magnificent views from the Bay Bridge all the way to Sutro Tower. The food—highlights include the tiraditos, cebiches, and sushi rolls—is all meant to be shared and is designed to go with the Nikkei-inspired cocktails. Go with a group to take advantage of the large-format options. There are plenty of heat lamps, but if you're going at night, you're obviously going to want to bring a jacket because it doesn't matter how tropical the vibes are—this is still San Francisco.
How to enjoy: Reservations are available on Yelp.
El Techo is usually everyone's go-to rooftop bar, but this under-the-radar spot with sunshine and frozen drinks should not be neglected. Rooftop 25 at 25 Lusk sits 50 feet above street level and is casual and spacious with communal tables and glass windscreens, as well as heaters and string lights for when the sun drops below the horizon (it's in SoMa, so there's genuinely a very good chance the sun will make an appearance during the day). Show up hungry because, while the drinks are excellent and also very drinkable (you've been warned), the food, most of which comes out of the woodfired oven, is top-notch. Spicy passion fruit margarita, caviar and blinis, and Neapolitan-style pizza? Sounds like the perfect afternoon or evening to us.
How to enjoy: Walk-ins welcome. Reservations are only required for parties of 5-8 and can be made via Yelp.
As we said, if you're looking for a newer rooftop bar, you'll find it in a hotel like Rise Over Run, which sits on floor 13 of The LINE Hotel in the Tenderloin/Mid-Market neighborhood. The rooftop bar and solarium serves cocktails from native San Franciscan Dannie Louie, who has won awards for his creative concoctions at Mister Jiu's, all of which are best enjoyed when sitting around a fire pit on a starry or foggy night or inside the gorgeous greenhouse during a moody rainstorm. There's also a small food menu heavy on fancy snacks, such as a spicy tuna tostada and mezze platter, but it also has a Double Royale with Cheese that looks too good not to split.
How to enjoy: Reservations are available through OpenTable.
Daisy Barringer is an SF-based freelance writer who is taking advantage of these strange times by exploring San Francisco on foot. Follow her on Instagram @daisysf to see where she goes next.