The Best Rooftop Bars in San Francisco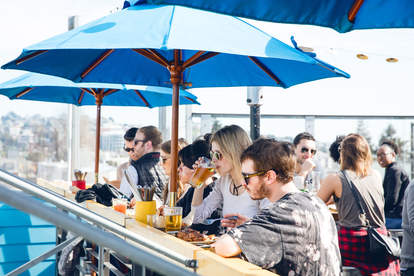 We know San Francisco isn't exactly known for its rooftop bar scene, but why nitpick when it comes to something as fun and, frankly, important, as drinking outside whilst also standing atop a building? Exactly.
Without further ado, here's a list you should definitely memorize (there aren't many, so it won't be hard), so that the next time someone's like, "Hey, it's bizarrely nice out! Let's go drink on a rooftop," you can be like, "Totally! And I actually know where to go to take our drinking to a new level!" And then while you're waiting for your friend to laugh at your corny joke, grab your light layer or puffy jacket because while most of these bars may have heat lamps and windscreens, this is still San Francisco.
El Techo

| Aubrie Pick
Mission
Sunshine and pitchers of margaritas on a roof. And that's all we need to say about that.
This rooftop bar is one of the most popular in SF for a few reasons. First, it's in the Mission (atop sister restaurant Lolinda), which means that there's usually sunshine even when half of the city is awash in fog. Second, there are some pretty expansive city views, meaning you can bask in the aforementioned sunshine while pointing and laughing at all of the neighborhoods socked in by that aforementioned fog. Third, there are really delicious cocktails (a bunch of which come by the pitcher) and Latin American street food that's perfect for sharing, which makes it ideal for groups of friends (or dates, for that matter). Fourth, there's weekend brunch (which is the only time you can make reservations). And last, but definitely not least, El Techo's rooftop has windscreens, heat lamps, and a retractable roof that comes out when necessary, so the rooftop is open rain or shine. Keep in mind, however, that El Techo is a seated situation, which means on most sunny afternoons, there will be a wait... it's totally worth it though.
Tenderloin
A popular spot for after-work drinks even when the sun isn't out in full force
Jones has SF's biggest rooftop bar and lounge, which means there's a better chance you and your group will find a place to sit... as long as you get there right when it opens up at 5pm (it's first-come, first served unless you have a group of 10 or more). Just keep in mind that even though the bar is technically on a rooftop, it's really more of a patio one story above street level and it's surrounded by buildings, so while you're outside, you're not getting increible city views. The crowd is a mix of people coming from the Financial District and SoMa, so for every button-down shirt, there's someone in a tech company T-shirt they got for free. The cocktail list is pretty extensive, and incorporates classic and specialty drinks ($12 to $15), but before you offer to buy the round, know that the bar is cash only (with ATMs on the grounds). You'll want to bring a jacket, because that's just what we do when venturing outside in SF, but Jones also has heat lamps for when it gets a little chilly... which means it's definitely easy to spend the entire night here under the stars/fog.
SoMa
A hidden outdoor oasis with couches and a firepit
Walk into the Hotel Zelos and take the elevator to the fifth floor. There, you can sit inside, at the bar, or on a couch by a fire on the fully heated rooftop patio (choose wisely). Like some other rooftop spots on this list, Dirty Habit is technically on a rooftop, but is surrounded by taller buildings, so it's not about the views, but rather about being outside in the fresh air (with a chance of sunshine depending on where you're seated and the time of day). The cocktail list includes plenty of great options, including several punch bowls to share and a few fancy non-alcoholic drinks, and the seasonal food menu is ideal for sharing, especially if your dining companion(s) like delicious chicken wings.
Yerba Buena Gardens
It's shockingly easy to get an outdoor seat at this charming spot with great views (or it was until we wrote that)
It seems like people often forget about this adorable little bar and restaurant on the roof above Yerba Buena Gardens, which is a good thing for you when it comes to getting a table outside (the only kind of table you want -- there are fountains out there!). Even though the beautifully landscaped terrace isn't very high in the sky, you can catch views of the Downtown skyline, St. Patrick Church, and Yerba Buena Gardens. The house cocktails are all very thoughtful. On a hot day, we like the Feisty Flirt (orange-flower water, grenadine, aged gin, lemon, mint, prosecco), but if that's too cute, the So Tough (rye, malbec reduction, bitters, orange zest) always packs a punch. Pitchers of beer are also available -- a good call when it's a little more crowded and service can get kind of slow -- and pair perfectly with the dollar oysters during happy hour (4:30 to 6:30pm every day).
Bayview
The only SF option for when you want your rooftop bar to be in a Russian bathhouse
This is SF's only authentic Russian bathhouse, where you wander (with clothing or without) among pools, the cold plunge, and saunas to steam and sweat before heading off to the full-service spa where you can get scrubbed and massaged. But this isn't about spa treatments; it's about places you can drink on roofs, which is totally something you can also do here. This place has an outdoor rooftop lounge called Zteamer's with killer views, lots of sunshine, wine, beer, and is the one place where clothing (or a robe, anyway) is required -- though there are other outdoor decks where you can let it all hang out if you'd like. The full price of admission is required to get in, so it's probably not worth it unless you're taking advantage of all of the services.
Manolo Yllnera
Tenderloin/Mid-Market
A hotel bar with style and sex appeal
The only thing that feels "San Francisco" about Charmaine's is the stunning city views. And we say that in a good way. Because though we love our bar scene, the one thing that's hard to find in this town is a bar that is unapologetically decadent, stylish, and sexy. Of course, much of that has to do with the fact that all the colorful and quirky interiors in The Proper Hotel (which Charmaine's is perched atop 120 feet in the sky) were designed by Kelly Wearstler, but at Charmaine's, it's also about the comfortable seating, the abundance of fire pits, and the excellent cocktails from the guys behind Bon Vivants and Trick Dog. Glass wind screens wrap around the outdoor patio, so that you're protected from the almost ever-present SF wind, but can still take in the views; however, if it does get too chilly, you can always move inside to the indoor bar, which has floor-to-ceiling windows. Head there after work when the bar is a bit of scene, or go after dinner when you and your date/friends have a good shot at claiming a fire pit all to yourselves.
Everdene
SoMa
This lively 12th story bar at the Virgin Hotel is the place to see and be seen
Everdene is the newest rooftop bar on this list, and subsequently the hottest, so we don't anticipate the near-constant line to get into the 4,000 square foot indoor/outdoor space to dwindle any time soon (if ever). Everdene is part of the Virgin Hotel, so it makes perfect sense that everything feels incredibly ambitious, from the marble foyer through which guests enter and the 25-foot wraparound bar to the lounge areas and their lush garden vibe. DJs play through the afternoon and into the evening, and the music can be loud; this is not a place to come for whispered conversation or to gaze into someone's eyes. This is a place for well-prepared cocktails made with fresh ingredients (including some large format options), crowd-pleasing bar snacks, and very interesting people watching. There are also a couple of private lounges, so expect to celebrate more than a few birthdays here in the very near future.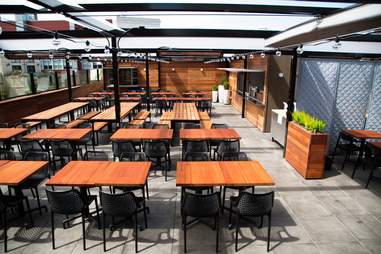 Rooftop 25

| Anne-Claire Thieulon
SoMa
Casual rooftop bar with lots of sunshine and frozen drinks
On those days when the weather is unexpectedly warm and you and your work buddies start talking about where to get happy hour drinks before you've even eaten lunch, there's one answer that will satisfy the group every single time: Rooftop 25 at 25 Lusk, a spacious bar and restaurant 50 feet above street level with communal tables, glass windscreens, and heaters. Keep lunch light because you're going to want to save room for Rooftop 25's gluttonous food, especially the skillet burger and the hot dog in a pretzel with cheddar sauce. There's also a good wine and beer list, but the way to go with beverages is the cocktails, which are (warning) very drinkable, especially if you opt for the frozen spicy passionfruit margarita. Oh, and if you just can't wait until happy hour, that's okay because Rooftop 25 opens every day at 11:30am. Just try to stick to one margarita. And by one, we obviously mean two.
Sign up here for our daily San Francisco email and be the first to get all the food/drink/fun SF has to offer.
Daisy Barringer is an SF-based writer who is afraid of heights, but loves a rooftop bar. Tell her your favorite places to drink outside on Twitter @daisy.