SF's 10 Best Bars Where You Can Stay Cozy & Ditch the Fog This Winter
The Vestry

| Nathan Bennett
The Vestry

| Nathan Bennett
When the weather gets rough (or just super-cold and foggy), it can be tough to track down a hot spot to drink. Not simply the hottest bar in your new favorite neighborhood, but a bar that provides chilled-to-the-bone drinkers some actual heat. From heated rooftops and patios to balmy fireplace seating, San Francisco is full of warm bars for the thirsty heat-seeker.
Inner Sunset
When you see fire in the name, you know you're in the right place. This is where you go when you're ready to fight off the San Francisco chill, push Karl the Fog to the side, and hunker down for some serious warmth. Candlelight and a fireplace keeps it nice and golden inside, while dark wood and low lights makes it the perfect spot to snuggle up with a date. Or enjoy a slightly rowdier vibe on game-days, when Fireside Bar shows sports on their mega-screens. Either way, make sure to snag some of the comfy seating situated right beside the centrally located fireplace and fight off that chill with flames and fierce cocktails.
Mission
Searching for a heated rooftop in San Francisco is like trying to find a mermaid riding side-saddle on a unicorn. El Techo has breathtaking views of the Mission, and its steamy heat lamps offer a series of hot spots to gather under as you take in the sights. The menu of Latin American street foods is full of classic small plates like platanos, chile rellenos, and ceviche which pair perfectly with their abundant cocktail list. Stave off the wintery chill (ahem, year-round mist) with a happy hour drinks and pitchers of sangria from 4 to 6pm on weekdays, or check out the mouthwatering al fresco brunch on weekends from 11am to 3pm.
SoMa
Sleek modern fireplaces are situated throughout this swanky lounge, surrounded by a contemporary circle of comfortable couches. Architect Cass Calder Smith created the ideal fireplace-away-from-home setting, where you can snuggle up by floating silver orbs filled with flames. Unlike many of the fireplace spots in San Francisco, which tend to have more of a neighborhood bar vibe, Twenty Five Lusk is upscale and a solid go-to for a few rounds of fancy cocktails on a first date. Toggle between classic and modern with their two drinks menus, one for old-school cocktails and one for fresh seasonal faves. 'Tis the season for Old Fashioneds around the fireplace, and the bar offers two glorious odes to rye with their classic Rye Old Fashioned and 25 Lusk New Old Fashioned.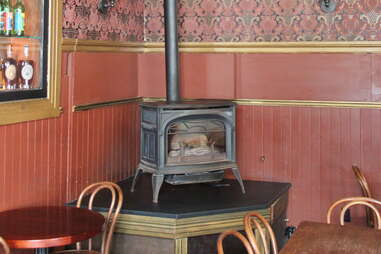 Mission
Welcome to everything you want in a neighborhood bar, complete with a snuggle-worthy little fireplace tucked in the back. The Homestead has a warm, low-lit, vintage vibe with a pressed tin ceiling and giant nude paintings. It feels like your friendly local Victorian pub, except way bawdier and chock full of puppies. It's dog friendly, so deck out fido in his favorite doggie duds and bring him along for a canine and human happy hour. The Homestead is also open late, seven days a week and serves up legendarily strong cocktails. Beat the fog, beat the frost, and curl up by the flames with a Manhattan and your new best dog friend.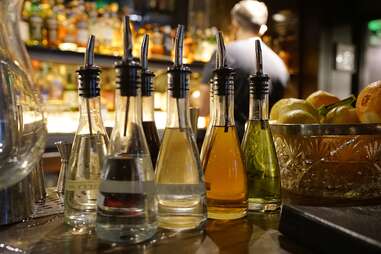 SoMa
Dirty Habit hovers five stories above SoMa, floating far away from the hustle and bustle of the busy sidewalks and busy (chilly) everyday life. Get away from it all, vertically, with outdoor drinks at Dirty Habit's outdoor patio with several fireplaces and heat lamps. Yup layered-up friends, you can even strip off the coat as you sip a cocktail at this sleek heated enclave in the sky. The focus here is on brown liquors, and the gargantuan cocktail list offers plenty of options including a menu of mega-cocktails to share (including the Crazy Zamba, made with Novo Fogo cachaca, Calamansi citrus, basil, Huana, prosecco), so your party can get properly sloshed en masse. Seasonal ingredients pop up in cocktails and delicious bites alike, so order up a round of shareable plates to munch on as you thaw out. Take a tiny vacation, just for a couple hours, and enjoy this sleek heated enclave in the sky.
Inner Sunset
Sprawling Blackthorn has it all: a full roster of live bands, giant pool tables, huge screens airing the most crucial games, and a rowdy trivia night. As you stumble through this world of bar delights, head to the back for Blackthorn's tucked-way heated patio. It's a tiny spot, but it's a warm oasis if you need a break from bar noise or just want to enjoy a few beers in close quarters with your crew. The vibe is decidedly more relaxed and the heating will keep you toasty as you enjoy some fresh air. There are always a few barrel-aged cocktails in rotation here -- we like the Boulevardier, made with Dickel Rye, Campari, vermouth, and an orange peel -- and what goes better with cozy seating than a fine aged drink?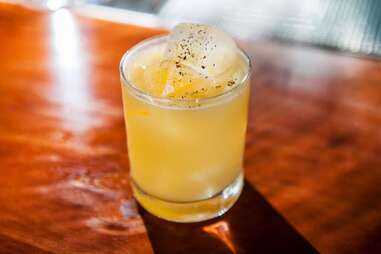 Lower Haight
So, thirsty caveman, you've stumbled upon fire but you need to find the perfect drinks and bar foods to pair with those sweet, sweet flames. Hit the upstairs lounge at Maven for a round of sublime cocktails and snacks, served up as you park it on the cozy seating that surrounds the fireplace. The warm, lively atmosphere permeates the whole bar, but the full-blast heat is best found when you grab a seat by the fire. Take a tour of the cocktail menu, which is chock full of inventive flavor combinations like the Head Full of Bees (pisco, vermouth, asian pear, lemon, honey, and pinot noir) or Hometown Vixen (bourbon, pistachio, orange, and black pepper), that will have you ordering a second round way as you finish your first sip. Shareable plates packed with seasonal ingredients will round out your fireside drink experience.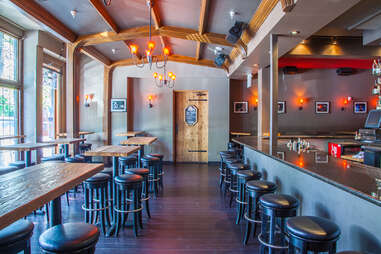 Mission
If the Vestry isn't already in your Mission bar rotation, you're missing out on the opportunity to swill some strong sips outside without freezing. As the slightly-warm day transforms into the far, far chillier night, The Vestry is the perfect place to stay coatless and cocktail-ed without devolving into shivers. The outdoor patio gets the heat lamps buzzing at night and features a "Sinner's Happy Hour" every Tuesday through Friday from 5 - 7pm, where you can bask in the warm outdoor glow after the sun sets. Craft cocktails, including bourbon-based favorite Nail in the Coffin, and a major wine list makes this a can't-miss location.
Bernal Heights
What could be more comforting than a roaring fire and hot buttered rum? No, you haven't stumbled into a Norman Rockwell Christmas card. If it's the holiday season in San Francisco, Iron & Gold is serving up festive classic buttery rum, and they've got fireplace seating to add to this deeply warm cocktail scene. A constantly evolving menu full of themed drinks means that even when the season isn't turning towards mistletoe and a lack of snowflakes, this is still the place to be. The bar's motto is "Let our home become your second home," and you'll feel extra homey lounging next to the fireplace during the five hour long happy hour from 4 to 9pm.
Lower Nob Hill
Bacchus Kirk boasts all of the amenities of an ideal neighborhood bar, including a great fireplace. Smokers are welcome on the outdoor smoking porch, an awesome jukebox keeps the atmosphere fun and perfectly soundtracked, while a pool table will help you stay busy as you soak up those drink specials. Bacchus Kirk airs football games every Monday night, if you want to enjoy the game in a way cozier spot than your own fireplace-free living room. Sundays feature an all-day happy hour for the chilly day drinker.
Sign up here for our daily San Francisco email and be the first to get all the food/drink/fun SF has to offer.