The 13 Best Drinking Neighborhoods in San Francisco, Ranked
<strong>The Interval |</strong>&nbsp;<a href="http://bit.ly/1SsmXYF" target="_blank">Flickr/Christopher Michel</a>
<strong>The Interval |</strong>&nbsp;<a href="http://bit.ly/1SsmXYF" target="_blank">Flickr/Christopher Michel</a>
With apologies to many fine SF neighborhoods I've excluded (Lower Pac Heights, I'm sorry), here are the 13 best neighborhoods for drinking and carousing in all of San Francisco. Factors I considered in creating this list included: quality and quantity of bars, bar/restaurants, brewpubs, and bar-friendly music venues, and eight years of personal biases. Oh, and considering I mention upwards of 70 places to drink around the city in this story, feel free to use this as a personal bucket list, or at least just a bookmarked page to glance at and get angry at my inclusion of Dogpatch:
13. SoMa
Essential bars:Bloodhound, Bar Agricole
I am not a SoMa fan, mostly because it feels like the only part of the city that could be uprooted and put in any other new, construction-boom city, and you couldn't tell the difference. With that said, if you strictly drink at Bloodhound, and the bars at Marlowe, Bar Agricole, and Zero Zero, and tell me to stop being such a judgmental jerk, it'll all be fine.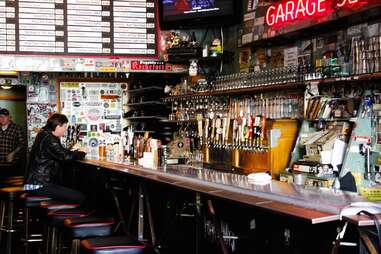 12. Lower Haight
Essential bars:Maven, Toronado, The Page
The only thing keeping the Lower Haight from really striving into the top 10 is its lack of serious numbers in the bar scene. They've got a great cocktail place in Maven, one of the legendary beer spots in the country in Toronado, a classic dive bar in The Page, a solid Irish pub in Mad Dog in the Fog, and a handful of other basic joints. More than enough action to keep someone happy in the hood, but not quite enough to make it a classic drinking destination.
11. Dogpatch
Essential bars:Third Rail, The Sea Star, Smokestack, Āina
On the other side of Potrero Hill and separated by the 280, Dogpatch is so far-seeming from all the other standard bearing SF hoods as to almost feel like a different world, minus Dwayne Wayne. And yet it has become its own thing, a scene within a scene worth checking out for a small but worthwhile contingent of bars like Third Rail (eat their homemade jerky) and Sea Star, the gorgeous brewpub Smokestack, and Triple Voodoo Brewery's tasting room. And, as of this week, Āina, the Hawaiian pop-up brunch darling, now has a permanent home in the neighborhood. Shaved ice for everyone!
10. The Fillmore
Essential bars:Fat Angel, Smuggler's Cove, The Social Study
If this was strictly factoring in live music scenes rather than drinking, the Fillmore area would be higher up on this list, though, to be fair, it's not like live music legend The Fillmore prohibits you from drinking at its shows. Either way, though there aren't a ton of spots, there are some great places to hang, including Fat Angel for a rare and unique beer list, Smuggler's Cove for legendary tiki, The Progress's bar for innovative cocktails with your shudderingly good food, and my favorite place to spend an entire day drinking and talking about Prince shows and Cindy Crawford workout videos, The Social Study.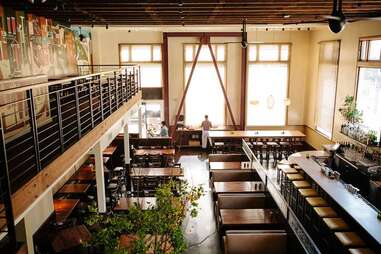 9. North of the Panhandle
Essential bars:Nopa, Madrone Art Bar, Garage Bar
The sort of made up NOPA area is a grand place to drink. You can spend your day on Divisadero between Golden Gate and Fell from morning to 2am, and you'll be able to hit a dozen decent spots, and a half dozen great ones. The legend OG Nopa itself anchors the hood, and gives you the best cocktails, but you can drink mezcal and play dominoes in La Urbana's El Garaje bar, eat oysters and sip drinks at Bar Crudo, sip beers outside at Bean Bag, or go down to Madrone for late night and be sketchy. After all, you've been on this damn street for the entire day.
8. Russian Hill
Essential bars:Leopold's, Greens Sports Bar
I am now getting to be an old person and so I will say that the scene on Polk St can be too much, honestly. Lots of very average bars and people into the city for a night on the town. But Russian Hill can't be ignored in the drinking category. There's just too much. Leopold's for boots of beer and brats, the classic SF sports bar Greens to watch sports/other people, beer geek haven Stones Throw, tat-cho legend Bullitt for, um, tat-chos, Union Larder and Bacchus for wine. Just tell the kids to keep it down.
7. Jackson Square
Essential bars:Comstock Saloon, Bix, Tosca Cafe
Jackson Square is one of those neighborhoods that people tend to overlook, mainly because it crosses over with so many others in the Chinatown, North Beach, Financial District area. And yet, in such a small and overlooked hood, there is so much great stuff. Old school SF legends like Bix and Tosca are bedrocks of the scene here, as is Comstock, one of the easiest bars to fall in love with in the city. But on top of that, new school action like Doc Ricketts (Doc's Lab has the live music) and The Devil's Acre from the Bourbon & Branch crew will make you stick around, and sitting at the bar at Cotogna sipping a cocktail right before you eat something wood-fired is one of life's underrated pleasures.
6. The Castro
Essential bars:Churchill, Cafe Du Nord, Blackbird
Surrounded by the Lower Haight and the Mission, the Castro would be a good location to drink based on proximity alone. But proximity be damned! Aside from myriad gay bars, the Castro has some serious persuasion neutral drinking holes, most prominently Cafe Du Nord, with its Bon Vivant backed drink list (get the Martini du Nord -- I don't even like martinis and I'm imploring you do this) and Thomas McNaughton foodstuffs, the ever reliable Churchill, which has been downgraded slightly in my book ever since they took out the only jukebox in the city with a Camp Lo CD in the mix, Blackbird for classic cocktails, and Brewcade, in case you've always yearned to drink good beers and play Rampage as Lizzie the Lizard.
5. The Marina
Essential bars:The Interval, Final Final, Belga, CC's

The most polarizing of all neighborhoods. Just mentioning that you're going to spend time in the Marina can create a series of eye rolls and knee-jerk reactions, almost to the point of parody. To be fair, that is also because the 'hood itself can seem like said parody of tank-wearing bros and the ladies in Lulu who love them, a weird outpost of LA combined with a small New England liberal art's school's fraternity scene mixed with a perpetual outdoor exercise class. But once you get past all of those Basic warnings, there is some fun to be had. The Interval is hands down one of the best cocktail bars in the country, and is an unvarnished gem sitting right there in Fort Mason for anyone to experience. Reed & Greenough, The Tipsy Pig, and Belga all make a good cocktail as well, and there is a somewhat underrated dive bar scene, with classics like Final Final, my personal favorite CC's, and Horseshoe Tavern. But if you're looking for the true Marina drinking experience, you have no choice but to hit Monaghan's around brunch time during football season. You've been warned.
4. The Tenderloin
Essential bars:Mikkeller Bar, Rye, Bourbon & Branch
Ahh, the Tenderloin. 225 acres filled with people exhibiting nervously unpredictable behavior and tendencies to make any place an impromptu restroom. Oh, and also some damn good bars. Of course you know about the cocktail bar that started it all Bourbon & Branch, and their brother bar Tradition right down the street. Rye is an absolute classic as well, and one of my favorite low key cocktail joints in the city. And Mikkeller is easily in the top two beer bars in the city, so they really come out strong. But once you get past those, it tends to trail off. Jasper's used to be a great cocktail bar, but has gone through many changes since cocktail master Kevin Diedrich left (though he's now at Cantina, which sits right technically out of the Tenderloin 'hood... but you should still go there and drink his drinks). Bartlett Hall is perfectly serviceable, and Kin Khao may be a restaurant, but they've got the Bon Vivants behind their cocktail list. Or you could just go to the Redwood Room in the Clift, and get weird in a slightly fancy and probably too expensive way.
3. North Beach
Essential bars: 15 Romolo, Park Tavern, Church Key, La Trappe
Any glance at a map will tell you that North Beach takes up a huge swath of territory in betwixt Russian Hill, Fisherman's Wharf, Jackson Square, and the Embarcadero. And any glance at the normal mix of tourists and other JV revelers who pack in on the weekends will tell you the reason why this classic 'hood won't get higher than three. That said, SF's bronze drinking 'hood has a treasure trove of great bars if you know where to look, from one of the old-school standbys in the city's cocktail scene (15 Romolo), to three beer-soaked gems (La Trappe, Church Key, and Rogue), to two very good restaurant/bar scenes at Original Joe's and Park Tavern. Savoy Tivoli is a neighborhood legend for weekend jazz since before the Great War, and I haven't even named likely half a dozen other bars with live music, decent beers, and somewhat of a scene. Though unless you actively seek out mayhem, it's usually better to hit North Beach during the week.
2. Hayes Valley
Essential bars:Absinthe, Biergarten, Suppenküche
Hayes is easily one of the more compact neighborhoods on this list, and that is part of its absolute appeal. No matter where you are in Hayes, you are only a block or two from a Murderers' Row of drinking establishments: Absinthe for classic cocktails, Brass Tacks for updated classic cocktails, Biergarten if its sunny and you need beer, Suppenküche if its cloudy and you need beer, Arlequin if its sunny and you still need to pretend you're at the office, but still want that beer, Two Sisters if you're on a date, Noir Lounge if that date is still going well later, Dobbs Ferry if you're watching sports, The Boxing Room for pretending like you're in NOLA, and Rich Table and Monsieur Benjamin for serious food to match with serious enough dranks. And that's not even everything.
1. The Mission
Essential bars:Trick Dog, Hideout at Dalva, ABV, Monk's Kettle, The 500 Club
How does any neighborhood really compete with the alcoholic firepower within the Mission? I was going to try and make some sort of daring call, and pick one of the other neighborhoods for the top spot, but then I broke it down and it became impossible. Three of the best cocktail bars in the city (Trick Dog, The Hideout at Dalva, and ABV) are all right there. Still want more good cocktails? Hit up Laszlo or Beretta or Elixir or even Mission Bowling Club and you're going to be happy. You want beer? Southern Pacific Brewing and my favorite beer bar in SF (Monk's Kettle) are in this 'hood. You'd rather just hit a dive? The 500 Club is incredible, Doc's Clock is a classic, as is Bruno's, and the Latin American Club has the strongest drinks I've ever encountered. 20 Spot is a fantastic place to just have a beer or a glass of wine and talk shit about your friends. Dear Mom might be the most versatile of all these spots. And this is before we've even really gotten into the cocktail scene within the restaurants. Basically, it was the Mission in a landslide, friends, and it wasn't even that close.
Sign up here for our daily LA email and be the first to get all the food/drink/fun Los Angeles has to offer.
Kevin Alexander is Thrillist's National Writer-at-Large and is decently alarmed by how many bars he's been to in the city. Don't follow him @KAlexander03 as it will just make him nervous.