SF's best coffee shops for camping out with your laptop
Our new 2015 Laptop Coffee Shop Guide is out! Find it here.
Sure, there are a LOT of coffee shops in SF, but if you're gonna work remotely from one of them, you're gonna need it to have 1) caffeine, 2) free Wi-Fi, 3) power outlets, and 4) um, well, beer. We found 10 awesome ones that offer the complete campout package. Have at it, office-less hombres:

The Mission
It's not near a whole lot honestly, but the coffee is designer, the beer is imported, the food includes stuff like the buttery kouign-amann (fancy French word for a cross between a croissant and a morning bun), and the layout includes both group tables and plug-rich rails. Check out the bar's handy seating guide here before you go though -- most of the space is reserved for laptop warriors, but there are a handful of tables that don't allow laptop use during the lunch rush.
Best seat: Upstairs at the counter that overlooks the first floor -- there's easy access to an outlet up there, plus you can keep an eye on the line to time your coffee refills accordingly.
Western Addition
For a smaller, quieter space to sip and type, it doesn't get friendlier than this charming corner coffee shop opened by a couple of locals. Enjoy pour-over Sightglass coffee, expertly made espresso drinks, light breakfast and lunch items, and local draft beer and wine. In other words, get there for breakfast and you'll basically have no reason to leave until after happy hour. Speaking of, score a dollar off a glass of wine after 4pm every day.
Best seat: At one of the tables along the floor-to-ceiling windows. The farther away from the door you are, the closer you'll be to the space's outlets.
Lower Nob Hill
Sugar bills itself as a coffee shop by day and a lounge by night, with live music or DJ sets post coffee-drinking hours, plus a killer daily happy hour in between. The best part of the coffee shop-cum-club: no one will bother you if your laptop is still out by the time you order your second cocktail. Oh, and as if this place wasn't hard enough to define, it also offers a full breakfast and lunch menu, plus small plates for dinner.
Best seat: The comfy couches in front of the fireplace are prime real estate, or if you need a table, the ones along the front windows provide an excellent blend of people watching and privacy. Oh, and outlets are literally everywhere.
SoMa
It's hard to find a café that feels personal and cozy in SoMa, but this intimate little spot delivers both down an alley that's easy to miss. The space is a little tight, but if you order food (and you really should, considering this is ONE OF THE BEST SANDWICH SHOPS IN AMERICA) and a couple cups of coffee (or bottles of beer), no one's going to mind if you snag a prime piece of real estate for a few hours. Get there before the lunch rush (which starts as early as 11am) if you want to guarantee a seat, and order ahead -- it might sound weird 'cause you're gonna be sitting literally right next to the cash register, but you'll thank us when you look up and there's a 20-deep line down the alley.
Best seat: Any seat at the bar (they've all got outlets at knee level), but in particular one at either end so you don't screw up groups of two or three trying to sit together during the lunch crush.

The Mission
Where else can you get Turkish coffee, beer, wine, and even Moroccan beef stew all under the same roof? Uhhhh literally nowhere. Unlike bustling Philz Coffee a couple blocks away, this Mission coffee shop unicorn always has an open table and an outlet. While you have to spend $5 on food or drink (so... drink) to get the Wi-Fi code, the Internet is reliable and this is the kind of place you kinda want to give your money to: family run since 1973, CLB offers a look back into what the Mission was before everyone else showed up.
Best seat: The left corner seat by the window has the perfect blend of space, power outlet, and a nice vantage point for evening-time live bands.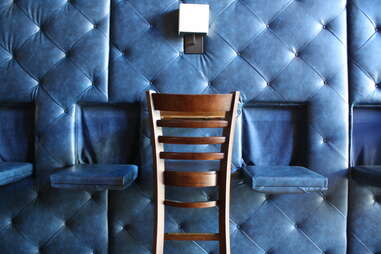 Fillmore
With stacks of books decorating cozy alcoves, exposed brick, and pendant lighting, this feels like the type of place to bring a typewriter instead of a MacBook. The extensive wine and beer list is awesome, the Four Barrel and bar bites are awesome-er (Japantown's take on the classic Reuben featuring wasabi aioli FTW!), and the outlet-accessible seating is literally some of the awesomest in the entire city.
Best seat: Laptop users usually set up shop at one of the personal tables along the tufted leather wall (I'm serious), but the communals are pretty great, too.
SOMA
No, this isn't just a spot where a bunch of food trucks park -- it's a spot where a bunch of food trucks park that also has pitchers of beer, sangria, a coffee stand, a barn with outlets, free Wi-Fi. and flat-screen TVs. Come on a weekday after lunch and you'll literally be able to pick any seat in the house.
Best seat: Score a spot at the benches that line the sides of the barn for a little more personal space than at the larger communal picnic tables.
Nob Hill
Start your day here at 7am when they open and leave a little tipsy at 10:15pm when the friendly staff starts stacking chairs as a not-so-subtle reminder that you don't actually live here. In between, you'll have several cups of coffee, one of the best Caesar salads in the city, a cheese plate, sangria, and a vegan German chocolate cake from Santa Cruz's Black China Bakery to go (doesn't matter if you're vegan -- it's just that good). This corner café is movie-level charming -- the cable car rolls right past the sunny sidewalk seating and you've got views of tree-lined Hyde St, plus the coffee is the best in the neighborhood (and we've tried them all). And despite all that, it's the daily happy hour from 4-7pm that discounts beer, wine, sangria, and delicious pita pizzas that's really worth staying for. Note: they turn off the Wi-Fi on the weekends.
Best seat: It gets toasty in here, so best to snag a seat next to the full-length window along Jackson St.

Tenderloin
We're gonna go ahead and bet you don't know of many coffee shops with $1.95 draft beers every day starting at 3pm. Or bars for that matter. The space is small but people generally take advantage of the sidewalk seating, leaving the cabaret-sized tables and plenty of outlets free for those looking to set up camp. You can score the usual bagel-and-pastry breakfast fare, including pre-made, local breakfast burritos, but what you're really coming for is the cheap beer, no-fuss cheap coffee, and the, uh, cheap beer.
Best seat: The communal high-top table at the front window offers the best street views and easy access to both the bar and an outlet.
Outer Sunset
There's something about being less than 100yds from a stretch of beach that makes work feel less like work. Java Beach Café has everything you could possibly want from a classic Ocean Beach hangout: good, simple coffee, great bagel sandwiches, draft beer, and plenty of surfers. Though the space is large and dated by trendy SF café standards, it's ultimately cozy, owing to its friendly staff, extensive warm drinks menu, and sand dune views. The patio is a great place to take a break on sunny days or to watch a sunset if you HAVE to.
Best seat: Set up shop at one of the tables along the bench that wraps around the perimeter of the space to score outlets and a nice vantage point.
Sign up here for our daily San Francisco email and be the first to get all the food/drink/fun SF has to offer.
Amy Copperman is a freelance writer who wrote this at several of these spots. Hit her up on Twitter or in person at any of the aforementioned establishments.