Belga Just Opened. Get Giddy for Their Beer & Cocktail Menu.
Daisy Barringer/Thrillist
We were definitely a little sad when Union Street staple Cafe des Amis closed its doors last December, but after just a few hours with the stunning cocktails and beer at Belga, the new "classic Belgian brasserie meets California sensibility" restaurant that took over the space, we were like "Um... Cafe des A-Who?!!"
We haven't tasted the food at Belga yet, but Chef Freedom Rains (Incanto, Boulevard, Flour + Water) is swinging for the fences with everything from spaetzle to sausages (made in house, of course), and pretzels to pork chops. What we're really stoked about, however, is the bar program. Bar manager Ryan Murphy is killing it with the beer selection, and bartender Nora Furst has created a cocktail menu that's super innovative, but more importantly, super good.
Read all about it. And then go grab a seat in the bar area (it seats 40) and taste for yourself. Belga officially opens its doors on May 12th. And yes, it's totally worth a trip to Cow Hollow. Yoga pants and all.
Herbert West
Herbert West was a character created in the 1920s by H.P. Lovecraft -- a mad scientist who creates a serum that brings people back from the dead who -- SURPRISE! -- turn into violent zombies. Lucky for you, this vodka, grapefruit, lime, elderflower, and Cynar cocktail will not turn you into a murdering member of the undead. It will, however, make you very happy to be alive.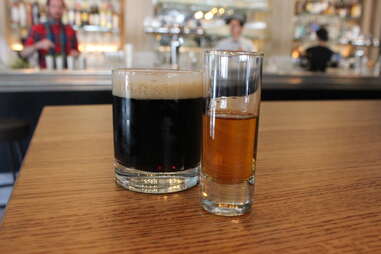 Kopstoot
Kopstoot (pronounced 'Cop-Stout') translates roughly to "head-butt" or "a blow for your head." Considering it's a shot and a beer back, there's a good chance if you have too many, it'll feel just like that in the morning. There are four on the menu ($11 each), and while you can drink them however you'd like, each shot and beer combo (Duvel + Oude Genever, Allagash Black + Lagavulin 16, Bavik + Jelinek Fernet, and Rodenbach Grand Cru + Ocho Plata) compliment each other perfectly if you go sip for sip.
Loophole Cocktail
Technically, a loophole cocktail is what restaurants serve you when they don't have a liquor license and so they fake it with something like Soju. Thank goodness Belga *does* have its liquor license because this Aperol, IPA, old tom gin, grapefruit, and eggwhite cocktail is one of the best things we've tasted in a while. Seriously, we want to start drinking them at breakfast and not stop until it's time to go to bed.
Widow's Peak
A twist on the Widow's Kiss, a popular pre-prohbition cocktail, this is Calvados, aged genever, Yellow Chartreuse, and Benedictine, and is very much a drink any gentleman will enjoy. Or, you know: you.
Oude Cobbler
Genever is the juniper-flavored national liquor of Belgium and a very close relative of gin. The Oude Cobbler uses an aged genever ("oude" means "old" in Dutch), lemon, sugar, sherry, and berries, so it's not just pretty to look at, it's also fantastic going down.
Beer Cocktail #2
There are two beer cocktails on the menu. Beer Cocktail #2 is the second. While the name is straight forward, the concoction -- aged rum, ginger, kumquat, saison, and allspice -- is anything but. Also, who knew beer cocktails were so good? (Nora, that's who.)
Antwerp Mule
Moscow might get jealous when it finds out we prefer the Antwerp twist on this classic. It's made with young genever, ginger, lime, soda, and basil, and is delightfully refreshing, and very drinkable.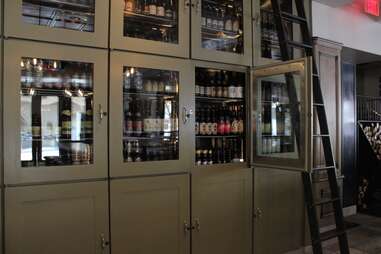 So much Belgian beer
Belga has 10 beers on tap (organized on the menu from light to heavy) and a gazillion more (okay, 50) in its super cool beer fridge wall. The bar program is definitely beer-focused and driven by the diversity of Belgium's many beer styles. You might not recognize every beer on the menu, but the fact that it's split up into easy-to-understand categories (Light, Hoppy, Malty, Funky, Fruity, Sour, Contemporary, Classic, Celebratory, and Ciders) will help you figure out to order. Or just tell 'em what you like and ask for a recommendation. They're more than happy to help a person out.
Sign up here for our daily San Francisco email and be the first to get all the food/drink/fun SF has to offer.
Daisy Barringer is Thrillist's SF Editor and she's not going to let the fact that her brothers literally headbutted her all of the time growing up keep her from enjoying a Kopstoot or three. Tweet her @daisy and her your favorite sibling stories.