Do Oktoberfest in SF like a boss
Oktoberfest is officially underzeeway, which means it's time to get your pretzel and beer on. Make Dirk Nowitzki and Heidi Klum proud by doing all of the Bay's best German:
Best Pretzel: Haus Staudt
This Redwood City German joint offers up frisbee-sized bread knots that double as open-faced salami sandwiches (whaaaa?), heaped with a gajillion slices of fresh salami and Swiss.
Anna Hiatt
Best Big Beers: Suppenkuche
The oldest Deustchlandian restaurant in the city, Suppenkuche is also the biggest-beer-offering Deustchlandian restaurant in the city, with suds sizes that include a liter, a boot (2L!), and a 5L super-stein.
Best East German Dictator Portraits: Walzwerk
Wouldn't it be cool to eat brats and spatzle while surrounded by framed pictures of communist leaders? No? Yeah, good point.
Grant Marek
Best Beer Garden: Biergarten
Because Zeitgeist is gross. And they have blankies for when it's cold!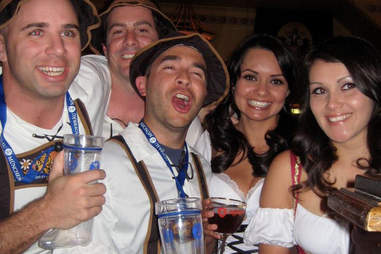 Best Place To Lose An iPhone Prototype: Haus Staudt
Remember when that dude from Apple had a few too many beers and lost the iPhone 4 prototype? That happened here.