Remember how you heard a rumor a couple of years ago that beloved Haight St gastropub Magnolia was opening a bigger, better, second spot somewhere in the city? But then they didn't, and, consumed by sadness, you quit your job, broke up with your girlfriend, and lit your car on fire?
Well, turns out that was totally unnecessary, because Smokestack opens this week.
Carved into an old, industrial building in Dogpatch, Smokestack takes its name from an old blues tune covered by the Grateful Dead ("Smokestack Lightning"), and takes its menu cues from three things that all need time to be perfected: beer, spirits, and BBQ.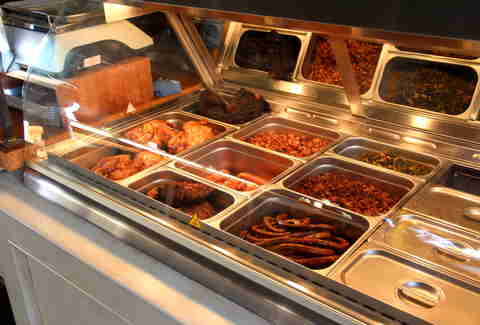 The kitchen (and BBQ pit) is manned by Dennis Lee of Namu Gaji fame. He's using a BBQ deli counter, where you'll order whatever you want and they'll weigh it in front of you.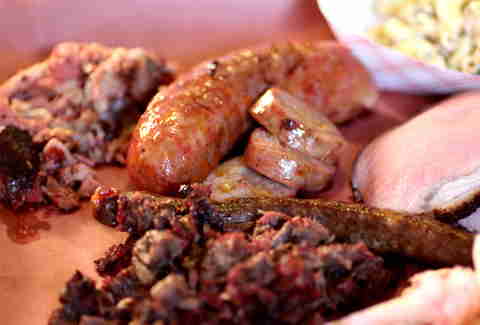 It'll rotate its made-in-house meats, but expect mouth-waterers like chopped pork, brisket, and spicy cheddar and pork sausage.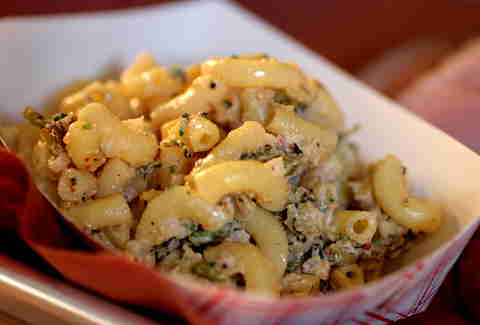 It's also got stuff like this macaroni salad, which, ugh, isn't meat, but is still pretty damn tasty.
Don't want an entire rack of ribs? It's also doing bar bites like jerky and meat sticks, which you're definitely gonna wanna grab, err, eat.
Another big development (both literally and figuratively) is that it's got a huge, on-site brewing system now, that's just like the brewing operation in the basement under Magnolia... except not at all like the brewing operation in the basement under Magnolia, because it can produce 30 barrels of beer (two kegs/barrel) and store them in up to 60-barrel tanks.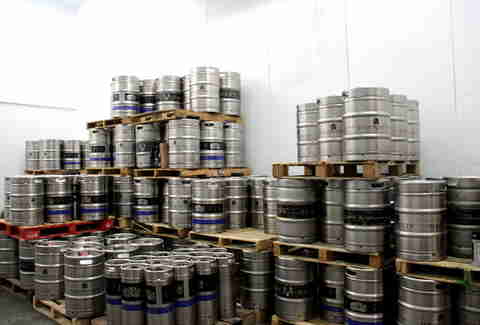 Basically, this giant fridge is eventually going to be filled to the rafters with kegs of your favorite Magnolia brews.
Which is super cool, because you can try them directly from the cooler if you're a brewmaster, visiting bar owner, or person that happens to be having an event in its forthcoming overflow/private back room area.
What's nuts, though, is that beer isn't the only thing Smokestack is doing. It's also got an amazing cocktail program with drinks that're almost all named after historical Dogpatch things, like this meaty Dutchman's Flat that involves rye, ginger, honey, lemon, toasted Nori, and beef bouillon. Yes, that beef bouillon. And double yes, it's super good.
Care for some ice, mallet-pounded by hand? 'Cause it's got that too.
And you can get it in this: the Julip-like "Cheap Dwellings", which combines Four Roses Bourbon, Maison Rouge VS, Merlet Creme de Peche, and smacked mint. Trust us, it deserved it.
Joe Starkey is Thrillist's San Francisco Editor and is currently wondering if the Magnolia guys will let him just set up a bed in Smokestack. Tell him yes on Twitter.