Dirty Habit introduces adult lunch boxes and a sweet fifth-floor patio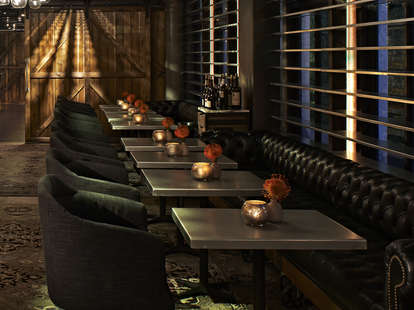 David Phelps for Dirty Habit
First, the bad news: Fifth Floor is closed. But hold off on the wailing and gnashing of teeth for just a moment, because here's the seriously good news: in its place is Dirty Habit, an all-new, super-swanky-yet-also-somehow-steampunky bar/resto with a huge cocktail list, a pretty damn awesome patio, and yes, adult lunch boxes.
The menu starts out with a pretty hefty selection of bar bites, like these gently spiced wings, which come laden w/ sweet soy and chili vinaigrette.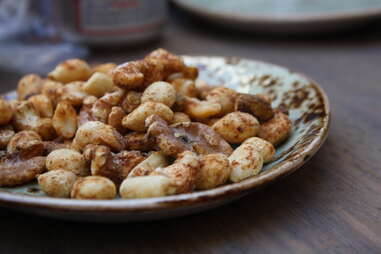 There's also goodness like the "Up In Smoke" fondue w/ vegetables & brioche, some thick-cut fries sided by harissa aioli, and these spiced nuts with fried garlic & paprika, which also happen to come in...
... this totally awesome adult lunch box, which also packs a pair of brews, and a thermos that surely has to contain something delicious.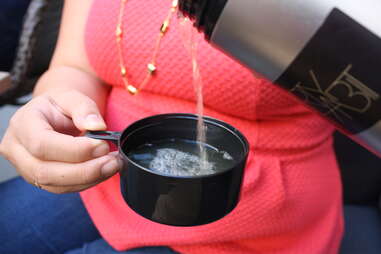 Yep! It has a hot toddy in it! Perfect for enjoying in the great outdoors (aka the back patio).
A back patio, may we add, that has plenty of seating, a fountain, AND a fire pit. What is this? Cirque du Soleil?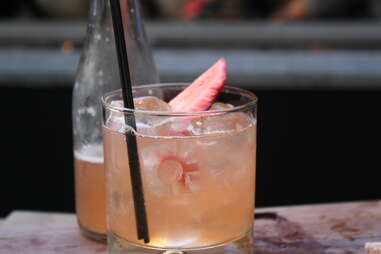 And if, for some reason, you're after something that isn't literally steaming hot, you can grab one of 34 other signature 'tails, like this awesomely named Spritz & Giggles (vodka, strawberry shrub, Sutton vermouth, corn tea, chamomile flowers, orange oil, strawberry preserves, roasted corn), which comes bottled and slightly carbonated.
Joe Starkey is Thrillist's San Francisco Editor and wishes his X-Men lunchbox had beers and a hot toddy in it. Find out if he's joking about having an X-Men lunchbox on Twitter.