What if we told you that you could find one of the absolute best views of the SF skyline at a sexy, 39-stories-up lounge that's been around for 25 years but that you've SOMEHOW NEVER BEEN TO? And then, what if we told you it just underwent a $2 MILLION RENOVATION and the picture-perfect views of almost every angle of the city now aren't the only things to love about it???
Would you say you want to know more? Maybe even IN ALL CAPS?? Yeah, that's what we said, too. So we headed over to the View Lounge at the Marriott Marquis to see if it could possibly live up to the hype. (Spoiler: OH MY GOD IT TOTALLY DID.)
First off, if you have heard of and been to The View Lounge: good for you for being in on something we totally missed. (Seriously, I grew up in SF; HOW DID I NOT KNOW ABOUT THIS PLACE?) That being said, if you haven't been back there in the last few months, you need to go back, 'cause The View Lounge of 2015 is nothing like the View Lounge of yesteryear.
Sure, it's still on the 39th floor. And yes, it still has domed, floor-to-ceiling starburst windows that showcase nuts-nuts-nuts-NUTS views of San Francisco, the Bay, and beyond. And of course, there are still tourists (it's in the Marriott after all), but the similarities stop there. (RIP patterned carpet from the '80s.)
Once you stop gushing about how gorgeous it is, you can order a cocktail at the long, circular bar, or grab a seat by the window and order from a server. They have the classics, like Manhattans ($15) and Old Fashioneds ($14), but there are also some great specialty cocktails with SF-inspired names. Our favorites? The Golden Gate (Jameson Irish whiskey, St. Germain, cranberry, ginger ale) and the the Fog City Collins (Nolets silver gin, St. Germain, cucumber).
The space itself is HUGE: 4,500 square feet to be exact. And the best views definitely differ depending on time of day, so even though you're going to want to go straight for the main room with the massive window, you'll want to meander a bit to find your perfect spot. Pro tip: if it's after sunset, find a nook in one of the "smaller" rooms that face the city.
No, seriously: it's enormous.
The menu? Also totally renovated. Everything's a small plate that's meant to be shared, like this smoked beef carpaccio ($12) that wasn't really very small at all.
Also must-orders: the baked goat cheese ($17), which is basically a tomato fondue situation, and the braised pork belly ($18), which is basically... braised pork belly. If you're trying to eat light (why?), options include a crudo three ways ($19), a spicy seafood cocktail ($16), and a mezze plate ($9). Honestly, even if you're not trying to eat light you should get those, too. Basically, keep ordering dishes throughout the night, 'cause truthfully: once you sit down, you're not going to want to leave until last call.
Which, by the way, happens at 1am from Sunday to Wednesday and 1:30am Thursday to Saturday.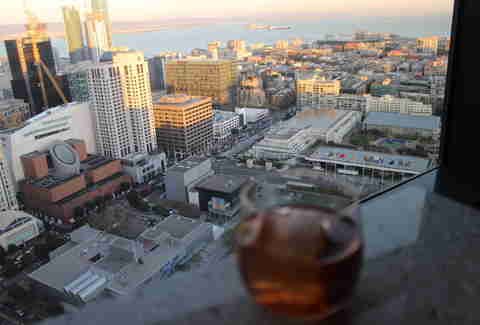 And before we go... one more look at the view from The View, just to remind us that we seriously live in the best place on Earth. Cheers.
Sign up here for our daily San Francisco email and be the first to get all the food/drink/fun SF has to offer.
Daisy Barringer is Thrillist's SF Editor and her favorite thing in the world is discovering places that are new to her, but not to everyone else. Tweet her your favorites @daisy.