Every Coffee Shop in the East Bay We'll Be Drinking at This Summer
The East Bay is blessed with the best damn coffee shops in the world (no hyperbole here), thanks to our insane, collective fixation on this precious bean. The region has committed to the third wave of coffee, which has fostered the boom of independent shops and roasters, and ensured that the artistry in each cup can be traced back to the organic farm that grew it. This summer, dive into the culture at the best of the best in the East Bay.
Best coffee with a cause
Downtown Oakland
First off, the coffee is delicious -- locally roasted Red Bay Coffee beans, so you're set there. But the real reason to come to Mamacitas is that co-founders Renee Geesler and Shana Lancaster grew their brick-and-mortar cafe from a pop-up coffee stand as a business with a purpose: their goal is to train young Oakland women to be entrepreneurs, leaders, and economically self-sufficient. Aside from their badass mission, they're housed within the Qulture Collective, a welcoming open workspace for LGBTQ folks and their allies. There are contemporary couches and a chill backroom with work tables and Wi-Fi. Get on it. Oh yeah, and they serve donut kebabs and savory porridge. All is well in the world.
Best coffee on tap
West Berkeley
Holy Sweet Baby J, Highwire's clean, balanced brews will have you falling in love. Settle in at the Berkeley site, formerly the coffee spot of Local 123. It's spacious and work-friendly, offering breakfast sandwiches, lunch goods, and all the Howling Wolf cold brewed nitro coffee on tap your little heart can handle. Want a comedown? They collaborate with local brewers Drake's Brewing Company -- so you can have your coffee, and get buzzed, too -- as the tap beers often feature Highwire ingredients. If you want to soak up some sun, check out their coffee trailer plunked in the blossoming patio of Albany's Flowerland Nursery for a perfect afternoon latte, or if you're feeling nostalgic, hit up the original Rockridge Market Hall location. It's more of a street-side hangout than a full-fledged coffee shop, but if you live in the 'hood, you'll soon join devotees who pop into the wee space to get their fix before BART.
Best Lake Merritt caffeination
Adams Point, Oakland
Perch covers all bases: coffee and food, the basics in life. There's also loads of natural light and plenty of workspace with large tables. Best of all -- for any parent-y or babysitter-y types in the East Bay -- there's a toy-filled kids room for your offspring to leap and play while you attempt to re-caffeinate your blood stream. Location-wise, it's a great stop before jogging around Lake Merritt... or, you know, getting coffee and cookies to-go and watching people jog around Lake Merritt.
Best sustainable setup
Jack London Square, Oakland
Bikes and fair trade, locally roasted brews -- it's the Bay Area dream. Their model consists of sustainable beans (the Bicycle Coffee crew knows their Central American farmers), roasted in-house, and delivered by bicycle. The whole thing is basically delicious. Catch them at their Second St spot each Saturday on mobile coffee shop bikes at the Grand Lake Farmers Market, or their current venture opening inside The New Parish. Your other options are LA or Tokyo, but you might as well stay true to their local ethos.
Best late-night study spot:
Southside, Berkeley
Open late, with tons of outdoor seating and benches on their welcoming patio, Caffe Strada is your home away from home -- if your home has a charmingly huge tree-lined porch and a wood chandelier gracing the entrance. Come to read, talk about last night, and write your paper under the leafy trees and fabulous heat lamps, depending on the fickle Bay Area weather. It's mayhem during finals, but aside from the seasonal deluge of Cal students, it's a chill local spot. Drink an Americano served in a pint glass, or feed your sweet tooth with the Bianca Mocha, Berkeley's favorite white chocolate drink.
Best vegan buzz
North Oakland
Small-batch, hand-roasted coffee located at the top of Piedmont Ave. The narrow, cozy joint is expanding, so there'll be more room for their house-baked, vegan pastries -- try the Chocodile, which is basically a Ho Ho upgrade, for maximum enjoyment. Besides sweets and gluten-free goodies, Timeless offers savory lunch-y things like empanadas and pizza, so you can sit and read Moby-Dick all day -- but heads up, freelance warriors, no Wi-Fi. Only bring the laptop if you're cranking out that novel. No dairy here, either, so if you need milk, call yo' mama, or hop up the block for a sundae at Fentons Creamery afterwards.
Best boozy coffee
Adams Point, Oakland
What to do when you want coffee and your friend wants whiskey? Room 389, that's what. A cafe by day and a lounge-tastic bar by night, this place bridges the two with a souped up, booze-spiked coffee drink menu that'll fire your engines from early morning until 3pm... at which point, the joint seamlessly transitions to a chill lounge that's open until 2am. They've got live music or DJs every night, and a leafy green and inviting front patio. Get you some.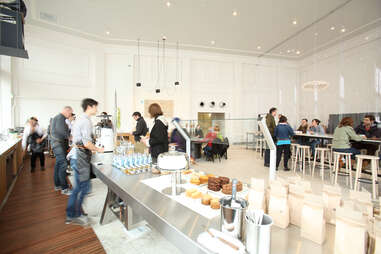 Best freaking coffee
North Oakland
Blue Bottle Coffee is arguably the best coffee in the Bay, heading the pack of the local third-wave coffee roasters. Their coffee is fresh -- never more than 48 hours out of the roaster -- and is brewed special to each batch's daily specifications. Coffee science, yo. Besides amazing drinks (hello, New Orleans iced coffee), the historic W.C. Morse building housing this Oakland branch makes a gorgeous cafe. The soaring 1920s architecture allows massive light in through the pane windows. There's no Wi-Fi, so connect with the people instead. Come to get inspired, get coffee buzzed, take free brewing classes (!), and buy or repair your home espresso machine. It's kind of coffee heaven.
Best get yo' butt to work coffee:
Uptown Oakland
Love day drinking? So do we. 7am-5pm get your fix at Modern Coffee. Pick your poison based on your nearest BART stop: 19th St or 12th St stations. Here, a fine morning brew is your oyster: choose from a solid selection of local roasters, artisanal teas, and a healthy dose of TCHO Chocolate in their mochas -- your way to have secret dessert for breakfast. Service is fast, friendly, and there are seats tucked in the cozy 19th St spot if you can't drink and walk.
Best basic coffee shop
Elmwood, Berkeley
Here is your study solution. In the best way possible, the Beanery is just a coffee shop -- a family-owned and family-run spot. They serve damn-good coffee, and they have a solid selection of food along with the requisite Semifreddi's locally baked goods. There's an airy front room full of tables, easy access to outlets, and there's also a second back room and charming back patio all verdant and light. Heads up, though: it's not a late-night joint, so plan to be finished by 7pm if you're heading this way.
Best place to coffee geek out:
West Berkeley
Ever had live roasted coffee? It's time you do. If you've gone next level in your coffee obsession, and find yourself discussing acidity levels, sourcing, and roasting methods with the savoir faire of a seasoned wine connoisseur, Artis is your new spot. They're bananas for the art of coffee. The Berkeley coffee shop is open and bright, and full of home brewing goodies to fuel your late-night experimentations. The baristas will chat you up on all things coffee, oh, and that live roasting? They roast to order. While you watch, entranced.

Sign up here for our daily San Francisco email and be the first to get all the food/drink/fun SF has to offer.