13 East Bay Bartenders You Need to Know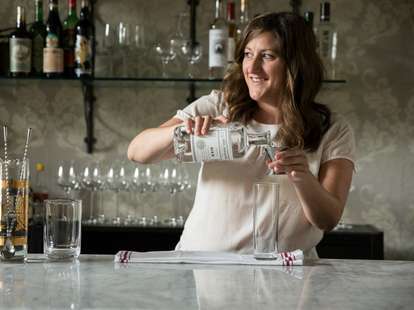 COURTESY OF HOPSCOTCH
COURTESY OF HOPSCOTCH
Now that you've gotten to know all of the San Francisco bartenders you need to... know, it's high time you familiarized yourself with some of the best shakers and stirrers on the sunny side of the Bay.
Here are 13 amazing East Bay bartenders you should know by name (especially if you need another reason to escape SF's ridic rents).

Jenny Schwartz
Hopscotch (address and info)
Uptown Oakland
It may look like a diner, but this spot has serious street cred when it comes to its food and cocktails, earning it a recommendation from Michelin this year. GM and bar manager Jenny Schwartz is one half of the operation behind this delightful American-Japanese fusion restaurant. Find her working the room or infusing cocktails with Japanese sensibilities and flavors in creative ways.
Signature cocktail: Islay Tart, featuring Armagnac, Caol Ila 12 year, Cynar, and Carpano Antica served up in a glass half-rimmed with smoked Okinawan sea salt and seasoned with yuzu
Where she drinks when she's not working: "Pretty exclusively one of the following: wine at very casual dinner parties at friends' houses; Prizefighter, where my go-to drink is a Cynar Boulevardier; Nido for the great food and mezcal margaritas; and the Aloha Club on Fruitvale Ave (where I drink Negra Modelo and shots of Herradura Blanco) for Warriors-watching at its best."
What she loves about Oakland: "I grew up in Southern California, lived in DC for many years, have worked all over SF and the Bay Area, and I have never ever loved the guests I serve as much as those here in Oakland. Diners at Hopscotch are sophisticated, adventurous, laid back, diverse, and happy. I accept the struggles that come with being in our neighborhood and embrace the positive impact that we get to be part of. Crime is down, additional tax revenue is noticeably improving schools, and local non-profits have more funding and are making greater impact. It feels good and it's mostly sunny!"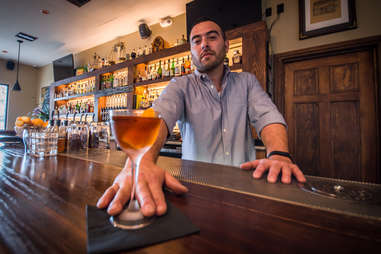 Ali Tahsini
The Double Standard (address and info)
Uptown Oakland
Owner and Bourbon & Branch alum Ali Tahsini isn't just the mastermind behind the drink menu -- he also built the bar by hand, from pouring the cement floor to installing the plumbing to crafting the beautiful wood details and wainscoting that line the walls. And yeah, his craftsmanship makes for a casually elegant setting, but you're here for the craft cocktails, best enjoyed on the back patio under three majestic redwood trees.
Signature cocktail: International Mason, an invigorating blend of mezcal, Cynar, house-made coffee bitters, and Dolin Rouge
Where he drinks when he's not working: "You won't find me at any one place when I'm not working, but you'll likely find me with a shot and a beer, or copita of mezcal at one of many Oakland establishments."
What he loves about Oakland: "I've spent a great part of the last 19 years working or living in Oakland. I love the cultural diversity, the tempo of life, the beautiful weather, and the overall grounded feeling of the communities. Oakland is my 'Manifest Destiny.'"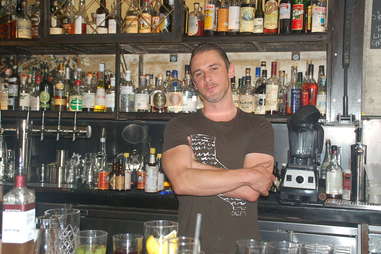 Alex Condé
Drexl (address and info)
Uptown Oakland
If you're still mourning the loss of the menu-less BIG in San Francisco, Oakland native Alex Condé can satisfy your craving for something new and unexpected on Sundays when he's slinging Dealer's Choice cocktails at this bi-level industrial space. Alex is a master improviser, known in bartending circles for his genius-level understanding of the palate. But you don't have to cross the Bay to catch him (although this spacious neighborhood bar with $10 craft cocktails is probably the place you do want to) -- you can also find him behind Benjamin Cooper's bar.
Signature cocktail: Dealer's Choice. He'll deliver something awesome and personally catered to you (we're pretty sure he has drink-specific telepathy), but he's partial to inversions and often uses vermouth and aromatized wines in the place of traditional fortified spirits.
Where he drinks when he's not working: "Rx in San Francisco and usually tequila and cheap beer."
What he loves about Oakland: "I'm a native Oaklander and I love it here. It has just the right proximity to the city to enjoy the best of both worlds."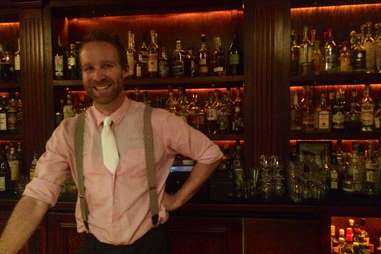 Justin D'Olier
Tupper & Reed (address and info)
Berkeley
We've already sung Tupper & Reed's praises for its gorgeous space and Bourbon & Branch-level cocktails (for $10 or less!), but another reason to stop into this historic, beautiful bar is for Justin D'Olier's hospitality. Not only knowledgeable about the space, he's a crazy ball of energy, as hilarious as he is skillful with a cocktail shaker.
Signature cocktail: Walk of Shame, an Old Fashioned, but with mezcal and Fernet, created by his childhood friend Kyle Reutner of Honolulu
Where he drinks when he's not working: "I do most of my drinking at work and I'm gonna lose my street cred here, but when I'm not working I'm pouring straight from the bottle -- Early Times and a Diet Coke. Because I have a 7-year-old daughter, I'm not out a lot but I love a good dive bar or going to Crogan's for an Irish coffee -- they have the best."
What he loves about Oakland: "The people, hands down. I moved here from Honolulu, which is known for its hospitality, but in Oakland there's this organic sense of warmth that's really refreshing. Also, East Bay bartenders make better lovers."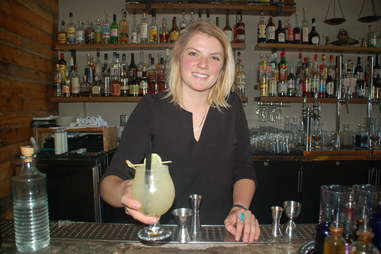 Nikki Kozlowski
East Bay Spice Company (address and info)
Berkeley
You can tell a bar has its priorities straight when the drink menu is held in a leather-bound book, while food is relegated to a single paper. And while, yeah, the simple Indian street food that's served is worth ordering on its own, it's more worth pairing with any of the cocktails on the menu, all inspired by the spice trade. The fun, engaging Nikki, who's meticulously working her way through each spirit to learn its intricacies and possibilities, can whip you up a day drinking-friendly daiquiri or the kind of Scotch-heavy drink that'll put hair on your chest.
Signature cocktail: Rob Roy (at least right now). It's basically a Manhattan with Scotch, which creates a smooth, smoky, uber-masculine cocktail your grandfather would no doubt approve of.
Where she drinks when she's not working: "Anywhere that's dark and not crowded. Hotsy Totsy is great -- a total dive with a huge liquor selection. Right now I'm on a Scotch kick. My favorite is the Caol Ila 12 year."
What she loves about Oakland: "I love how passionate people are about food and drink. There's so much opportunity here, but it's not exclusive. There's a ton of creativity, enthusiasm, and community. And I love the nerdy aspect of it."
Polina Kharnas
Tigerlily (address and info)
Berkeley
In keeping with the urban garden theme of this five-month-old restaurant, Polina Kharnas serves up fresh, floral cocktails that are downright nourishing, if not arguably healthy... you know, if it weren't for the booze. Case in point: the Michael's Pollen, featuring rye, local ginger honey, bee pollen, organic lemon/apple, and allspice dram. It's got all those rejuvenating, feel-good ingredients, plus it'll give you a nice hard-to-balance feeling, too.
Signature cocktail: The Clone War, made with chamomile gin infused in-house and fresh cucumber, representing her focus on fresh, local ingredients
Where she drinks when she's not working: "Ruby Room. It's super divey but with an amazing spirits collection, comparable to really nice cocktail bars. I like a nice whiskey on the rocks or an Old Fashioned or Last Word."
What she loves about Oakland: "There are so many creative people doing what they love here. And it's so inclusive. We really enjoy a nice camaraderie in the industry."
Alexeis Filipello
Dogwood (address and info) and Darling's Elixirs (address and info)
Uptown Oakland
Lexi's fast-expanding Oakland empire consists of basically every place you want to be. She's behind Dogwood, its new sister bar Darling's Elixirs next door, the incredible-sandwich-making Stag's Lunchette, and a forthcoming bar set to open in Piedmont, called The Lodge. In other words, she's the damn queen of the East Bay.
Signature cocktail: A current favorite at Dogwood is the The Valencia, a sort of adult Orange Julius featuring Rusty Blade aged gin, orange/lemon juice, egg white, vanilla honey syrup, shaved ice, and big strip of orange zest.
Where she drinks when she's not working: "My favorite places to drink are either Drexl or Heart & Dagger -- both have different things to offer but mostly they have a laid-back, fun environment and my favorite tequila and mezcal."
What she loves about Oakland: "Oakland is super diverse. Great food, open spaces, lakes, great restaurants, and the people are super talented and artistic. Oakland is no longer the dark little sister of the City by the Bay. Exciting times here!"
Vita Simone
Dogwood (address and info) and Prizefighter (address and info)
Uptown Oakland, Emeryville
Vita has been honing her craft for the last 11 years at some of the best bars in the Bay Area (and the country), keeping her in high demand at the likes of Dogwood, Prizefighter, and SF's Benjamin Cooper. Her own concoctions are creative, fresh, and subtly medicinal, but she's a whiz at the classics too (literally the best Negroni I've ever had... and I'm kind of an expert). Soon you'll be able to catch her at her own spot, as she's currently working on transforming and revitalizing the mid-century classic Art's Crab Shack into Copper Spoon Cocktails & Kitchen, set to open later this year.
Signature cocktail: Mezcal mixed with Bonal and Cynar, and garnished with a flamed orange
Where she drinks when she's not working: "Prizefighter is one of my favorite spots. I love mezcal -- such a clean high and such a long tradition, dating back to Egyptians' agave, it's the only liquor that isn't a downer."
What she loves about Oakland: "I love the diversity, the weather, and the fact that you can have a yard. When you go out it's a very small community. My heart is definitely in Oakland, which is why I'm opening a restaurant here this year."
Matt Harrison
Penrose (address and info)

Lake Merritt/Lower Hills
Matt Harrison, formerly of the Ramen Shop, recently took over the bar program at Penrose and is steadily making his mark with new Tiki-inspired drinks and other concoctions that match the airy, open space and day-drinking season.
Signature cocktail: Roadrunner, a gorgeous culmination of long-lost Tiki culture and new flavors, featuring Fidencio mezcal, Campari, pineapple juice, lime, and agave, with an orange wheel.
Where he drinks when he's not working: "For cocktails, I love Hotsy Totsy -- great vibe and drinks. They aren't afraid to get inventive and try new things. My only complaint is I wish it was closer to my house. I almost always start with a rum and house tonic."
What he loves about Oakland: "Oakland is such fertile ground that there is no lack of new places to check out. Each adds its own spin and it's awesome to see so many folks trying their own things. Lately, I've seen clarified juices, house-made spiced rum, personal collections brought into the bar -- including spirits that don't exist anymore or are impossible to get in the US -- and sour beer lists a mile long. That do-as-you-please attitude is prevalent throughout Oakland. There are sparks everywhere right now."
Patrick Brennan
Prizefighter (address and info)
Emeryville
Ask any Bay Area bartender where they like to drink and they'll likely name this Emeryville gem for its world-class cocktails (and beer) and low-key vibe. While the sunny, dog-friendly patio definitely helped earn it a spot on our list of the Best Bars in California, what keeps this bar so loved are the badass 'tenders who can satisfy even the most refined tastes of fellow drink slingers. Case in point: one of the spot's original bartenders, Patrick Brennan.
Signature cocktail: El Diablo, created with owner Jon Santer, featuring mezcal, tequila, ginger beer, and lime on crushed ice. It's perfect for a warm summer day on the patio.
Where he drinks when he's not working: "I'm simple, I love a great daiquiri. I love the Ramen Shop; the food is great and Chris (Lane) is always doing something great with that menu. I find myself at the new Double Standard -- great drinks and a fun staff to chat with. I can't forget a classic like Flora either, Matty (McGee) is always putting some fun stuff on the menu."
What he loves about Oakland: "The people. Everyone I seem to meet is really nice and outgoing. Even when you get a person having a bad day, you put a drink down in front of them and that frown goes from down to up real quick. I really like the parks and hiking as well -- Tilden is one of my favorite spots in the Bay Area."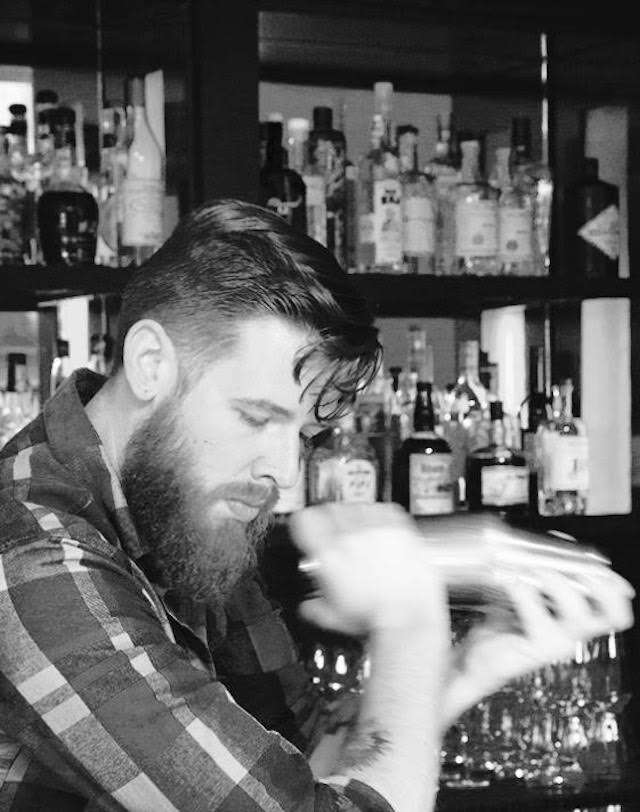 Matty McGee
Flora (address and info) and Fauna (address and info)
Downtown Oakland
Flora and its sister bar, Fauna, are worth the trip purely for the Art Deco beauty, which'll transport you to a bygone era. The other thing that will serve as a time machine: head barman Matty McGee's amazing cocktails (his Ramos Gin Fizz would have delighted Herb Caen). Matty generously shares his cocktail knowledge with the masses in regular cocktail classes held at Flora.
Signature cocktail: Dutch Kill, from Dutch Kills in Long Island City, featuring Laird's Jersey Lightning un-aged apple brandy, Cynar, and Punt e Mes. Stirred and served up with a grapefruit peel.
Where he drinks when he's not working: "Calvados and canned beer at Prizefighter, Flora, 355, and The Double Standard. The Double Standard is one of those great neighborhood bars owned and operated by people I really love. Ali Tahsini did a great job getting this place open and Douglas Bedford and Dave Kwon are both great barmen whom I enjoy sitting down in front of and next to."
What he loves about Oakland: "When I moved here it was for the rent. I was priced out of SF already. Then I realized that this town was what I really wanted anyways. I mean, it's such a huge melting pot of old and new cultures. There is creativity and exchange of life experience here and shared overall love for this town that is unrivaled. I'm blessed to have found it."
Daniel Sheel
Gather (address and info)
Berkeley
Having won accolades from The New York Times and San Francisco Magazine, Gather will get you in the door for simple farm-to-table fare that treats vegetables as a main course. But you'll stay in the door when you also find out it also has superb drinks made with small batch libations and fresh ingredients. Daniel Sheel brings as much care to the cocktails as the chef does to the food -- and it shows.
Signature cocktail: Grasshopper, which tastes like the last spoonful of mint chocolate chip ice cream, featuring heavy cream in place of half & half, fresh mint, and Boyd & Blair vodka, in lieu of creme de menthe, giving it all the flavor without the added sugar
Where he drinks when he's not working: "So many places I love! But to boil it down to a few, I'd say that after shift, I'll usually swing by East Bay Spice Co. or Tupper & Reed for great company in the bartenders, and beautiful cocktail programs. And on off days, or if it's not too late, I'll head over to Prizefighter with my dog for a Oaxacan Standoff. Doesn't hurt that they have the best sangria I've had, and an impeccable back bar to boot."
What he loves about Oakland: "I'm pretty new to the East Bay, having come from Atlanta. But Oakland in particular shares many of the same qualities. The speed is a bit more laid back, and the growth of the industry is steadily sprawling. Better food and better drinks are popping up in every neck of the woods, and it feels like home, where it's about the provisions, not the tablecloth."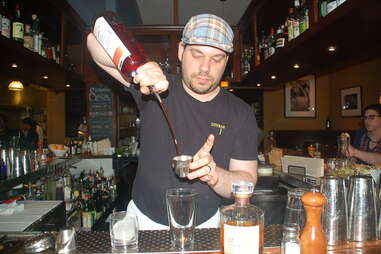 Jared Hirsch
Sidebar (address and info)
Lake Merritt
If you're looking for a place to relax in a friendly, neighborhood spot, this lakefront restaurant and bar is where it's at -- the square, copper-topped bar sits grandly in the center of the restaurant and facilitates easy conversation over hearty, reasonably priced meals. The bar is the main focus, however, thanks in large part to Jared's flair for craftsmanship and outgoing presence.
Signature cocktail: Caged Heat, a spicy whiskey sour made with a syrup Jared invented himself, with tamarind, cardamom, and ghost pepper. It's become so popular at Sidebar and among other bartenders, that he's started bottling and selling the spicy concoction all over town and in the city.
Where he drinks when he's not working: "My favorite cocktail is the one I haven't tried yet. I have twin babies so I'm not out a lot, but I love Prizefighter and visiting other bars in the neighborhood like Penrose."
What he loves about Oakland: "Oakland is a working man's town with an artist's soul. There are so many artists and craftsmen here and there's a big overlap between the two groups. I've seen Oakland change a lot, but it just keeps getting better."
Sign up here for our daily San Francisco email and be the first to get all the food/drink/fun SF has to offer.
Amy Copperman is regular Thrillist contributor in San Francisco with growing Oakland envy. Make her even more jealous on Twitter at @acoppergirl.