You know Wingtip is a debonairly appointed men's shop with an in-house barber and a custom tailor (who they've stuffed in the Bank of Italy's old vault). Everyone does. But what everyone totally doesn't: they also own both of the building's penthouse floors and they've outfitted them with an exclusive, members-only club complete with a SECRET-DOOR ROTATING FIREPLACE.
Normally, there's no way they'd ever let you go near that, but today is no "normally" day because not only are we totally getting you and 10 of your gentlemen dudes (or ladies, equal opportunity!) in, but they're gonna set you up in the even private-er, cigar-smoke-filled poker room so you can play mad games of Gin Rummy. So how do you make this happen? Well, keep reading dear... reader.
Recommended Video
Have a Beer for Breakfast With Your Favorite Captain
The poker room is outfitted with its own bar-cart, so you don't have to leave to get a drink, but that doesn't mean you shouldn't -- they've got a BUNCH of other awesome rooms...
... like their amazing cigar room (that's where you'll find the rotating fireplace), a massive whiskey room that's right up there with Nihon for Best Whiskey Selection in San Francisco honors, or just hit up the large downstairs bar that has lights made out of fedoras.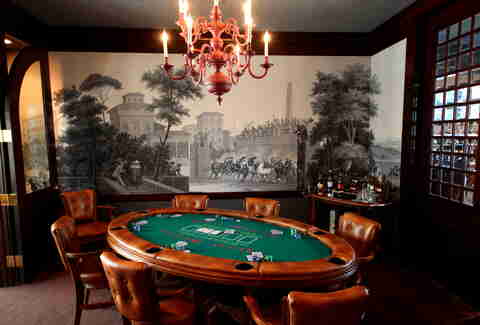 Oh right, how do you get access to all this one-night-only awesomeness? All you have to do to enter is post a pic on Twitter of you looking like a God-damn gentleman, tag us in the tweet (@ThrillistSF), and the God-damn gentlemanest-looking gentleman'll win.
Oh and if you win, you damn sure better dress like that again, 'cause this is a private social club, yo.
Joe Starkey is Thrillist's San Francisco Editor and is sorely tempted to make a six-years-too-late "Poker Face" reference here. Can't read his, can't read his... Twitter.
Previous Venue
Next Venue
Venue Description
1. Wingtip
550 Montgomery St, San Francisco, CA 94111
With over 300 whiskies collected from around the globe, Wingtip has one of the best whiskey collections in the world. While it comes across as an old fashioned gentleman's club, it's not, and we quote, "a bunch of guys in a steam room talking about what a raw deal Prohibition was." If you treat yourself to a membership, the perks are seemingly endless: access to the delightful "whisky corner," where you can spend hours sipping from rare bottles, golf simulator, game room, wine cave, parlor rooms, and a machismo vibe.