There's a pirate-themed bar. That is all.
Moa Brewing decided to open a pirate-themed pop-up bar on the America's Cup pier amazingly called The Bar of Arrr. And WE decided to write about it using pretty much just pirate puns. Not because we can, but because we mast.
Because you've definitely been pegged as the type of person who likes to rest his legs before, you'll want to hoist yourself onto one of these pillow-strewn seabeds. You can plank us later.
The walls? They're decorated with cows and olde-timey yacht captains. It'd be hard to arrrgue they don't belong when you notice they've got craft Kiwi MOA beers, all of which you can cap'n off your day with. Also: free wifayeaye.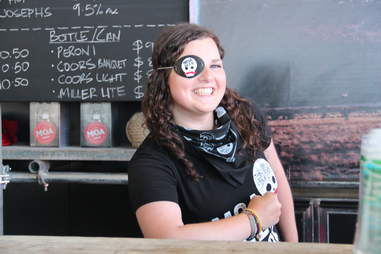 Did we mention that the staff members of this beer garden wear EYEPATCHES? Sorry we buried that treasure of a lede. We got photos of the entire staff wearing them and took notes on what we're pretty sure they each said right before we took photos of them, including: "I'd really landlubber if you didn't take this photo."
"Would yarrrr like another round of Moa, mateys? I'll even give you some great suggestions on what to parrot with."
"Aye... aye'm not quite sure I got the assignment."
"Sadly, we don't have port, but you're the starboard here... would you like to treye a patch of our entire line of MOA?"