We've found your new favorite neighborhood bar
Remember when Red Devil Lounge closed earlier this year, and you were like, "Nooooo!"? Well you can stop freaking out, because there's now a more-than-worthy successor bar in that space.
Owned by Jamal Blake-Williams (who you might recognize from his bartending days at The Tipsy Pig) and his partner Nate Valentine (whose children the bar is named after -- awwwwww) Harper & Rye's rustic lounge is the neighborhood bar you never even knew you desperately needed and wanted. Here's why: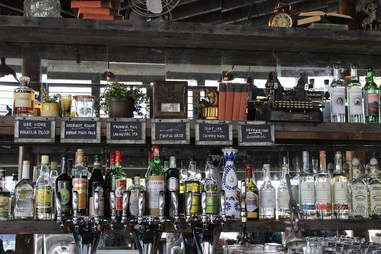 Daisy Barringer
So, first thing's first: the cocktail menu was created by David Ruiz, who runs Padrecito's bar, and drinks are all named after people (and pets!) who are close to the owners, and include options like the "Frankie & Levi" (bourbon, raspberry, grapefruit shrub, lemon & ancho). Frankie is Jamal's dog, by the way. It's okay, you can "awwww" again.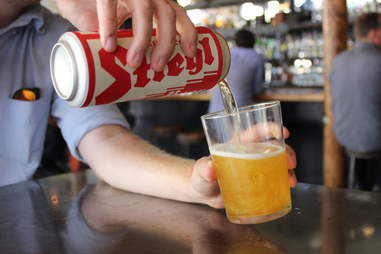 Daisy Barringer
There are 12 beers on draft (Abita Purple Haze, Rogue Hazlenut Brown, Chimay Red, and Magnolia Kalifornia Kolsch, etc.) and all pours are 17oz. There's also an interesting selection of bottled and canned beer, including a Reissdorf Kolsch and a can of High Life (just $3) for when you want to prove to your friends/yourself that you're just a regular guy.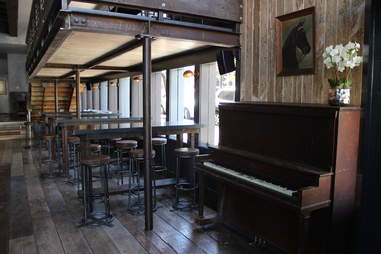 Daisy Barringer
Save for some structural support, the space itself is completely new… except, well, also old. The wood beams came from a barn in Fort Bragg, and the wood plank floors in the main bar were reclaimed from scaffolding.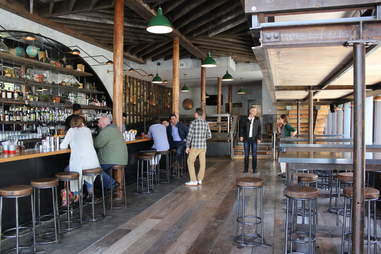 Daisy Barringer
Chances are good you'll be able to find a seat, too, as the place has a 218-person capacity with 19 stools at the bar, and four huge-ass tables by the windows. Head upstairs for a more intimate setting with smaller tables, and a bird's eye view of the street/your fellow bar patrons.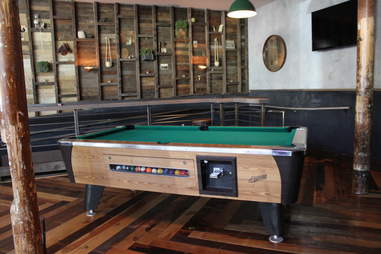 Daisy Barringer
You know where the stage used to be? There's now a pool table there. Just don't forget your cue.
Daisy Barringer
Secret time capsules in the wall are to be opened by Harper and Rye on their 21st birthdays. We can only guess what's inside, but it's probably childhood photos, loving notes from their parents, and old family mementos. Or, you know: BOOZE.
Daisy Barringer
Although Harper & Rye doesn't serve food, you totally can bring in your own or order some into the bar. And although they don't serve dogs (?!) either, you can totally bring your own during the earlier hours.
Daisy Barringer is a freelance writer who grew up in SF, and regardless of her new-found love for "Frisco" will never be okay with the people who call it "San Fran". Follow her on Twitter @daisy.