Neighborhood guides in SF are a dime a dozen nowadays. Mike Natenshon neighborhood guides though? See, those are a more priceless commodity.
That's because the dude behind aprés-surf brand Marine Layer -- makers of super soft shirts that somehow incorporate recycled beechwood and come in super-awesome sizes (I'm a "marge") -- has the one thing you need for a truly dominant hood guide: a badass VW van, which he's driven up and down the 7x7 scouting new locations, burgers near new locations, and everything in between.

Here's his better-than-literally-any-other guide to his favorite hood: Hayes Valley.
I met Mike in August of 2010, literally hours after they peeled back the butcher block paper from their first-ever store in the Marina. Four years later, they have five stores in two different states (with more on the way), a headquarters carved into an old SF movie theater, and the aforementioned badass VW bus, which he picks me up in before we head down to The Land of Big Beers And Restaurants You Can't Get Reservations At.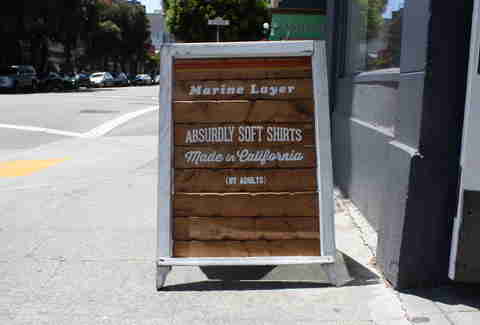 We ditch the VW in Hayes Valley, drop by their shop on the corner of Hayes and Octavia (which uses a shuffleboad table as a fixture, just like in their flagship), and pick up Mike's business partner/head bro Adam Lynch. Both dudes are wearing significantly softer shirts than me, but they're also ready to neighborhood guide their faces off so let's get to it.
Arlequin Cafe & Food To Go
"It's basically like we're in Muir Woods," Mike says. And he's not that far off. This is, according to at least one super handsome publication, one of the Top-6 back patios in SF. And despite being buried in the back of Arlequin, surrounded by a zillion different mixed use buildings, it still gets an absurd amount of sun. "If you've never had the chocolate pretzel roll get the chocolate pretzel roll." Alright then.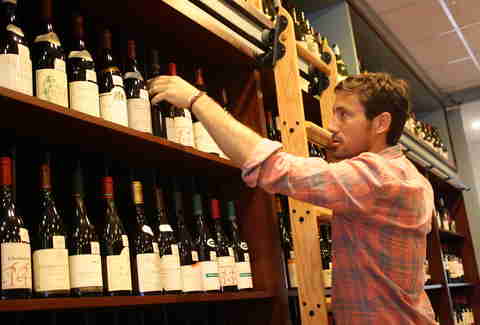 Arlequin Wine Merchant
We step through the back door, slide to the left, and through a backdoor to next-door, owned-by-the-same-people-obviously Arlequin Wine Merchant. "Great place to pick up some to-go wine, they're just super helpful here. Plus there's an awesome wine ladder that's open to the public." (Ed Note: it's definitely not open to the public.)
Fatted Calf
Basically the only non-auto body shop on its block, Fatted Calf is all kinds of legitimate; just as we walk in, one of the butchers starts breaking down a whole hog. With a comically large hacksaw. "The butchers help you with everything from cooking recipes to what the difference between bone-in and out is," Mike says. "And the beef jerky...".
"I love that they sell out of sandwiches here. That's a mark of a good place," adds Adam. Luckily they haven't sold out of Mike's go-to: the Pulled Pork, which has a perfect handful of cabbage carrot slaw on it plus BLUE BOTTLE COFFEE AND BOURBON BBQ SAUCE. So much "yes".
Patricia Green
Mike says this strip of park at the foot of Octavia is a great place to eat said pulled pork masterpiece and toss a ball to some stranger's dog. The trick is to not accidentally toss the dog your sandwich.
Ritual Coffee Roasters
"The containers are key to the revival of this neighborhood, and it doesn't hurt that I do think they have the best coffee of the new microbrewers," Mike says. He's referring to the shipping containers Ritual is set up inside, with chairs strewn about the lot fronting it. Mike gets the Sweet Tooth single-origin espresso and asks us if he can put sugar in it.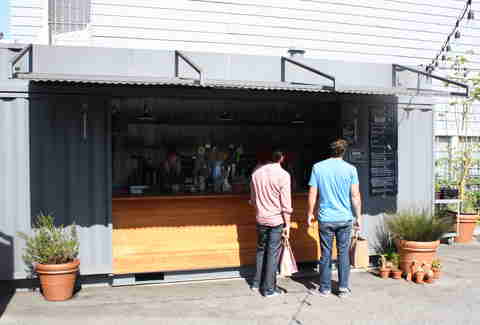 Biergarten
"It's the best business idea ever. Take a parking lot with a chainlink fence around it and turn it into a beer oasis," Adam says. "We come here for different types of things, it's really a central community meeting place -- whether it's day drinking with eight dudes, or a business meeting." Or a "business meeting".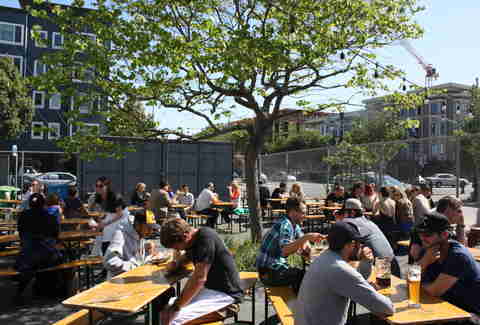 Oh, and it looks like THIS. Mike demands you get a pretzel here even if you're not hungry. Bonus: The mom of the brothers who've helped make Biergarten and mothership restaurant Suppenkuche what they are today (one's the GM, the other the graphic designer) buses tables here.
Flight 001
This is probably the coolest store in San Francisco you've never been in. The entire thing is 100% dedicated to travel, focusing on hyper-colored brands like Herschel Supply Co, which weirdly did not supply that dude on Walking Dead with his prosthetic. With Austin, NYC, and Seattle all target cities for future Marine Layers, this is kind of a must-stop for Natenshon.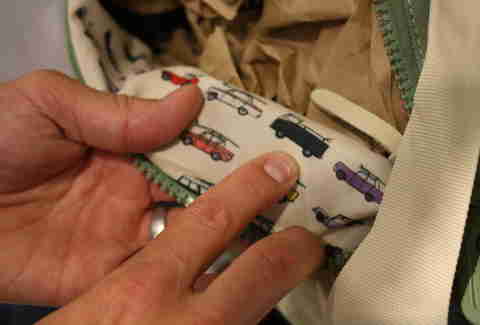 Doesn't hurt that some of the bag liners have badass VW buses, too.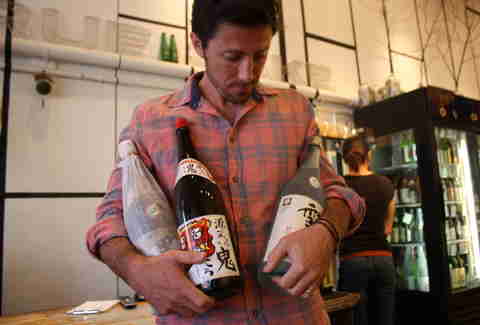 True Sake
We stop off at Mike's preferred party gift shop -- America's first dedicated sake shop, opened in 2003 -- snag a few choice selections, and head across the street to...
Two Sisters Bar & Books
It's a bar, and a book exchange program! Bring in a tome when you stop by for a drink and they'll let you swap it with one from their shelves, an idea born while the two actual sister owners were on a train from Krakow to Warsaw. Jeez, how many times have you heard that story?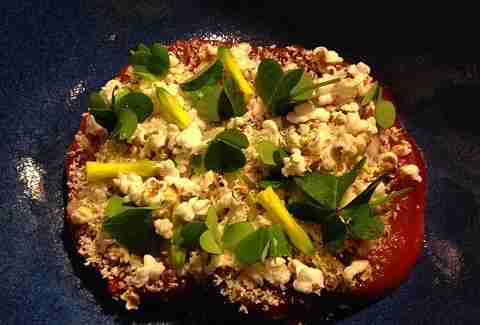 Rich Table
Mike doesn't even say anything about Rich Table, he just sort of puts his hands in the air, motions towards it, and that's really all it needs. Evan and Sarah Rich's insanely acclaimed spot defies description for a lot of people. The go-to dish on the other hand does not: sliced heirloom tomato, sorrel, and sorghum, finished with white chocolate a la pascal marmot. Just kidding, barbot.
Smuggler's Cove
If someone told you there was a three-story pirate-themed, waterfall-adorned paradise behind a nondescript door on Gough and you didn't know better, you'd figure he fell off the top of a badass VW bus one too many times. But we damn sure know better.
*Brand does not have any affiliation with the places, events, or large dogs named in the above article