If every time you go to Final Final wearing a zoot suit and a fedora, someone's like, "Dude, you're such a weirdo", and you're all, "Here's lookin' at you, kid", and they turn to their friends and are like, "Dude, let's just go to Bus Stop instead", maybe stop going to Final Final and instead try Noir Lounge, a dusky food-equipped bar just off the square in Hayes Valley.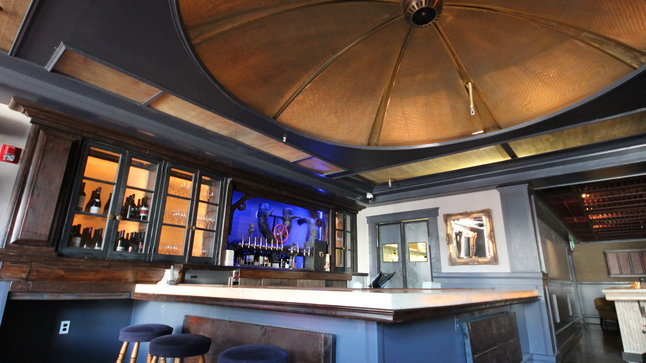 Set in the now-unrecognizable former home of Frjtz, this 3-room, 2500sqft space evokes the jazz-era film style via an interior rife with period references like old writing desks, typewriters, and tables that use salvaged wood from a Pac Heights mansion that belonged to the Ghirardelli family. Slightly less thematic: this giant golden dome made from an old satellite dish.
The place'll use several TVs (including the pictured 104-incher) to screen film noir flicks (like The Maltese Falcon and Vertigo) on designated movie nights that'll also feature drink specials and the ability to finally say "dick" in polite company.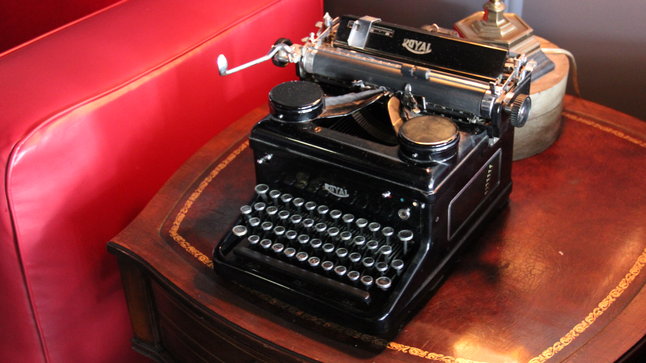 Here's that aforementioned typewriter. Pro tip: get a girl to type the word "Murder", then hilariously tell your friend "Murder, She Wrote".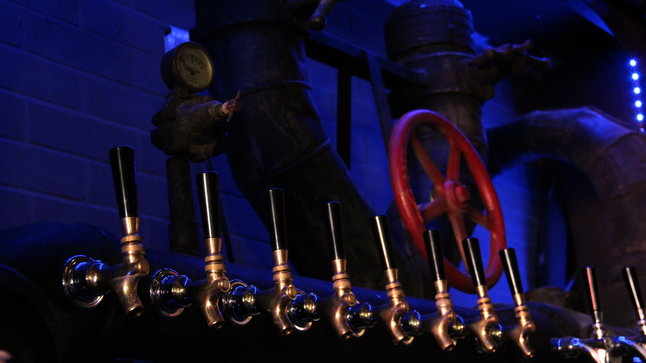 This blue-lit, re-purposed iron vent has 24 bevies on tap: four wines and 20 beers.
Plus, they've got 55 non-tap wines available: 20 by the glass, and 35 by the bottle, which you then pour into your glass four times.
Whatever you're drinking, definitely do it at the custom-made communal table: it's set under a ceiling made of window shutters that create old-timey detective shadows.
Their food is an upscale play on movie theater fare. Think Parmesan and rosemary tater tots.
Plus they'll do curry popcorn and Dr Pepper-flavored cotton candy you just know someone's going to end up Bogart-ing.