Your drinking guide to a new Hayes Valley bar owned by one of the Churchill dudes
Run by one of the guys behind Churchill and a dude who's tended bar at both Comstock and Absinthe, Brass Tacks is a Hayes Valley boozing den with (surprise!) lots and lots of great drinks. And since it's kinda, sorta our job, we tried every damn one of them, and then put together this handy Brass Tacks Drinking Guide, complete with three absolute must-order cocktails and three (and a half!) gotta-get bottleds. To the dranks!
Spanish Prisoner
This is BT's manly apertif, and by manly we mean it has sherry (bro!), Averna (hardcore!), and a French liqueur (testosteroneeeeeee!).
The Conversation
Their spin on an Old Fashioned involves a homemade root syrup that incorporates over 12 ingredients, including cinnamon, cherry bark, sarsaparilla, and sassafras (sarsaparilla's sassy cousin, we assume).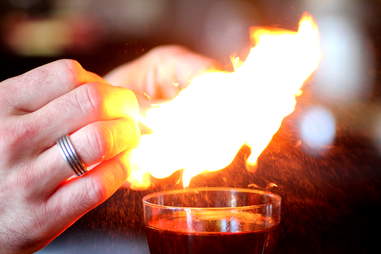 Il Buono, il Brutto, il Cattivo
Italian for The Good, the Bad, and the Ugly, this cocktail is a combo of mezcal, cacao, hellfire bitters, and REAL FIRE!!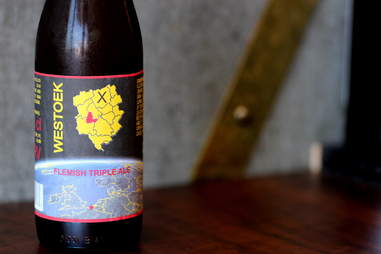 Westoek X
This Belgian tripel is named after a popular brewing region, and is much drier/tarter than your typical tripel, making it a brew fit for a king (but not of the North -- you don't want to be that one).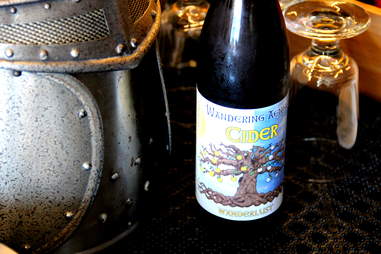 Wanderlust
Okay, okay, this isn't exactly a beer, but this pretty-hard-to-get Oregonian cider is brewed in a traditional English manner (pinkies up!), with an almost beer-like taste and a "long ginger spice finish".
Tripel Karmeliet
Another non-traditional tripel by taste, Tripel Karmeliet's an almost-saison-ish beer that is actually brewed according to an authentic recipe from 1679, making it, actually, the most traditional.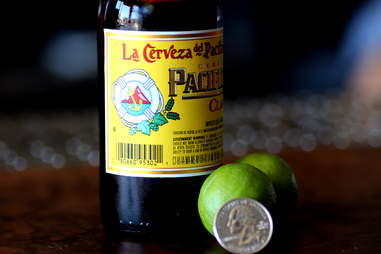 Pacifico
Making up the "and a half" is this itty bitty Pacifico (plus tiny limes!!) with a quarter shown for scale, not because it's a particularly rare brand of beer, but because it's so widdle!