Hey Cocktail Lovers, Kevin Diedrich Is Back With a New Pop-Up at Cantina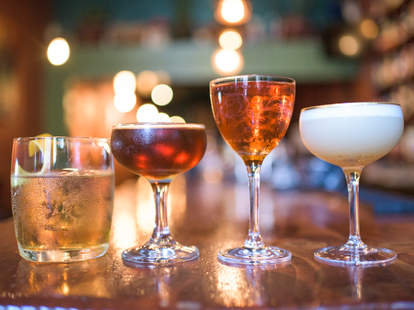 You first loved Kevin Diedrich's carefully concocted cocktails at Burritt Room. Then at Jasper's Corner Tap & Kitchen. And finally, you were so stoked when he was crafting some of the best drinks in town at BDK. But then the whole BDK shake-up happened and Kevin's tasty libations were once again without a home. And you were sad.
 
Well merry Christmas/happy Kwanzaa/belated Hanukkah greetings to you. Because Kevin (and partners Andy Chun and Jan Wiginton of Press Club) just took over ownership of Cantina. This means two things: 1) Kevin's not going anywhere ever again (he's the operating partner), and 2) his kick-ass cocktails are back.
 
Starting today, Kevin is launching a new pop-up, Turnkey at Cantina, which will feature some of his greatest hits from past projects and will give him and his partners a chance to introduce themselves to their new neighbors and get everyone used to their style of cocktails and hospitality. 
 
Here are just a few of the classic Kevin favorites you'll be able to enjoy once again:
Daisy Barringer/Thrillist
Genki (Espolón Blanco tequila, Del Maguey mezcal, Combier, lime, togarashi, egg white, matcha salt) is from Jasper's menu. It's got a little bit of spiciness, is a little savory, and has that smoky agave flavor everyone in so obsessed with right now.
Daisy Barringer/Thrillist
The Grand Promenade (Wild Turkey 101 rye, Laird's bonded apple brandy, benedictine, yellow chartreuse) was Jasper's tap cocktail. Kevin describes it as a "spirit-forward riff on an old fashioned." We describe it as "He's gonna be bummed it's not on tap because he's going to be making a shit ton of these."
Daisy Barringer/Thrillist
Booze and spice and everything nice! The Allspice (Wild Turkey 101 rye, rum, sweet vermouth, chocolate mole bitters, and allspice bitters) was a BDK favorite for good reason. It's a lot like a Manhattan, but with a winter-y vibe.
Daisy Barringer/Thrillist
The Banana (Espolon Reposado, Palo Cortado sherry, banana liquor, bitters) from the short-lived BDK menu is one of Kevin's favorite cocktails. "I love sherry cocktails and this one's not too banana-y," he says. He's right (go figure since he created it). The banana flavor is subtle and goes well with the hints of caramel, agave, and vanilla.
Things to know: Turnkey is only going to be around for three months, so head over there pronto because come March, the space and cocktail menu are getting updated and the new and improved Cantina will be unveiled. Also, you can order food next door at Hogwash, one of our favorite beer and sausage bars. And because they're the best, they'll bring your Abe Froman (beef, cheddar and bacon sausage, and Thousand Island dressing) over to you at Turnkey at Cantina.
 
Turnkey opens its doors today -- Monday, December 21st -- at 5pm and will be open Monday through Saturday from 5pm to 1:30am.
Sign up here for our daily San Francisco email and be the first to get all the food/drink/fun SF has to offer.
 
Daisy Barringer is an SF-based freelance writer who thinks a night of sausage and cocktails sounds like a perfect night, indeed. Follow her on Twitter @daisy.