A mountainside beer garden that's open 3 days a year, including THIS Sunday
Last week, we told you about the best new German beer hall in SF. This week, we're telling you about the best not-new, giant, mountainside German beer garden lodge in the woods North of SF. 
Yeah, we're talking about the Tourist Club, a relatively well-hidden gem on the slopes of Mt. Tamalpais that's almost-always open to just members, save three special days every year including, oh, THIS SUNDAY'S MAIFEST.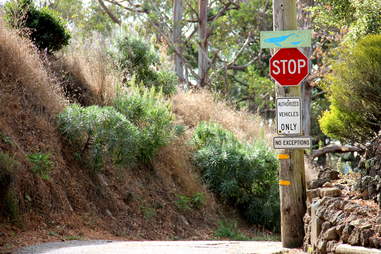 Joe Starkey
So, there are two ways to get there. One involves a several mile-long hike, and one involves a way-more-conducive-to-beer-drinking 1.5mi walk down this unmarked path from the parking lot.
Joe Starkey
Oh, hey! There's a marker!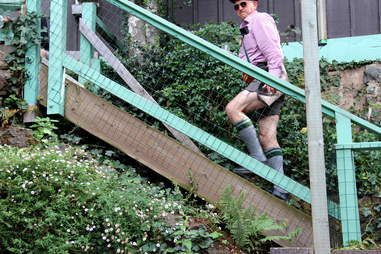 Joe Starkey
Started in 1912, the Tourist Club is the San Francisco branch of 119-year-old Die Naturfreunde (aka The Nature Friends) -- an Austrian club that gives members a chance to celebrate and give back to nature/wear awesome lederhosen.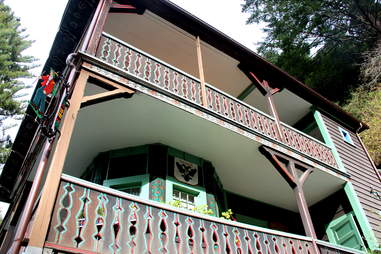 Joe Starkey
The lodge itself looks like it was plucked straight out of the Bavarian Forest, with classic carvings, artwork, and...
Joe Starkey
... this bit of stained glass that proves once and for all that German is just a silly version of English.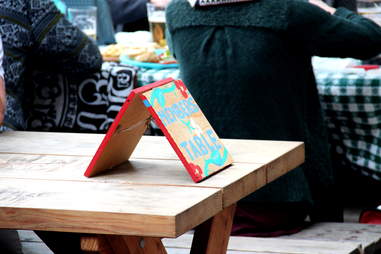 Joe Starkey
Aside from getting year-round access, becoming a member (which is honestly super hard) has its privileges (don't worry, there are plenty more tables for non-members).
Joe Starkey
Those privileges include both the reserved tables and access to private parts of this lodge, plus other lodges like a crazy ski retreat atop the Donner Summit in the Sierra Nevada.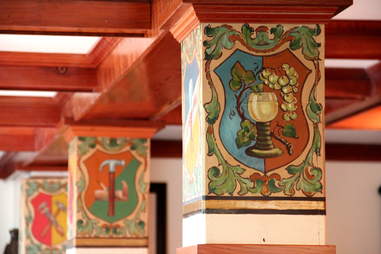 Joe Starkey
They've also got a tiny little "beer hall" (it's kind of actually just a room you get beer in with a couple tables and a fireplace) that's decked out with boozy artwork, a ton of games you can borrow, and...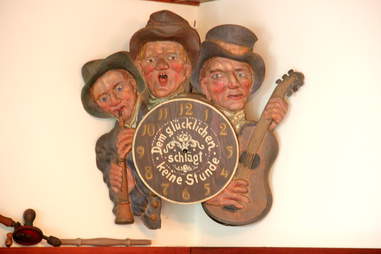 Joe Starkey
... AHHHHH, TRADITIONAL BAVARIAN NIGHTMARE FODDER!!
Joe Starkey
And most importantly, European beer, which they serve by the glass/pitcher so you and your friends can celebrate Maifest in style.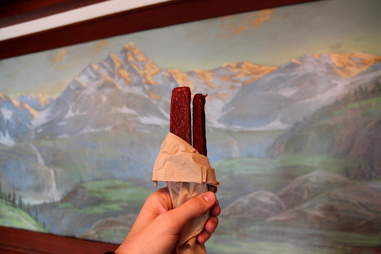 Joe Starkey
And though you should probably bring some snacks of your own (totally allowed), they definitely sell these delicious meat sticks.
Joe Starkey
There's a bunch of space out on the main deck for you to enjoy your beer/meat sticks.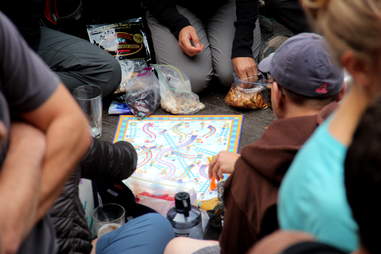 Joe Starkey
Plus get in on any of the games you borrowed/will definitely cheat at.
Joe Starkey
And since this is one of the three times this year they're scheduled to be open to the public, make sure to grab your Maifest tickets before they sell out, so that you, too, can be the special Birthday Princess.
Joe Starkey is Thrillist's San Francisco Editor and will see you there! Follow him on Twitter.