The 7 best wine caves in Napa/Sonoma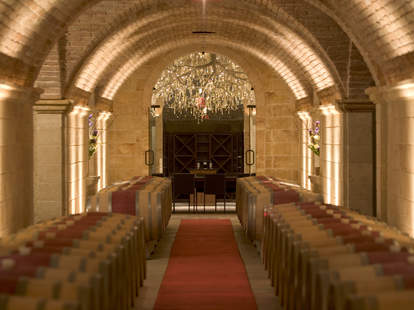 If you've always avoided wine tastings because you're afraid people will snap photos of you enjoying a nice White Zin OUTSIDE IN A GARDEN, fear not: we've found the seven best wine caves in the Napa area, all of which are fit for an extremely classy and refined caveman.
Jarvis Winery
This spot calls their tour a "journey into the Earth", and the path at the very least definitely looks like it's going to lead you to a Great Fairy Fountain to help you save Zelda.
HALL Wines in Rutherford
Hand-built by a Master Mason from Austria, these limestone and brick caves can be rented for private events under their chandelier that's made out of the extremely rare Swarovski tree.
Calistoga Ranch Wine Cave
Not just what you're pretty sure is the entrance to Valhalla, this is the rentable-for-the-fanciest-party-of-your-life Wine Cave at the Calistoga Ranch. Just an FYI: everything else here is aggressively handsome as well.
Vine Cliff Winery
Vine Cliff Winery's caves are normally part of the tour/tasting, but if you're lucky, they can also be the coolest underground dining spot, thanks to occasional events that also sometimes involve giant portable BBQs.
Stag's Leap Wine Cellars
Founded in Napa in 1970, Stag's Leap is one of the older wineries in the Valley, and in their caves you can find not only aging wine, but this Foucault's pendulum swinging in the middle of the "Round Room" in what has to be the most badass clock ever.
Del Dotto Vineyards
This historic cave, hand-dug in 1885, was opened to the public in 1999 for wine tastings and, we're assuming, entrance rituals into The Skulls.
Bella Winery
Way newer than the previous cave, this one was built in 2002 and, somewhat sensibly, is a horseshoe-shaped cave so you can tour without having to go in the out or out the in. Also useful if being chased by supervillains.