The Bourbon & Branch guys' new bar has ANOTHER bar hidden underneath it
Grant Marek
Grant Marek
From the hitmakers behind Bourbon & Branch, Tradition, Local Edition, and Rickhouse comes The Devil's Acre -- an apothecary-themed North Beach boozery (they've got everything from scientist's eye droppers to more than 100 century-old chemist's canisters) with a first-of-its-kind, seriously-no-one-is-doing-this cocktail program and a basement bar hidden down an unmarked staircase in the back.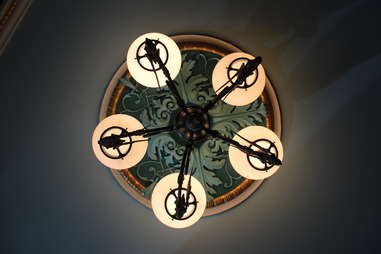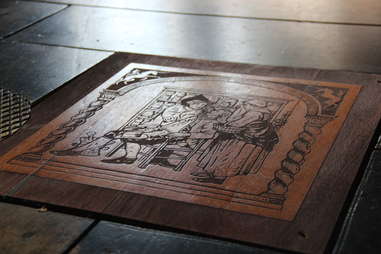 But you're not coming here for the history (wait... are you?), so let's talk about this whole first-of-its-kind, seriously-no-one-is-doing-this cocktail program. The drink menu features tons of super throwbacks from the late 1800s (Pisco Punch, St. Croix Fix, Devil's Manhattan) and a handful of Barbary Coast originals, all of which you can add any of eight "remedies" to. The remedies -- all developed by a real-life herbalist -- count everything from an "immunity tonic", to a "stress soother", to a "hangover cure" (ohthankgod), and include ingredients that sound like they probably actually do something (Siberian ginseng, meadowsweet, astragalus...).
Oh, and the bartenders will mix your tipple + remedy in this insane spinning cocktail shaker from 1890. So... there's that.
And because why the hell not, they also make their own sodas from scratch. This is a root beer. It was delicious.
This is where things get REALLY good, though. Down a staircase at the far back wall you'll submerge yourself in a totally separate bar called Remedie; a dark, small, cavern of a bar that's absolutely perfect in every way that dark, small, caverns of bars should be.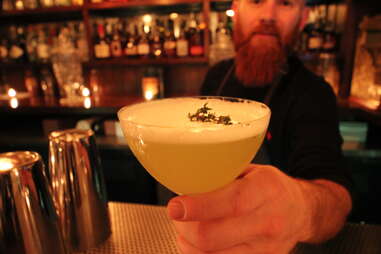 A few more brass tacks: 1) IT OPENS TODAY!!! 2) Seating for Remedie and The Devil's Acre will be almost entirely reservation-only (you'll be able to make a reservation here), save the bar area, which is open seating, 3) the hours will be 3pm-2am, Wed-Sun and 5pm-2am on Tuesday, and 4) it's a permit away from also having a live jazz band upstairs.
Sign up here for our daily San Francisco email and be the first to get all the food/drink/fun SF has to offer.
Grant Marek is a Senior Editor at Thrillist and plans to be holed up in Remedie from 3pm-2am today, and every day thereafter. Find him on Twitter @grant_marek.