The Best Damn Dive Bars in Oakland
If there's any bar that could be qualified as "essential," it'd assuredly be the dive bar. They're open when you need them, don't care what you're wearing, and are usually dark enough to make out with a stranger in and not feel guilty about it later. There's also a good chance they have a great jukebox and a cool bartender with a tattoo of a flower or skull. Here -- in no particular order -- are Oakland's most essential dives and the reasons why you should hit each and every one of them.
Best dive for a morning drink: <a href="http://www.thrillist.com/venues/drink/san-francisco/bars/merchants-saloon" target="_blank">Merchant's Saloon
Jack London Square
Open since 1916 (and each weekday at 7am), this bar knows something about morning drinks -- try its bloody mary to see what I'm talking about. The joint was established to serve the sea merchants whose industrial warehouses still surround the bar, and the clientele mostly leans toward the tattooed punk variety -- although there's always a lively mix of drinkers. Whiskey shots, spray-painted walls, loud live music, and pool are all at your thirsty little fingertips. Contrary to local myth, the spittoon circling the base of the bar is not a urinal -- so be polite and don't please pee in it.
Best dive for recreational drinking: <a href="http://www.thrillist.com/venues/eat/san-francisco/restaurants/montclair-golf-enterprises" target="_blank">Montclair Golf Course
Montclair
This Oakland Hills hideaway is a real sweetheart. Go deep undercover at the driving range, swinging on a $7 bucket of balls while slugging cheap drinks from 11am on. If you're solely after booze, no problem. The bar is something to behold. It boasts wildly outdated decor, long-time regulars, dim lighting, the sense that the outside world has disappeared, and greasy pub food.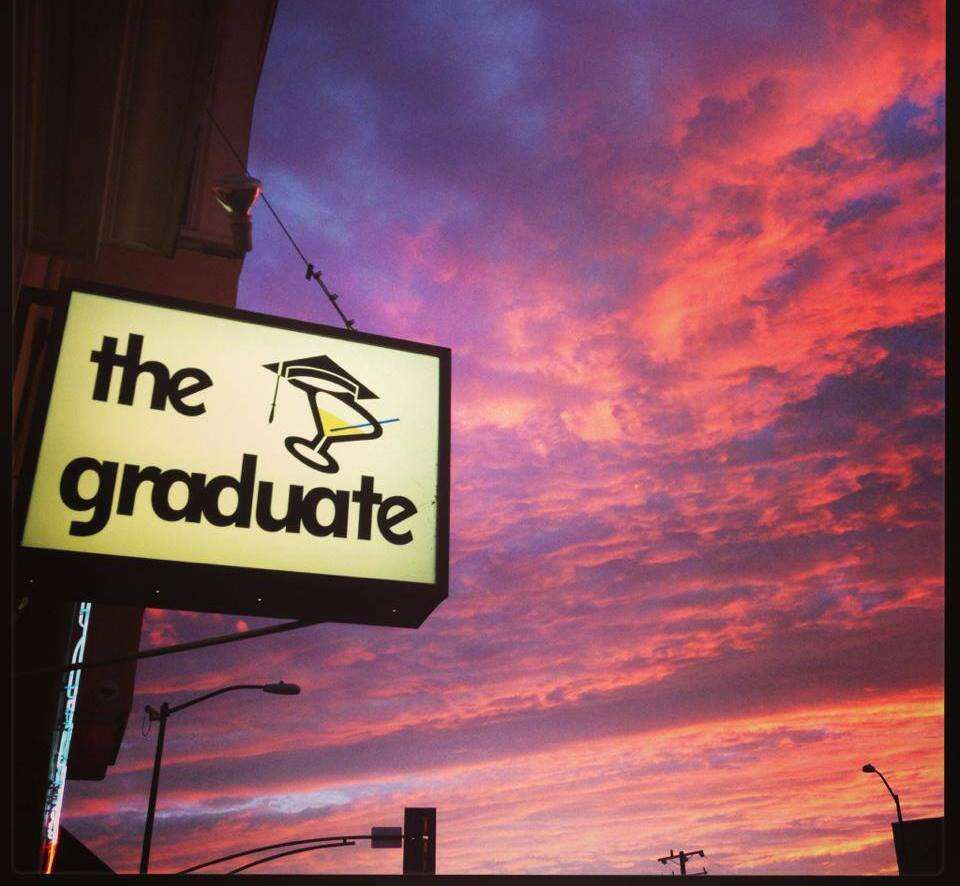 Best dive for bar snacks: <a href="http://www.thrillist.com/venues/drink/san-francisco/bars/the-graduate" target="_blank">The Graduate
Rockridge
The Graduate features a curving wood bar, standard issue Cheers lampshades, and a daily opening time of 12:30pm -- because day drinking is real drinking. The bartenders are sweet, the jukebox is rocking, and the diehard regulars talk about jail in a totally cool and not-at-all-threatening way. Best of all is the fresh, free, hot-popped, self-serve popcorn that's salty and greasy in all the right ways. Pro tip: add some provided Sriracha.
Best dive for dirty laundry: <a href="http://www.thrillist.com/venues/drink/san-francisco/bars/george-kayes" target="_blank">Geo Kaye's
North Oakland
Starting at 2pm, wash your dirty drawers at the laundromat across the street, then slide into the day scene at this no-nonsense drinking establishment. George Kaye opened the doors in 1934 and would be proud to know not much has changed since then, not even his cryptic neon sign spelling out only half his first name. Late nights, it gets a bit livelier, but 2-6pm on weekdays is the perfect time to stop by and mellow out.
Best dive for a first date: <a href="http://www.thrillist.com/venue/drink/san-francisco/bar/cafe-van-kleef" target="_blank">Cafe Van Kleef
Uptown
Fact: dive bars are great for first dates. But not all dive bars make you look as cool as Van Kleef's. This cocktail-serving museum of oddities is covered from floor to ceiling with unique and weird ephemera. Even if your small talk game is weak, you can always resort to talking about the decor for a few hours under the dim lighting. The well-loved Dutch owner, Peter Van Cleef, passed away in September of this year, so even if you're just a loner looking for a pick-me-up, stop in and have his signature fresh-squeezed Greyhound in memoriam.
Dive with the most skulls per square inch: <a href="http://www.thrillist.com/venues/drink/san-francisco/bars/the-avenue" target="_blank">The Avenue
Temescal
Come for the skull-encrusted fireplace, the pool table, and the surprisingly cozy metalhead lounge in back, stay for the diverse regulars, the friendly bartenders, and the shared love of drinking in a dark rocker joint. There's a ton of seating, so bring your friends or latch on with a group and hope they accept you as one of their own. Bonus: there's a $5 photo booth for when bad ideas start to seem like really good ones.
Best dive to makeout with a stranger: <a href="http://www.thrillist.com/venues/ruby-room" target="_blank">The Ruby Room
Lake Merritt
The hallmark of any great dive is the inability to adequately see all of your surroundings. The Ruby Room delivers darkness in spades. The sexy, red glow will have you eyeing what are probably (maybe) cuties all around you, and smokers rejoice -- there's an indoor smoking section complete with seating and a pool table. Slide in early to avoid the crowds, or show up late night to bust out those interesting dance moves before last call in hopes of sparking some romance. There are also theme nights, which everyone knows are just an excuse to dress as scantily as possible under the clever guise of cosplay.
Best plain old dive: <a href="http://www.thrillist.com/venues/drink/san-francisco/bars/ye-olde-hut" target="_blank">Ye Olde Hut
Rockridge
How can you not feel triumphant about life while nursing an on-the-rocks something or other by a stone fireplace? Trick question, you can't. Play a game of pool. Play some Michael McDonald on the jukebox. Play "order some shots and beer, but probably not a craft cocktail so you don't get mocked." Oh and pingpong. Play that, too.
Best dive for sports-loving smokers: <a href="http://www.thrillist.com/venues/drink/san-francisco/bars/19th-street-station" target="_blank">19th Street Station
Uptown
One man had a vision: create a place where booze and tobacco could mingle indoors in the great state of California. The solution? Buy a bar and be its sole attendant. That is problem solving. Sip and smoke to your heart's content while enjoying the sports memorabilia and general badassery of owner Roy. Hours are limited -- he is only one man -- but stop in weekdays, noon to 8pm. There's no website or official Facebook page -- that's not Roy's way. But there is a phone: 510.893.1919.
Sign up here for our daily San Francisco email and be the first to get all the food/drink/fun SF has to offer.
Annie Crawford is a freelance writer in Oakland, CA, who's always had a soft spot for divey joints. Follow her adventures @ReinaAnnie.