The greatest waterfront beer garden in the entire Bay Area
Aside from being what you call a Tzeit Lokal who wears Wayfarers and routinely "crushes it", Brotzeit Lokal is also a half-indoor/half-outdoor authentic German biergarten open on the Oakland estuary right off the docks where everyone keeps their fancy boats (more on that later).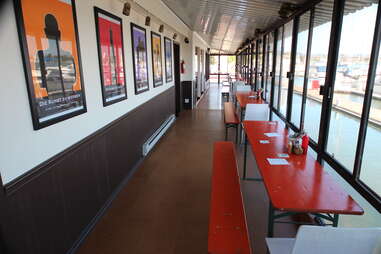 Surrounding the more-traditional-looking, hardwood-floored, large-wooden-benched inner hall is a wooden picnic table-equipped outer ring surrounded by glass windows to give you a perfect, unobstructed view.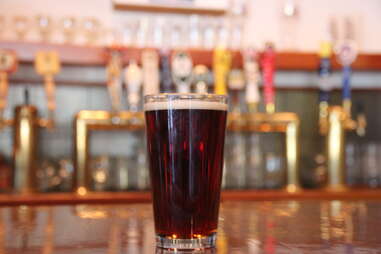 Along with having eight German, two Belgian, and six American beers on tap, one of the 'Mericans is brewed specially for Brotzeit by Linden St Brewery. It's called Brotzeit Alt Shule. Naturally.
The menu's composed of traditional German fare, with starters like this traditional Bavarian Obadzta, a cheese spread given to you with a delicious "bretzel" (pretzel).
Their main focus, though, is on sausages, with a rotating list of up to 11 links (ranging from traditional Bockwurst to Spicy Curry Chicken) that you can pair with your boot of beer (oh yeah, they have boots of beer).
Plus, when you're outside, you can look at all the pretty boats, like the wooden one you see here. It's owned by the couple behind the restaurant, who aren't actually from Germany (they're lokals).