A 32-tap beer hall with a butcher knife door handle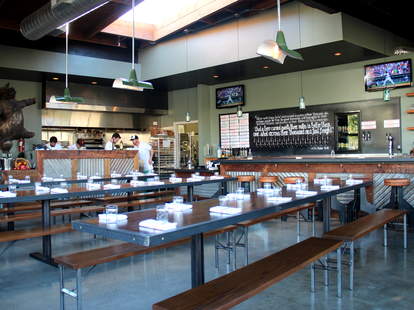 Not just what they used to call Catherine the Great's doctor (ooo, historical burn-eth!), The Hog's Apothecary is a beer hall and whole-animal-cooker-upper in Oakland that's home to 32 taps (seriously), a door handle shaped like a giant butcher's knife, and a 7ft wooden pig named Theo... like you do.
There's a wall of tape decks, meaning someone finally put all those mix tapes you made to good use! literally had no idea what to do with all those mix tapes you kept sending them.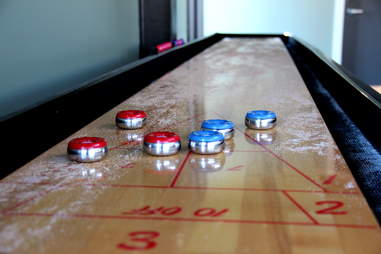 Oh and they have a full-size shuffleboard table in the corner where you can play with all your friends not named Baby (nobody puts him in a corner!!!).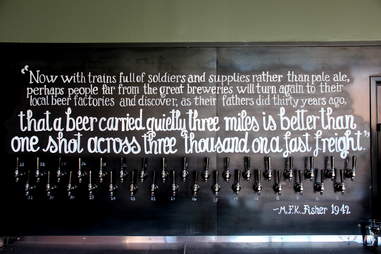 They have 32 taps in total, almost all of which are sourced directly from the breweries themselves, including Will Ferrell's own beer and a proprietary in-house brew (that sold out but is coming back soon) dubbed Hipbreaker after one of the owners fell off a ladder and actually broke his hip while building the place.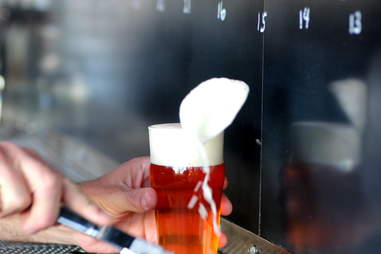 Their beer program is watched over by a cicerone (like a sommelier for beer) who also did St. Vincent's list. It'll be constantly updating with the awesomest, localest brews... est.
The whole animal thing manifests itself in awesomeness like this sausage sandwich (that uses Moroccan lamb with grilled nettles and peach mostarda), or...
... these tasty looking lamb chops that'll have you wishing it was the dinner that never ends (some people staaarrrted eating it...).