The Official Unofficial Oakland Drinking Guide
You go out drinking in Oakland all the time, assuming everyone's cool pretending the word "all" means "kinda never". It's not that you don't wanna go out in Oakland, it's just that, well, you um, don't. Well, now you're going to ACTUALLY do it, thanks to this: East Bay-living Lou Bustamante's (aka The Village Drunk's) definitive guide to drinking in Oak Town. Oh, and definitely check out the awesome map at the bottom...
McNally's Irish Pub (click here for address and info)
"There's nothing fancy about this place: no craft cocktails, Edison bulbs, or gastropub fare. What it does have, is pints, shots, bumper pool, and a great jukebox. Sit next to the glowing fireplace if you want to get comfortable/your body temperature runs lower than most people."
Picán (click here for address and info)
"This Southern food spot was one of the first new places to open as Uptown Oakland was developing, bringing with it one of the most extensive bourbon collections in the Bay Area. THE BAY AREA. The excellent happy hour and excellent-er whiskey cocktails make this pretty much a must."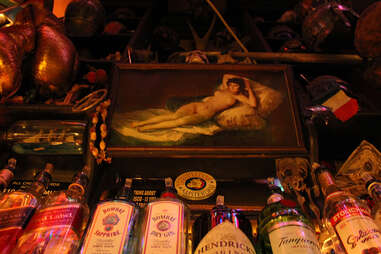 Cafe Van Kleef (click here for address and info)
"Aside from the excellent, fresh-squeezed Greyhounds and Salty Dogs, this spot offers shelter to those who need it -- Cafe Van Kleef was one of the few spots that stayed open during Oakland's riots. It was a ballsy move that means it's a place you can count on."
Plum Bar (click here for address and info)
"This intimate spot combines a cozy vibe (see: walls plastered with 1,500+ classic American poems) with a meticulously crafted cocktail menu you don't need an encyclopedic knowledge of 19th century ryes to understand and enjoy. While their Happy Meal special may not come with a toy, it does come with a 1/2lb burger, fries, a shot of Four Roses bourbon, and a pint of beer."
Adesso (click here for address and info)
"This spot, renown for its expansive selection of house-made charcuterie, extended that same care to the cocktails and selections of wine by the glass. The free spread of food they put out during their happy hour (5-6pm) with drink purchases is a great way to begin your exploration of the menu/get dinner for free!"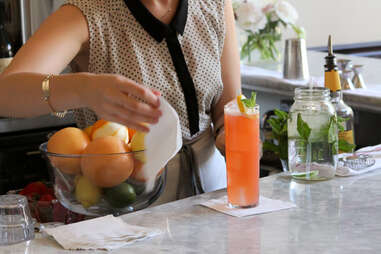 Hopscotch (click here for address and info)
"The name may imply schoolyard games, but this adorable little diner makes some very creative cocktails, and fun pairings with whiskies. It's also one of the few places you can guarantee you'll get to First Base... because that's what they named their house burger topped with griddled beef tongue."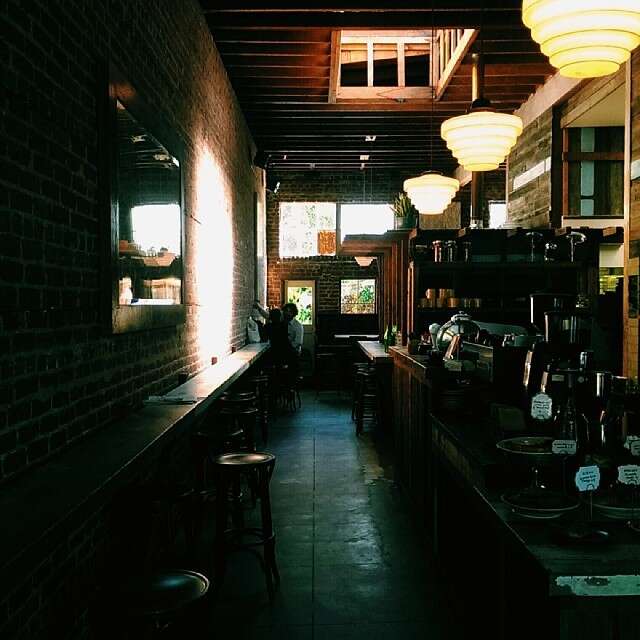 Boot & Shoe Service (click here for address and info)
"This bar -- tucked into the back of the restaurant with lights made from old VW headlights -- serves up some of the best drinks this side of the Bay Bridge. Their homemade tonic in their G&Ts inspired most every bar version you'll taste -- that alone will make you want to come back."
Ramen Shop (click here for address and info)
"The ramen at the Ramen Shop deserves the accolades, but so do the cocktails. The drinks are balanced and interesting, while still being food friendly. The excellent Japanese whiskey collection also lets you drink like they do in Japan -- in a highball with soda water accompanied by delicious food."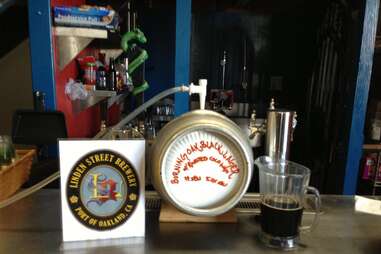 Linden Street Brewery (click here for address and info)
"Although this tiny brewery only serves beer and is only open to the drinking public on the weekends, it's one of Oakland's great drinking spots. Drive past the stacks of containers coming off the freight ships docked in the port, and wind your way to this excellent brewery with like-minded pilgrims. Here, you can get a rotating selection of beer, including their Town Lager -- a beer they only distribute to places within biking distance (yes, they have a bike that can deliver kegs of beer)."
Heinold's First and Last Chance Saloon (click here for address and info)
"It may look like just a shack, but this bar has some history, since it's been around since 1883. Built from the wood of an old whaling ship docked nearby, it was a regular hangout of Jack London, and for good reason: sitting outside on a sunny day or finding shelter inside on a stormy one with a pint and a shot earn this 131yr-old watering hole old-school cool."
Joe Starkey is Thrillist's San Francisco Editor and something something DANGER ZONE!! Lana. Lana! LANAAAAAAA!!! Follow him on Twitter.