Power-ranking the best patios in all of SF
7. Pier 23
Pier 23; The Embarcadero; 415.362.5125
Kicking off the rankings, this old-school San Francisco spot looks like it's gonna be a tiny hole-in-the-wall, but is actually boasting a pretty huge patio out back with a view of the bay. Bring your thermal.
6. Arlequin Café
384 Hayes St; Hayes Valley; 415.626.1211
The little sister to Absinthe, this Hayes Valley work spot adjoins a wine bar and has a giant outdoor area that's a great place to throw back a few daytime beers, or -- if you're actually using it as a work spot -- a few daytime ginger beers.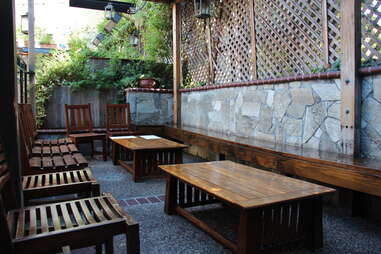 5. The Tipsy Pig
2231 Chestnut St; The Marina; 415.292.2300
This Marina mainstay has a patio that starts at brunch and just doesn't quit. It can get pretty crowded, but if you grab a table, you're golden and don't have to explain why you're holding a Strawberry Fields.
4. Zeitgeist
199 Valencia St; The Mission; 415.255.7505
Get your surly outdoor Mission beer garden on here. Make sure to bring cash and ditch anything you might be judged for (polos, yoga pants, khakis, clothing that isn't black and/or torn), then get ready to be pressed up against a bunch of Mission-ites with questionable grooming habits... with beer!
3. Jones
620 Jones St; The Tenderloin; 415.496.6858
Even though you enter at street level, thanks to the craziness of SF hills, you will see that this is mostly a rooftop bar with at least four service points (one's up on a terrace they open up for larger parties), plus they host fun events like movie nights and "technology detox".
2. Biergarten
424 Octavia St; Hayes Valley; 415.252.9289
If it's nice outside, or even above 60, or 58, BUT NOT FIFTY SEVEN, you should show up early to Hayes Valley's traditional German beer garden and grab a spot while your friend gets you liter-sized steins and wieners (tee hee) to while away the hours 'til sundown, when you can grab a complimentary blanket to keep you warm/ridiculous-looking.
1. El Techo
2518 Mission St; The Mission; 415.550.6970
Topping out the list, El Techo has it all: rooftop partying, skewers of meat, specialty cocktails, Latin beers on tap, gorgeous views of the city, and clear wind shields to keep you actually warm at night. Go here.