PABU Has a Secret Japanese Cocktail Menu Hidden in a Bottle Behind the Bar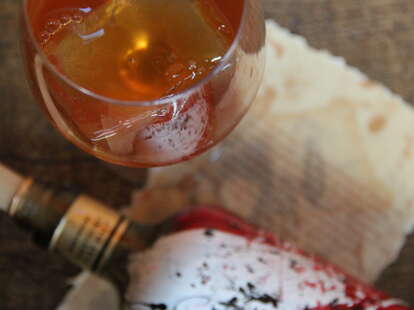 When it comes to secret stuff in San Francisco, we've seen plenty of cool moves over the years -- from Secret Alley clubhouses to hidden caves to speakeasy bars inside AT&T Park. One thing we've never seen though? A Japanese whisky cocktail menu, written on a cool, old scroll, that's rolled up, hidden inside of a liquor bottle, and stashed behind a bar.
But that's exactly what you can find at PABU in the FiDi.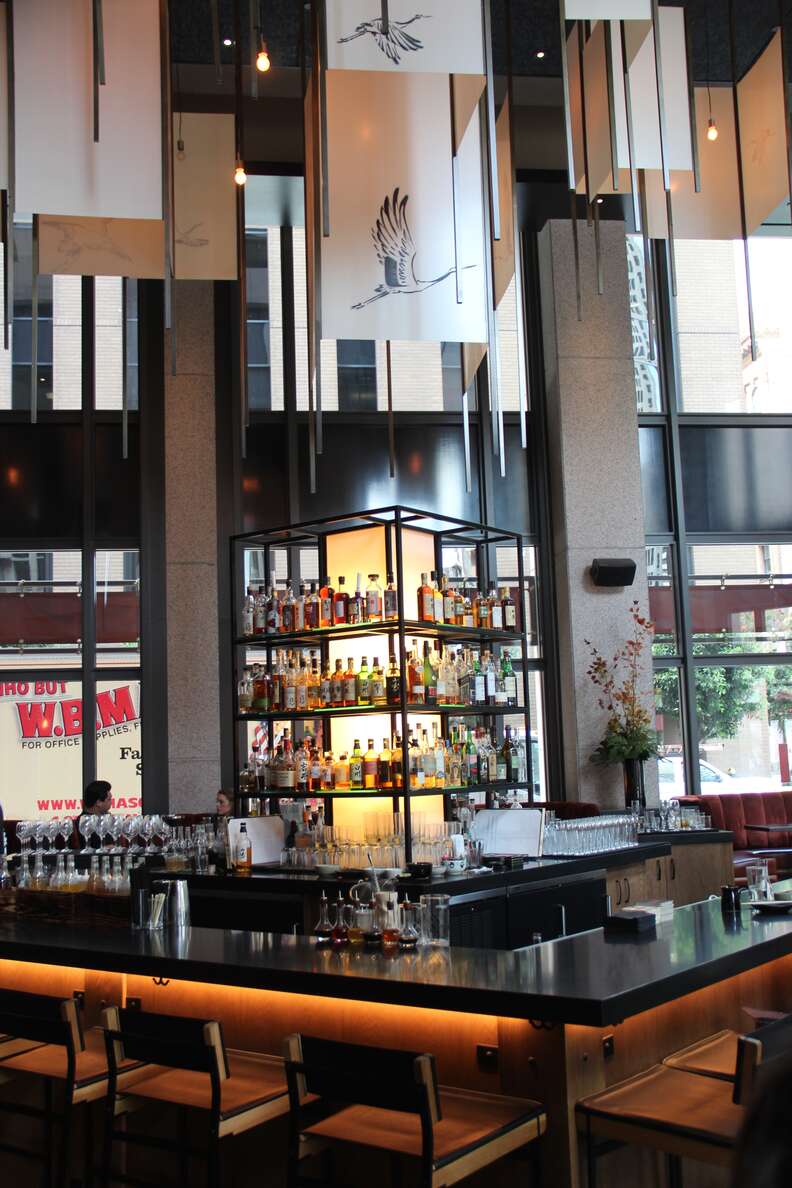 First things first, which bottle? And where? Well, first off… here.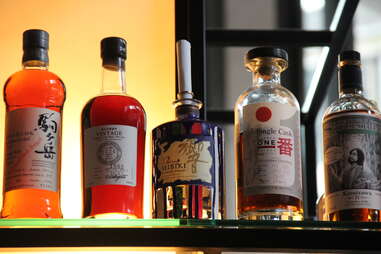 And second off, the one that kinda sorta looks like it has a secret menu sticking out of it. OK, so you found the menu. Now what?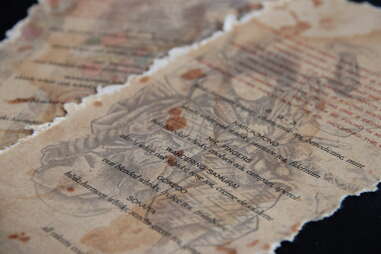 Now a quick history lesson that'll make what you're drinking so much cooler: during the 17th century, a group of wandering rogue samurai formed what was known as the yakuza in Japan. Over time, however, the yakuza evolved into gangs with strict codes of conduct where loyalty and respect are a way of life. Today, there are thought to be 103,000 active yakuza members internationally, with 58,000 in Japan. That makes them the largest organized crime group in the world. Though much of the US yakuza activity occurs in Hawaii, they have a large presence in the Bay Area as well. It doesn't matter where they travel though; one thing that always comes with them is their obsession with ritual and ceremony.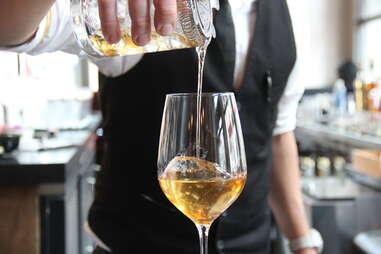 That ritual and ceremony is the basis for the yakuza cocktails at PABU, all of which are a three-component drink with whisky, tea, and one modifier. No, there's nothing criminal about these cocktails, unless you realize that PABU only ever offers one at a time on its regular menu. You never know when the one you love is going to disappear to make way for a new family member; all you know is that it's bound to happen. Now, however, you can get all six of the most popular yakuza cocktails to date on this totally secret menu.
That includes the Mr. Fingers, a cocktail with a nice red color named for a doctor who makes his living supplying Japan with prosthetic fingers. Why prosthetic fingers? Because the cutting off of one's finger is how the yakuza pay penance for their transgressions. It starts with the tip of the pinky finger and moves up the hand for repeated offenses, effectively weakening a person's grip on his sword (and forcing his reliance on the group). Prosthetic fingers are a big business in Japan…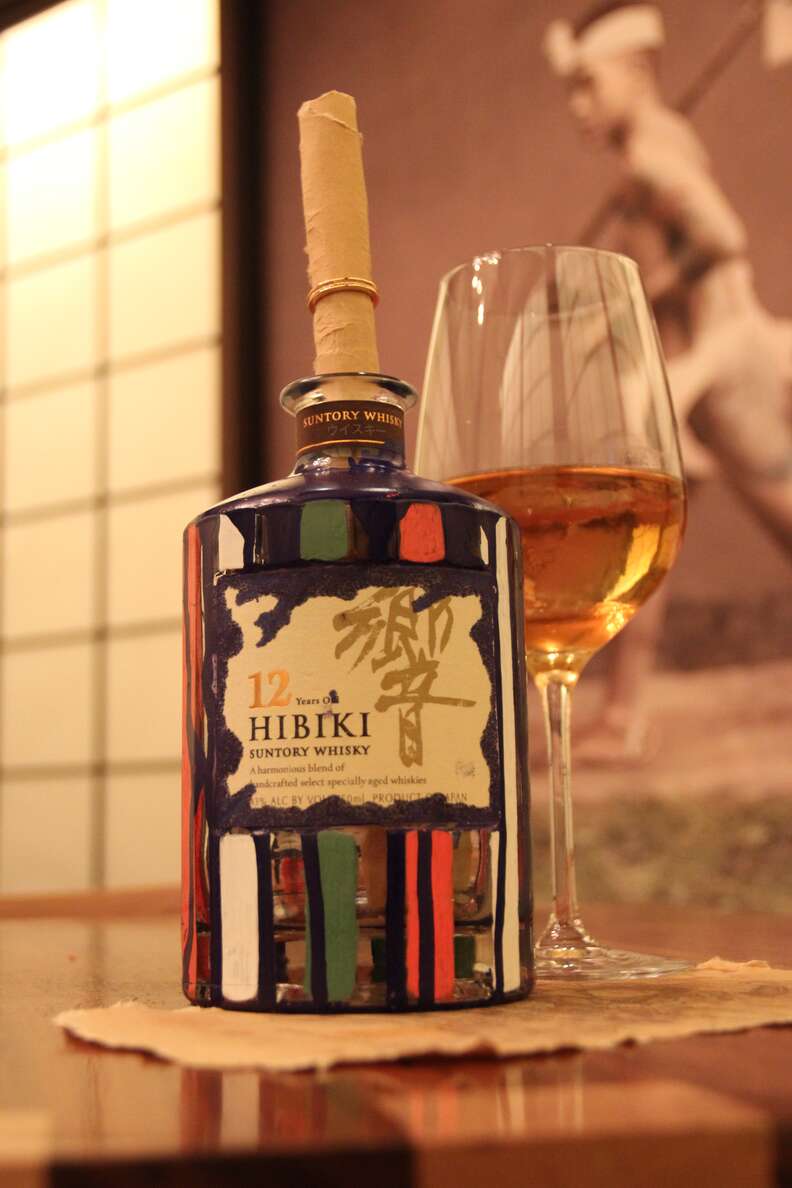 Oh, and there's actually a second bottle with the secret menu in it. Once you spot one, discretely ask the bartender if you can take a look at it, then carefully slide out the menu, order, and carefully slide it back in (watch your fingers…).
Sign up here for our daily San Francisco email and be the first to get all the food/drink/fun SF has to offer.
Daisy Barringer is an SF-based freelance writer. Follow her on Twitter @daisy.
Grant Marek is Thrillist's Senior Cities Director. He's always likes to be let in on a little secret. Share yours with him on Twitter @grant_marek.