The best thing about the new San Francisco Athletic Club? It's totally not an athletic club (!) but instead, a bar (!!!) that JUST opened in the old Tortilla Heights spot on Divis (just in time for the World Cup) where they'll sell you a 24-pack of beer served in an ice-filled porcelain tub. 24 beers. Porcelain tub. This is real.
Recommended Video
Would You Eat This 3-Pound Chicken Nugget?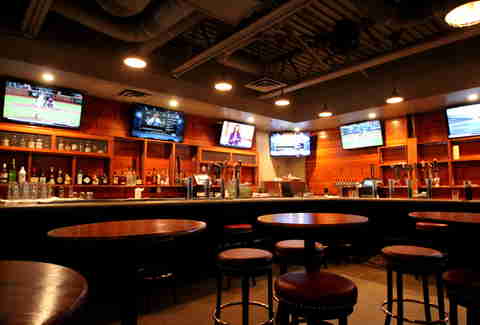 The trio behind this place is legit. It's two dudes; one from The Corner Store and one eight-year vet from Kezar Pub who collectively have turned the spot into an ode to all things sports, with an old gym floor serving as the bar top, walls made of bleachers from Oregon, and 28 TVs (including two 80in central ones), so that you never have to miss a second of any game.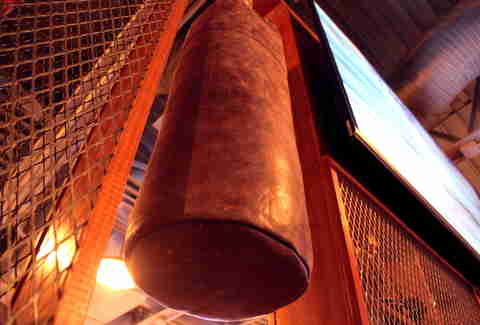 They got the name from an old boxing gym that was destroyed in the 1906 quake, hence the two punching bags and a cage filled with trophies and gloves.
For investors and a few lucky early customers, you can buy a baseball, sign it, and drop it in one of two columns to be immortalized forever. Space will go faster than an under-$1K-a-month apartment though, so be quick.
The food's gonna be an elevated take on sports bar eats from those two Corner Store guys who were both sous chefs. Basically, don't be surprised if these wings end up on our updated list of the Best Wings in SF.
They have shuffleboard and a pool table, which will be covered over and part of an actual, functioning, pull-out bleacher seating area (from a hockey rink in NY) for whenever big games are on. Or you and your buddies could just grab one of their five booths that 1) have their own speakers/TVs, and 2) are where you need to sit if you want to order beer by...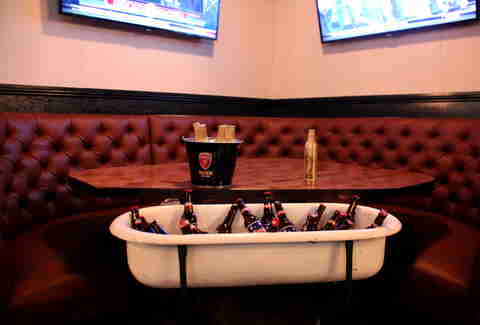 .... or all of the above.
Joe Starkey is Thrillist's San Francisco Editor and is really glad "bathtub of beer" turned out to be a way more sanitary version than he originally pictured. Well, pretty glad. Follow him on Twitter.
Previous Venue
Next Venue
Venue Description
1. San Francisco Athletic Club
1750 Divisadero, San Francisco, CA 94115
San Francisco Athletic Club is your destination for beer in a bathtub. For real. Small ceramic tubs full of beer bottles on ice are delivered straight to your table, and if that weren't enough of a draw for game night, this sports bar on Divis also boasts pool tables, shuffleboard, and bleachers, plus a range of bar food. The menu features nontraditional healthy options like poached salmon salad and veggie chili to the not-so-healthy: one-third pound burgers, bacon-wrapped hot dogs, and crinkle-cut fried pickles.