In Europe, the Romans expanded their empire using pikes and boiling oil. In Asia, Genghis Khan did it with curvy swords and... uh... ninja stars? In SF, the guys behind the Bullitt-Tonic-Lightning Tavern-Mayhem-Soda Popinski's empire did it with burgers that use grilled cheeses for buns. Set in the old Solstice space, Wild Hare is a wide open, London-style pub with a theme that's decidedly Alice in Wonderland, thanks to plates depicting different scenes (like the Mad Hatter's Tea Party), and a mounted rabbit head accompanied by this Queen of Hearts... err... Dueen of Hearts? There's a reservable private space in the back with seating for more than 20, its own bathroom, and... ... a giant peacock. Right. Back out in the, ugh, public space, you'll find this giant hourglass behind the bar: it's there for keeping track of last call/ housing Aladdin's girlfriend. Along with four draft brews (and fernet and whiskey on tap, naturally), they've got a 10-strong cocktail list that includes this namesake Wild Hare (bourbon, Campari, maraschino, blood orange bitters), plus three punch bowls like the tropical "Red Rum", or what Martin Luther King Jr. said that time Malcolm X was all, "So what do you want me to mix this RC Cola with?" And, yeah, they've got a full pub-fare menu with deliciousness like tempura'd bacon dogs and the afore-alluded-to Deluxe: a burger that sandwiches a .5lb patty between two grilled cheeses, which you'll only be able to conquer if you show up with an empty stomach and... uh... ninja stars?
Recommended Video
Potato Skin-Breaded Queso Balls Will Make All Other Apps Obsolete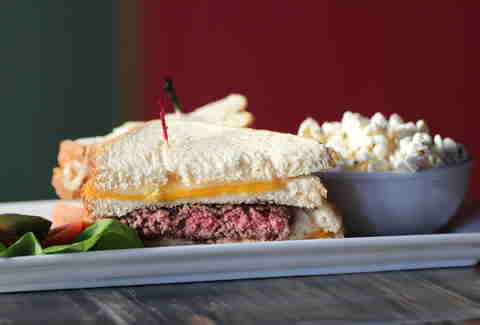 Previous Venue
Next Venue
Venue Description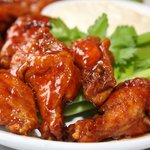 1. Wild Hare
2801 California St, San Francisco, CA 94115
Owned by the same group that runs Dr. Teeth in the Mission and Tonic in Russian Hill, this classed-up sports bar has some of the same favorites from it's sister bars (including Garlic Dungeness Crab Tater Tots!) and, like Dr. Teeth, rocks Jameson & Fernet on draft. The big difference however, is in the Alice in Wonderland-themed decor. You haven't lived until you've enjoyed a maple sausage corn dog with the Queen of Hearts staring you right in the face.