What would it take to convince you to go all the way down to Mountain View? Okay, but what if we were out of box sets of Babylon 5? Would a 12,000sqft beer hall called Steins with a rentable outdoor patio do it? Good, because..
... the humongant space has seats for more than 250 people (including in two private, rentable rooms), plus two metal wheel chandeliers, and an embedded-in-the-wall "magic glass" TV. Speaking of magic... expelliarmus!
Since it's out of the city and actually has nice weather, they've got a 4000sqft patio complete with a glass-enclosed fireplace, rock fountain, lawn, and six-keg kegerator... yeah, that thing, that's the one
And inside, they have a full bar and at least seven seats at said bar
All 30 of their draft beers are visible through this little window..
Recommended Video
Beer Festival Is Coming to 8 Cities Around the Country
... and run directly to the taps with no chemical cooling necessary
PLUS, they've got crazy-good bar fare that ranges from homemade pretzels to this Steins Burger: a blend of house-aged short rib, brisket, and sirloin with optional (riiiiiiiight) adds like pastrami, pork belly, and a fried egg
Or, grab the "Breakfast for Dinner", an egg-topped pork belly smothered in maple-Dijon vinaigrette -- probably something you'll wanna order even if you don't have space.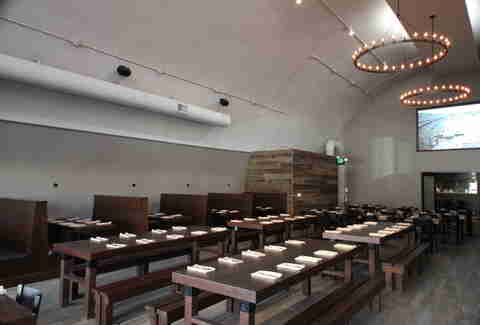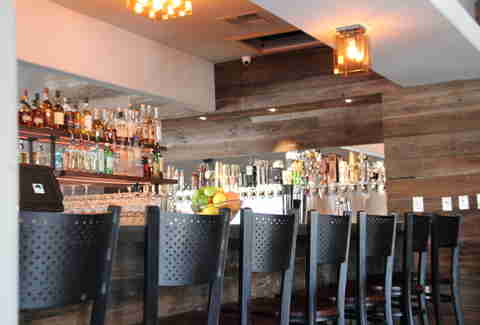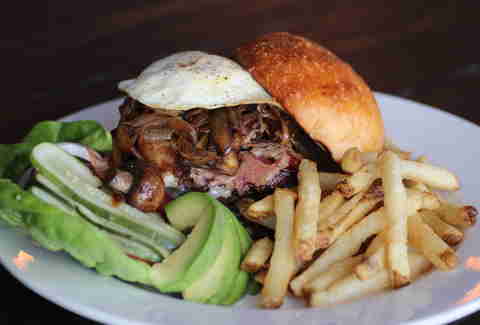 Previous Venue
Next Venue
Venue Description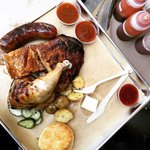 1. Steins Beer Garden
895 Villa St, Mountain View, CA 94041
Steins Beer Garden in Mountain View is part American tavern, part German biergarten. The bar has 31 taps of craft and imported beer, plus four kinds of flights and gluten-free brews. Open for lunch and dinner, the menu features upscale staples like a lamb trio entree with garlic mashed potatoes, house-cut fries, and a seriously good burger made from a house-ground blend of dry-aged short rib, brisket, and sirloin. The space includes an indoor dining room with private tables and communal seating plus an outdoor patio.