Stanford Drinking Guide: Where to Booze With Lots of People Wearing Red
Grant Marek/Thrillist
Grant Marek/Thrillist
Are you a (21-years-or-older!) Stanford student looking to drink more than zero beers before school starts? A successful entrepreneur who wants to get in touch with "the people" by discarding peanut shells in a manner that (how amusing/quaint!) isn't generally socially acceptable? A Menlo Park local who has super-intense feelings on whether or not Dutch Goose is better than Oasis, and want to express those feelings with vitriol, but can't find the appropriate Internet article on which to leave them as comments?
This Stanford-area Drinking Guide has you covered. Go forth, imbibe, and carve your name on some tables.
Where Stanford students, townies, and generally everyone in the vicinity with a blood alcohol level that exceeds the legal limit gather to watch local games, and celebrate the night before Thanksgiving. Order a beer tower and enjoy the addictively good tots while you contemplate The OP's decision to prominently feature a Cal flag in the mechanical bull-riding arena (yes, the mechanical bull-riding arena).
Great deals on weekday happy hours almost make up for the fact that The Old Pro's men's bathroom has a two-way mirror in it, allowing anyone in the bar to see directly into the urinal area.
Go for the creepy, Voodoo-inspired art, stay for the 60oz Hurricane known as the "Moron Bowl." This cavernous, New Orleans-themed location seats about 154,000 and is everyone's second-favorite Downtown bar... or at least the one you go to when the adjacent Old Pro starts charging cover. Dinner's a little overpriced ($20 for a just-okay chicken and waffles), but the Sunday 9pm-12am happy hour and the perpetual Mardi Gras atmosphere (read: boobs) tip Nola into the must-go category. And if you happen to be the type of guy who carries his tennis racket with him at all times and it needs a restringing, you're in luck: visit the Racket Web, a racket-care shop bizarrely located INSIDE Nola.

The combination of satisfyingly greasy slices for around $4, pitchers for around $11, and late hours (by Palo Alto standards) make this University Ave standby the perfect place to stumble into after you've been kicked out of Nola for really trying to make the Mardi Gras thing happen.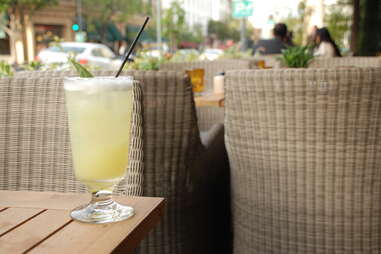 Newcomer L+T (of pasta volcano fame) is located inside the brand-new Epiphany Hotel, which, until the $10M hipsterification completed earlier this year, served for 35 years as old-folks-home Casa Olga. So if you don't mind a maybe-haunted-type scenario, have your parents/much-older tech billionaire significant other take you here for stellar cocktails (try the Peninsula Punch, or, if you're feeling frisky, the "P.D.") and a locally sourced seasonal menu. Pro tip: the staff uniform is a chambray shirt with dark denim jeans, so do not wear this outfit... unless you want to constantly get asked where the bathroom is (super-pro tip: go out into the lobby and turn right).
This old-school diner (est. 1923) is known for its patty melts and milkshakes, but if you're in a celebratory mood and are regularly featured on the Rich Kids of Instagram, stop by the Creamery (as those in the know call it) for its $199 Bubbly Burger, which'll get you any burger on the menu served with a chilled bottle of Dom P. According to local legend (actually, just one of the waiters), YouTube founders celebrated their 2006 acquisition by Google with six of these babies … which, uh, seems a little restrained.
Do you have an intensely specific phobia that only permits you to drink within the confines of your school's student union? If so, you're in luck -- The Treehouse has you covered (also: look into being friends with tennis-racket-guy from Nola). Sure, it kind of smells weird and the selection of beers isn't great, but with your condition, you can't be picky. Order a pitcher or seven, get some of their amazing fries, and try to ignore the group of freshman talking about Kierkegaard.
A less-gross version of Antonio's Nut House, the Goose has been serving burgers, beer, and spicy deviled eggs in a residential Menlo Park neighborhood since 1966. Order your burger with special sauce known as "goop," and carve your name and life philosophy into a table/wall/any available surface while you wait (the sentiment that the 2007 Stanford JO's Water Polo Team "rulez" seems to be a popular one). Watch games and enjoy the full bar on the heated outdoor patio (the "Duck Blind"), but this is yet another place for the peanut-allergic to avoid, as shell-throwing is expressly authorized.
Calling the Nut a dive would be like calling tennis-racket-guy (who won't leave this article) a weirdo. The food isn't great, the service is also not great, and you should probably wash your hands a NUMBER of times after leaving. But you can throw your peanut shells on the floor! This beloved gem is miles cheaper than anything else on California Ave, and still has a jukebox (not to mention Big Buck Hunter). Just remember to heed the advice prominently posted in the bathroom: "Please do not throw cigarette butts in the urinal; it makes them soggy and hard to light."
Despite Alpine Inn being the official name of this roadhouse (changed from Rossotti's decades ago, when new management took over), local outcry was so intense over the new name, that the owners were forced to include the old name on the sign as well – so don't call it anything but Rossotti's (or, even better, Zott's).
A second location for the wildly successful pastrami-and-Belgian-beer San Carlos outpost, The Refuge is another spot to hit up on Parents' Weekend. The food is amazing but pricey -- $17.50 for a pastrami burger -- and you'd be hard-pressed to find a beer for less than $10. Try the Kwak strong ale anyway (served in a "coachman's glass"), and the goofy fries, which're covered with something that tastes like fancy Belgian Velveeta and chunks of pastrami.
There are "O" people, and there are Goose people. Each of these camps will insist that their locale of choice is vastly superior, and the other is full of tech yuppies. In truth, the O and the Goose are essentially the same place: where you can watch local games, eat solid bar food, throw your peanut shells on the floor (something Peninsulans are apparently obsessed with), and carve your name and the year you graduated from La Entrada Middle School into a picnic table. Except Oasis has pizza. And you used to be able to buy a Tesla across the street.
Located deep in Portola Valley, you're going to need a DD to get you to here, unless you plan on utilizing the convenient horse parking.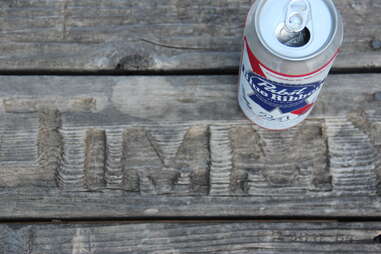 The menu is basic, the taxidermy is sketchy at best, and they don't take credit cards, but the beer garden is magical -- and departed regulars receive memorial plaques on the back wall. SRI scientists celebrated INVENTING THE INTERNET here (suck it, YouTube founders). Also: more name-carving-on-tables. Classic.
Sign up here for our daily San Francisco email and be the first to get all the food/drink/fun SF has to offer.
Grant Marek is a Senior Editor at Thrillist and made his wife (who grew up in Menlo Park and WENT TO LA ENTRADA) write most of this. Tell him how funny she is on Twitter.