Duck Hunt, "Shot n' Beer Backs" for $9, and a Plinko special just for you
Here are a few things you may not know about the Jackalope:
1. It's a (supposedly) mythical creature with a jackrabbit's body and antelope horns.
2. It's extremely shy, but loosens up when approached. Especially with whiskey.
3. It's the name of a brand-new Polk Gulch bar that you definitely want to check out. And you should go on Wednesday, November 26th if you want a special deal that's just for Thrillist readers.
Read on for details...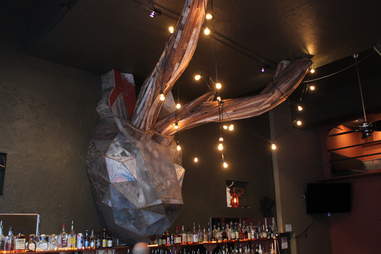 Daisy Barringer
A giant jackalope sculpture is suspended over the bar...
Daisy Barringer
... and Jackalope is also the name of the bar's signature drink: JP Wiser's rye whisky, Cherry Heering, Benedictine, bitters, and lemon peel. Other cocktails include the Two-Toed Tom (Bulldog gin, lime, agave nectar, sliced jalapeño) and the Loch Ness (Death's Door gin, sweet & dry vermouths, mint, orange peel).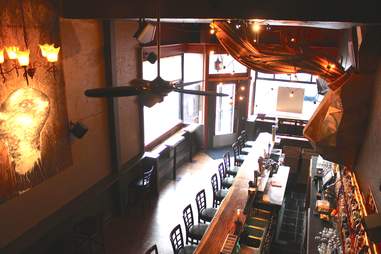 Daisy Barringer
The signature 'tails are almost all $10, or you can order a Shot n' Beer Back for just $9. Choices for the latter include the Irish Breakfast (Jameson & Guinness) or your new favorite: the San Francisco Treat (Fernet Branca & Anchor California Lager).
Daisy Barringer
You can reserve the upstairs "Duck Hunt Loft" (not pictured) for groups of 15-20, free of charge. And yes, it's called the "Dunk Hunt Loft" because they actually have a vintage NES, an old-school TV, and a zapper gun to take down digital fowl.
Daisy Barringer
But even better than Duck Hunt is the Plinko board. For $10 a turn, you can play to win a myriad of boozy prizes, like a shot of Patron and another go, or a Russian Standard Siren (four shots of Russian Standard vodka, pineapple & cranberry juices served in a one-liter mason jar that's meant to be shared, but, you know: your call).
Daisy Barringer
Best of all? If you go to Jackalope on Wednesday, November 26th (Thanksgiving Eve) and tell them Thrillist sent you, they'll give you two plays on the Plinko board for the price of one. Yup: all you have to do is say THRILLIST, and $10 will get you not one, but TWO chances to win. Just don't come crying to us if you get Unicorn Tears both times.
Sign up here for our daily San Francisco email and be the first to get all the food/drink/fun SF has to offer.
Daisy Barringer is Thrillist's SF Editor and the only thing she has in common with jackalopes is that they both only breed during winter electrical storms. She doesn't want to talk about it on Twitter @daisy.