No longer just the name of the military song played at funerals and dusk, Taps is a massive, 45-tap (ahh... NOW it all makes sense) emporium of gastro-goodness that's filling the former Pasha space with local brews aplenty, and tastiness like homemade sausage from a former Leopold's chef.
Unlike some dudes (totally not YOU, though), they're not lying about how big they are. They're sporting 6000sqft and room for 176, with stainless steel & wooden tables for seating (if you happen to be restaurant-ing it), a live edge standing communal, a couple of murals by a local artist including this (almost finished) one, and...
... this, um, very lovely lady you'll definitely want to nip a look at.
As previously mentioned, the chef's a Leopold's alum, so he's rolling out some pretty amazing meat-centric dishes like this Terrine Board with rabbit, head cheese, pheasant galantine, and country pork... also what Charlotte wrote after a fight with Babe.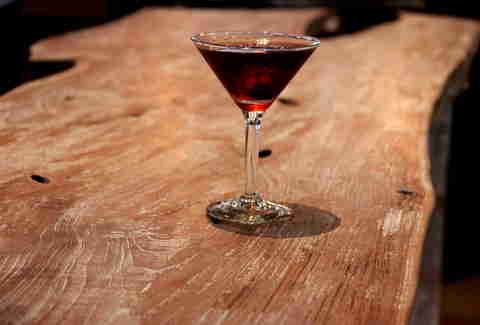 Their bar is managed by a Bigfoot Lodge alumn and has a small, seasonal, rotating cocktail list for you to classily enjoy while totally not looking at the Victorian lady aboob. Above, we mean above.
They plan to continually expand their charcuterie program, so if this house sausage with potato puree and red wine jus is up your alley, there'll be plenty more where that came from.
Oh, and about those 45 TAPS, expect a heavy proportion of locals. So far they've got three different 21st Amendment offerings, and even Pine Street's Atom Splitter... a definite check in the pro(ton) column.