14 San Francisco Bartenders You Need to Know
Really, every bartender in San Francisco is worth knowing (and tipping, generously), but if you're gonna go full-on BFF with someone behind the stick, you might as well make it one of the city's most creative cocktail minds. So here are 14 of those:

Danny Louie
Chino (address and info)
The Mission
Despite the high-end ingredients and inspired flavors, Danny delivers something often sacrificed in the world of fussy craft cocktails -- a sense of fun. It doesn't get more playful than the fancy Jell-O shots that are basically roller coasters for your taste buds.
Specialty cocktail: MF, featuring Hakushu 12 year, carrot, white miso, ginger, lemon, and bubbles
Where he drinks when he's not working: "Maggie McGarry's. When it's quiet. I enjoy a glass of an agave spirit and crispy lager."
What he loves about San Francisco: "The weather, food, and drinks. Also, because I grew up in SF... I know all the tiny gems of the city."
Jennifer Colliau
The Interval at Long Now (address and info)
Fort Mason
If only history was as much fun in high school as it is at Jennifer's Fort Mason tipple-ry, where a unique cocktail menu celebrates the legacy and evolution of classic cocktails. Drinking at one of SF's best openings of 2014 isn't just fun, it'll probably make you smarter -- at the very least you'll know what dirty martinis tasted like 250 years ago.
Specialty cocktail: "Gimlet, made the traditional way with house-made cordial and lime juice stirred at the precise temperature so the drink becomes slightly cloudy and pearlescent like absinthe."
Where she drinks when she's not working: "I love a good Manhattan at East Bay Spice Company or Hawker Fare."
What she loves about San Francisco: "I love the bartending community here. People actually go to other's bars and support each other and help each other with recipes. It's a great community unlike any other city I've seen."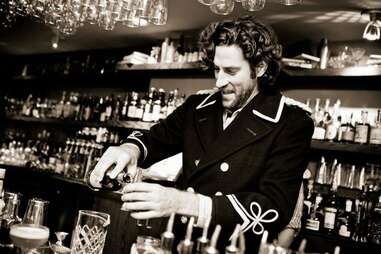 Matt Grippo
Blackbird (address and info)
Upper Market
With an extensive, generous happy hour menu on weekdays from 5-8pm, Blackbird feels at once like a cozy neighborhood bar and a hub of cocktail innovation, where Matt Grippo tinkers with new concepts and flavors. His latest creation: a limited-edition, off-menu selection of cocktails inspired by Game of Thrones.
Specialty cocktail: The New Orleans Iced Coffee, a boozy carbonated cold brew coffee with bourbon and chicory served on draught.
Where he drinks when he's not working: "Nopa. Hands down the place where I have consumed the most food and beverage in the six years I've lived here. One of my favorite cocktails in the entire city and beyond is the Eucharist at Nopa. Simple, elegant, three ingredients. Yanni (Kehagiaras) has a skill with simple cocktails I don't see often."
What he loves about San Francisco: "San Francisco is the cradle of creativity and abundance for food and drink. It's one of the reasons I moved here. Cocktails, beer, wine, amazing food -- it has so much to offer I couldn't ask for a better city to live an indulgent lifestyle. We are spoiled and I love it."
Shirley Brooks
The European (address and info)
Nob Hill
Located on cocktailing epicenter Geary, it might be easy to overlook The European in favor of the bar-of-the-moment, but that would mean missing out on Shirley's impossibly smooth, yet booze-forward concoctions and effervescent personality. And you... maybe don't want to do that?
Specialty cocktail: The Smoke Without Fire. Smoky, yet refreshing, and super smooth, featuring Fords gin, Lucano, a spritz of Laphroaig, and rosemary sprig.
Where she drinks when she's not working: "I live one block from Nopa, so it is my haven away from work and home. I probably go there just a little too much. Not only is everything consistently good, but they also have the Blue Bottle cocktail. I order it with Santa Maria rum and it's amazing, basically a fancy espresso martini."
What she loves about San Francisco: "I have everything I could want here and there's so much nature -- it's easy to escape city/busy life."
Dustin Sullivan
Fog City (address and info)
Embarcadero
In keeping with the vibe of this revamped SF institution, Dustin's cocktail menu merges traditional cocktails with new classics like the Milk Punch and Dark n' Stormy Slushy -- neo-classics that've made this Embarcadero watering hole worth, uh, watering at.
Specialty cocktail: "Bad Moon Rising" -- mezcal, Spirit Works sloe gin, Breckenridge sipping bitters, saba, lime juice, mint
Where he drinks when he's not working: "Trou Normand. Amazing charcuterie, amazing drinks. And Thad Vogler is so far beyond the rest of us when it comes to his craft. His style is so clean and so purposeful. I wish I could think like him."
What he loves about San Francisco: "My favorite thing about San Francisco is how quirky it is. We get a lot of tourists at the restaurant and inevitably a group of naked rollerbladers or something like that will go rolling by because you know... San Francisco. The out-of-towners will look on in disbelief. 'Does that happen often??' they'll say. My response is always the same: 'Welcome to San Francisco.'"
Kate Bolton
Maven (address and info)
Lower Haight
Kate Bolton's inspired cocktail menu with food pairings ensures the drinks are as much the main course as the entrées. And, thanks to her culinary chops, seasonal produce, herbs, and spices are stars in her libations.
Specialty cocktail: "I am really excited about the 'Sixpence' -- a take on a Southside cocktail with gin, Sherry, mint, lemon, sparkling wine, and pink peppercorn sorbet. The very cool thing about sorbet in a cocktail is that it slowly melts as you drink it, allowing the cocktail to evolve from start to finish."
What she drinks when she's not working: "When I'm not at work I like to drink pretty simply. It's usually just an Old Fashioned or a glass of sparkling wine. Every now and then, a Sazerac or Remember the Maine really hits the spot, though."
What she loves about San Francisco: "The Mt. Sutro Forest. It's beautiful when the clouds gather in between the Eucalyptus trees. The fact that you can feel miles away from civilization while in the middle of the city is definitely something to love about San Francisco."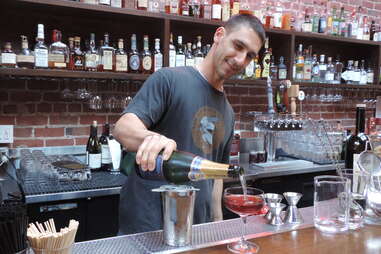 Eric Passetti
Natoma Cabana (address and info)
SOMA
You may forget you're in the middle of the FiDi thanks to Natoma Cabana's sunny poolside vibe, comfy lounge chairs, lush foliage, and Eric's deconstructed tropical drinks that taste like vacations-in-a-glass.
Specialty cocktail: Whiskey Vic, a whiskey-based tropical drink based on the original Trader Vic's Mai Tai recipe
Where he drinks when he's not working: "Redwood Room is one of my favorite places, the redwood walls, high ceiling, and the Deco feel. I also really like spending time in 'institution' hangouts like The Buena Vista. They have a distinct pace and rhythm that is lively and uniform, I think anybody who has bartended for a long time can sense it."
What he loves about San Francisco: "In my opinion SF is currently the most interesting city to live in, architecturally, culturally, and it leads the pack in innovation, I don't just mean tech, I think we also set the mark in hospitality. I have the feeling that someday I'll look back and feel lucky that I had a front row seat for this era in SF."
Jacquelyn Goldstein
ABV (address and info)
The Mission
Winner of this year's all-female speed bartending competition, Jacquelyn is officially the fastest bartender in the 7x7.
Specialty cocktail: Four Gentlemen, a perfect sunny day drink with Dolin Blanc, Yellow Chartreuse, orange bitters, sparkling wine, and a float of absinthe
Where she drinks when she's not working: "I love Prizefighter in the East Bay. I can bring my dog, there's a sunny patio, and they make the best El Diablo."
What she loves about San Francisco: "The Sunset. I was born there so it holds a very special place in my heart, but it's turning into an awesome part of town. I love hanging out on Judah St and eating at Outerlands. Then there's Trouble Coffee, Tuesday Tattoo, and General Store all on the same block on your way down to the water."
Josh Trabulsi
Burritt Room + Tavern (address and info)
Nob Hill
When you want to drink whiskey in dark corners, there's no better place than this vintage-looking hotel bar that feels way cooler than your average hotel bar. The cool-factor might have something to do with Josh, who makes everyone feel like a regular, no matter how busy it gets.
Specialty cocktail: Berlinetta, a reverse Manhattan with more bourbon than vermouth
What he drinks when he's not working: "I love Champagne and whatever Mo (Hodges) is making at Benjamin Cooper."
What he loves about San Francisco: "The people. I've bartended in LA and Boston, too, and San Francisco has the nicest, most polite customers who have a great appreciation for cocktails. It's very advanced here."
Anthony Kim
Redwood Room (address and info)
Union Square
Though the Redwood Room is one of the oldest bars in the city, Anthony Kim keeps things not-at-all-old with a continuously evolving menu with subtle nods to the city's cocktail history.
Specialty cocktail: Pan-Pacific Sling. In honor of the CLIFT's centennial, it fuses elements of the Pisco Punch, a San Francisco classic, with a Singapore Sling, which was created in 1915, the same year that San Francisco hosted the Pan-Pacific Exposition and that CLIFT Hotel opened. It contains Campo de Encanto pisco, pineapple gomme syrup, Cherry Heering, lemon juice, and a touch of Fernet Branca as a nod to current-day San Francisco.
Where he drinks when he's not working: "I'm partial to a classic Boulevardier, plus I love stopping by ABV, Dirty Habit, Blackbird, Comstock Saloon, Elixir, or Smuggler's Cove and trying all the great cocktails created by the talented Bay Area bar community. That being said, you can't beat Philosophers Club for a shot and a beer."
What he loves about San Francisco: "I love the idea of San Francisco. I love that it's a place where weird is good, where people come to build their dreams, where anything seems possible. And while the reality of living here can sometimes be difficult, I love that it's a place that continues to attract dreamers."
Larry Piaskowy
Alembic (address and info)
Haight
Alembic has been delivering big drinks and small plates in a rustic setting for more than 10 years, making it an icon of San Francisco's cocktail culture. At the helm is chef, bartender, and entrepreneur extraordinaire Larry Piaskowy, who somehow manages to find the time to create cocktail pairings for Girl Scout Cookies in between slinging drinks at the always-packed bar and launching his own line of bar-friendly spreads served in mason jars.
Specialty cocktail: Bitter Buffalo. Equal parts Buffalo Trace bourbon, Cynar, honey vodka, Cocchi Americano, and grapefruit bitters
Where he drinks when he's not working: "My favorite cocktail in SF is the Leather Bound Book at Blackbird. Not on the menu, but they will usually make it for me anyway. Tastes remarkably like the name implies."
What he loves about San Francisco: "The awesome community that I get to be a part of in the restaurant/bar world here. And I can ride my motorcycle 12 months a year."
Mo Hodges
Benjamin Cooper (address and info)
Union Square
His new bar might be hard to find, but that hasn't stopped it from becoming everyone's new favorite tiny cocktail-and-oyster den virtually overnight. Mo and partner-in-drink Brian Felley are the bartenders leading the charge.
Specialty cocktail: Dry gin martini, a little citrus bitters, a bit of a round-bodied vermouth with London Dry gin and Salers Gentiane. Finished off with a homemade cocktail onion and a twist.
Where he drinks when he's not working: "I love grabbing a drink at Rye when I can actually get away for a minute. They're good friends of Benjamin Cooper and they are great bartenders."
What he loves about San Francisco: "What I love about San Francisco is the sense of community amongst bar and restaurant workers. There is so much support given by this group to each other. Be it someone gets hurt or sick so Kinson Lau throws a benefit for them or just simply by patronizing other spots around town. 'Icing' each other is also a fun practice that brings us closer every time we do it. I believe it's our togetherness that makes this city so warm and welcoming. Your bartender will always have four or five places to send you when you're done drinking at their spot."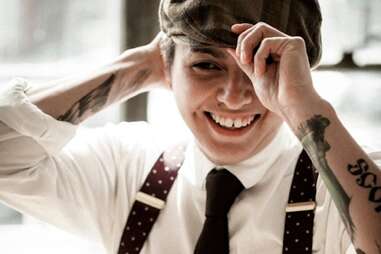 Christina Cabrera
Old Bus Tavern (address and info)
Bernal Heights
You know her work from cocktail hot spots such as 15 Romolo, Novela, and Alembic, and now Old Bus Tavern, opening in May, where you'll find her mixing house-brewed beers with bourbon, tequila, and other Southwestern flavors.
Specialty cocktail: OBT Margarita, featuring tequila, Cointreau, lime, and hatch green chile shrub
Where she drinks when she's not working: "My absolute go-to is Nopa. I love it there."
What she loves about San Francisco: "San Francisco is an incredible place for so many reasons but one of my favorite things as it relates to food and drink is that, agriculturally, we have whatever we want at our fingertips."
Karri Cormican
Comstock Saloon (address and info)
North Beach
You know you're in competent hands when your bartender has the nickname "Lady of Lushery." Catch her at this turn-of-the-century upscale saloon slinging drinks faster than Old Western sharp shooters.
Specialty cocktail: "Comstock Saloon's menu is built with classics and doesn't change very often, so it's nice to surprise someone with a classic cocktail that they may have not had before. I tend to swap out an ingredient in some of these classics and hopefully give the guest the chance to try something new."
Where she drinks when she's not working: "I tend to drink simply when I go out, wine, Sherry, or straight whiskey. On the rare night away from Comstock, you could probably find me at Trick Dog or ABV, not only are they great bars but they have delicious food."
What she loves about San Francisco: "I love the tight community feeling in San Francisco. I have the pleasure of working at a popular neighborhood spot with some of the best folks in the business, and I live in Bernal Heights and see familiar faces as I walk my dog and get my coffee every day."
Sign up here for our daily San Francisco email and be the first to get all the food/drink/fun SF has to offer.
Amy Copperman is a writer in San Francisco. Cocktails are the way to her heart. Follow her on Twitter.